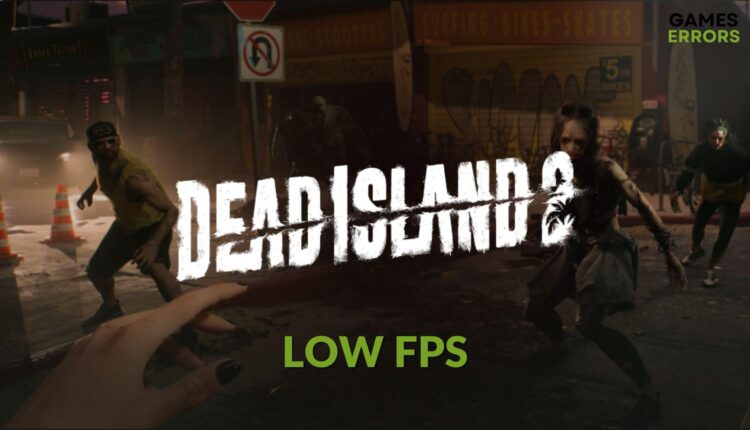 Dead Island 2 Lag & Low FPS: How to Boost the Performance
To boost FPS in Dead Island 2, update the GPU driver and tweak these things 🚀
X
INSTALL BY CLICKING THE DOWNLOAD FILE
You may get Dead Island 2 lag even though you have a decent graphics card. Whatever your GPU is, this article will tell you how you can improve the frame rate and fix any laggy performance issues on this game on your PC.
There are many Zombie action horror games. But Dead Island 2 is one of the very few ones that has stunning graphics with a decent storyline. But, laggy performance problems and poor frame rate can ruin the experience.
Learn how to fix Dead Island 2 crashing if necessary.
Why my frame rate is so low on Dead Island 2?
If you notice stuttering, lag, or frame drops on Dead Island 2, it is because of any of these reasons:
Graphics driver: A problematic or obsolete GPU driver will always prevent your PC from utilizing the GPU power properly, which may affect Dead Island 2's FPS.
Incapable hardware: PC hardware is a big factor. If it is not capable of giving you the expected FPS in the expected resolution, you will not be able to get a smooth performance from this game.
Background services: Too many background services or even a few resource-hungry ones can affect gaming performance.
Problematic game components: Some game components are essential. If these are outdated or have some problems, Dead Island 2 will fail to deliver the optimum performance.
If you are interested, learn what to do if Dead Island 2 won't launch on your computer.
How do I fix Dead Island 2 lag & low FPS problem?
Before going through the key steps, we suggest you do the following things quickly:
After that, go through the following methods one by one to fix low FPS issues on Dead Island 2:
1. Update graphics card driver
Time needed: 2 minutes.
To boost FPS in Dead Island 2, updating the GPU driver should be your first step.
Select Search automatically for drivers.
Go ahead and finish the updating process.
Restart your PC.
To boost FPS, you should update the graphics driver using DriverFix. Unlike the device manager, it can find the most recent version of the official driver of your GPU and install it with just a single click.
2. Reduce background services
When your PC runs too many things in the background, it will fail to give the expected gaming performance. So, disable some of the background activities by following these ways to boost the frame rate in Dead Island 2:
Press CTRL + Shift + Esc to open the Task Manager.
Go to the Processes tab.
Select the process you want to turn off and then click on End Task.
Disable other non-essential processes in the same way.
Keep in mind that you should only disable the services you are familiar with. Killing any essential services may bring new problems.
3. Disable fullscreen optimization
Go to the Dead Island 2 installation directory.
Right-click on the application file and go to its Properties.
Navigate to the Compatibility tab.
Click on Apply and OK.
4. Disable Vsync
Open the Nvidia Control Panel or any other GPU controller app, depending on your graphics card's chipset.
Expand 3D Settings and then click on Manage 3D Settings.
Locate Vertical Sync and turn it off.
Click on Apply.
Restart your PC.
Now, play Dead Island 2 and see whether it still gives the low frame rate or not.
5. Play with low settings
If you still don't get the expected FPS from Dead Island 2, we suggest you lower the preset quality. Also, turn off various in-game graphics features to see if it improves the frame rate per second.
6. Roll-back GPU driver
Open the Device Manager like method 1.
Right-click on the GPU driver and go to Properties.
Go to the Driver tab and then click on Roll Back Driver.

Click on OK.
These are the most effective ways you can follow to fix the frame-dropping problem on Dead Island 2. If the issue still exists, re-install the GPU driver. Also, update Windows 11 or 10 to the latest version.
Repair the game files or re-install the game if the previous suggestions don't help. You also can consider upgrading PC hardware to increase performance on this action horror title.
If you are interested, learn how to solve Dead Island 2 stuck on the loading screen.
This article has shown the ways to fix Dead Island 2 low FPS problem. If you have any questions or suggestions, write them in the comment box.
If you encounter any issues or errors while playing your favorite games and require support, feel free to contact us here. Our team is always ready to assist you and ensure your gaming experience is seamless and enjoyable.