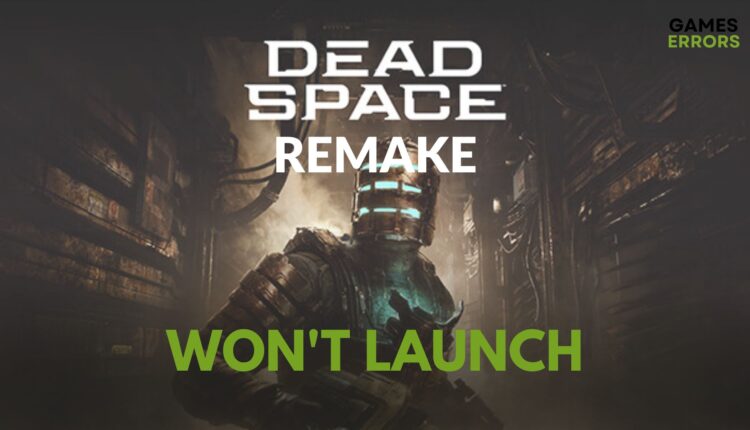 Dead Space Remake Won't Launch: How to Fix & Run It Smoothly
If Dead Space Remake won't launch, check if your device meets the minimum system requirements ✅
X
INSTALL BY CLICKING THE DOWNLOAD FILE
Since its launch on the 27th of January, 2023, there has been a lot of hype and excitement around Dead Space Remake. This isn't surprising at all as the Dead Space series is considered one of the best survival horror games of this era.
The game was developed by Motive Studio and Electronic Arts and is available on PS5, Windows, and Xbox Series X and S. Sadly the game you can't play the game on PS4, Xbox One, and Nintendo Switch.
Despite these improvements, players are still complaining that Dead Space won't launch on PC. You'd mostly experience this problem if your computer does not meet the system requirement to play the game. It can also be caused by other factors and we'll look at ways to fix them in this article.
Why is Dead Space Remake not launching?
If Dead Space Remake isn't launching on your PC, these could be the reason why:
Your PC doesn't meet the system requirement to run the game

Outdated graphics driver

Conflicting software and programs on your PC, such as anti-virus.

Insufficient memory or processing power to run the game.
How to fix Dead Space Remake won't launch?
Before trying out the main solutions, make sure you perform the following preliminary checks to ensure the issue isn't caused by a simple problem:
Table of contents:
1. Update your Graphics Drivers
Outdated graphic drivers can prevent Dead Space Remake from launching. Always make sure to keep it up to date to avoid issues. Here is how you update your GPU drivers:
Search for Device Manager in the search box on the taskbar, then select it.

Locate

Display adapters and double-click on it to expand.


Right-click on your graphics driver and select

update driver.

Select

Search automatically for the driver

option.

Restart your PC after the drivers have been installed.
Using DriverFix to update your GPU driver on Windows is typically simpler and less error-prone. It has a database of the most recent and appropriate drivers for your specific GPU, so it will automatically download and install the necessary drivers. You can save time and effort by doing this instead of manually hunting for and downloading the proper driver.
Additionally, DriverFix will automatically scan your system and keep your drivers up-to-date for you, helping you avoid issues caused by out-of-date drivers and preventing Dead Space Remake from not starting.
2. Verify the integrity of game files
The problem could also be caused by a corrupted or missing game file. To fix this you have to verify the integrity of game files on Steam. Here is how you do it:
Find Dead Space in your

Steam Library.
Right-click on the game and select Properties

.

Go to the

Local Files

tab.

Click on Verify integrity of game files.
3. Close unnecessary background programs
Background apps can consume system resources like memory and processing power, which can affect the performance of other apps running on your device, that's why ending a background application may help fix Dead Space Remake that won't launch. Here is how you do it:
Open

Task Manager

using the short key

Ctrl+Shift+Esc.
Right-click on any program that is consuming your CPU and memory, and select End task to terminate it.
4. Run the game as an administrator
Running a game with administrator privileges can help to solve the Dead Space not launching issue because doing so grants the game access to resources on the system that it might not otherwise be able to. Here is how you do it:
Find the Dead Space.exe file in the folder where it has been installed and right-click on it.
Click on Properties from the drop-down menu.
Go to the Compatibility tab and check the Run this program as an administrator box.
5. Set Dead Space Remake to high priority
Setting Dead Space Remake to high priority will allow the game to receive more system processing power than other programs, which will allow it to launch properly.
Go to task manager (Ctrl+Shift+Esc) and select the Details tab.
Right-click on Deadspace.exe

file.

Click on Set priority

and select H

igh.
6. Clear the game cache
You can also get Dead Space Remake to launch on your PC by clearing your cache. Cache data and cookies can prevent the game from launching, so it is important to clear them frequently.
Open Steam.
In the top menu bar, select "Steam" and click on "Settings"
On the left sidebar, select "Downloads."
Click on the "Clear Download Cache" button to clear your cache.
7. Temporary turn of your antivirus
Because the antivirus program might be preventing or interfering with the game's files or processes, it might be essential to temporarily disable it in order to launch Dead Space. The game may crash as a result of this or fail to launch at all. You can figure out if this is the issue and take action to fix it by temporarily disabling the antivirus.
Please be aware, though, that temporarily turning off your antivirus could expose your device to viruses and other security risks. The antivirus should only be temporarily disabled, once you've finished troubleshooting the game, switch it back on.
8. Reinstall the game
A game's launching problem can be resolved by reinstalling it because this restores any corrupted or missing files that might be the issue. The game "starts fresh" when you reinstall it because it erases all of its files and downloads and installs clean versions of them.
This can assist in resolving any issues that might have been brought on by corrupted or missing files, such as conflicts with other programs or issues with the game's setup settings.
In addition, any files that may have been harmed by malware or other kinds of malware that may have been present on your computer will also be erased during the reinstallation process, which can assist to avoid Dead Space remake not launching.
Dead Space Remake System Requirements
Due to the visual and technical upgrade, Dead Space Remake has quite demanding system specifications. Make sure you check if your PC meets the specs of the game before proceeding with the solutions:
➖ Minimum System requirements:
OS: Windows 10 64-bits+

Processor: Ryzen 5 2600x, Core i5 8600

Memory: 16 GB RAM

Graphics: AMD RX 5200, GTX 1070

DirectX: Version 12

Network: Broadband Internet connection

Additional Notes: 50GB SATA SSD
✔️ Recommended System Requirements:
OS: Windows 10 64-bits+

Processor: Ryzen 5 2600x, Core i5 11600k

Memory: 16 GB RAM

Graphics: Radeon RX 5200 XT, Geforce RTX 2070

DirectX: Version 12

Network: Broadband Internet connection

Additional Notes: 50GB SSD PCle compatible
Conclusion
Dead Space remake is so much of an improved version of the original game. Many changes and enhancements have been observed by players in the remastered version of Dead Space, such as improved visuals and audio.
The game has been made specifically for new-gen consoles, which allow it to leverage the capabilities of frostbite engines and faster SSDs to remove any noticeable barriers, including loading screens. Technically, the game was developed to the best standard.
In case you have other types of launching problems, we also covered Dead Space Remake stuck on the loading screen. At the same time, there are performance issues like low FPS or stuttering in the game that may trigger launching problems.
We truly believe that our solutions will help you fix any lingering issue that may prevent you from enjoying the game.
If you encounter any issues or errors while playing your favorite games and require support, feel free to contact us here. Our team is always ready to assist you and ensure your gaming experience is seamless and enjoyable.