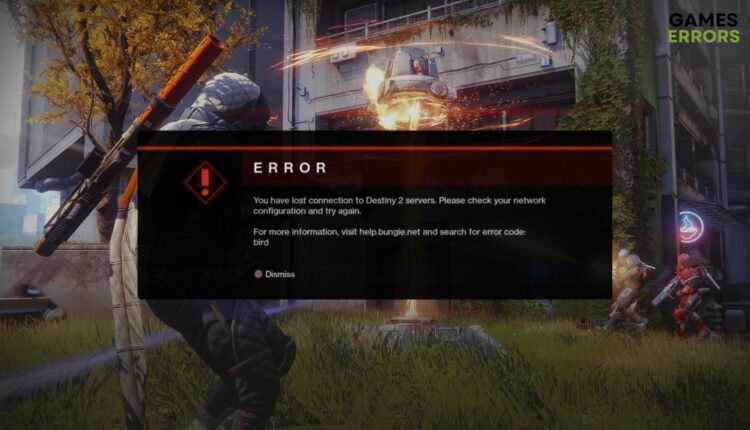 Destiny 2 Error Code Bird: How to Fix This Connection Issue
Update network adapter and troubleshoot internet connection to fix error code bird in Destiny 2 ✅
X
INSTALL BY CLICKING THE DOWNLOAD FILE
If the Destiny 2 error code bird keeps appearing frequently, don't worry. You are one of the many gamers who are facing this problem. Luckily, there are solutions.
Destiny 2 is a decent-looking game with a lot of excellent gaming elements. But multiplayer or single-player, this title always requires you to be connected to their servers via a stable internet connection. As a result, gamers often encounter various connection errors in Destiny 2.
Learn how to solve Destiny 2 error code anteater if necessary.
What is the error code bird in Destiny 2?
The error code bird is a general networking problem in Destiny 2. When it occurs, you get disconnected from the gameplay. People reported that they suddenly encountered this problem after killing multiple enemies. This issue also may appear before starting a match or during the gameplay.
When you get disconnected due to this problem, you will see the following error message:
You have lost connection to Destiny 2 servers. Please check your network configuration and try again.

For more information, visit help.bungie.net and search for error code: bird
This problem occurs in both the standard game and the Lightfall DLC.
If necessary, learn how to fix Destiny 2 Lightfall crashing.
What is causing the error code bird in Destiny 2?
Usually, any of the following things may be why you are encountering the bird error in Destiny 2:
Server problem: If the Bungie server is under sudden maintenance or there is an outage, you may encounter various Destiny 2 error codes, including bird, etc.
Internet issues: If your internet connection is not stable or there are high latency issues, it also may trigger the error code bird in Destiny 2.
Problematic network adapter: Usually, you should not encounter network driver-related issues. If something is wrong with the network adapter or the driver, you may get this problem.
Problematic cache: Else, problematic game cache and components can be why Destiny 2 is failing by showing the error code bird.
How do I fix the Destiny 2 error code bird?
First, you must check the Bungie server status and determine whether it's a server-side issue. If everything is fine, you can easily fix the error code bird in Destiny 2. But, before trying the main methods, you should do these quick things:
Disable your antivirus and firewall and see if it helps.
Power cycle your PC/Console and the internet router and modem.
Ensure that you have a stable internet connection with good latency.
Now, follow these methods to solve this connection error:
1. Update the network adapter
Open the Start Menu, type Device Manager, and hit Enter.
Double-click on the Network adapters to expand it.
Right-click on your network driver and choose Update driver.
Click on Search automatically for drivers.
Follow any onscreen steps to complete the process.
To update drivers more conveniently, you can use DriverFix. This tool can update multiple drivers with just a single click. In addition, it can find and install the most recent version of the game-ready drivers, which is extremely helpful in fixing various gaming problems.
2. Change DNS
DNS is a very important factor for a game like Destiny 2. You must use a better DNS server to fix the error code bird. To do it, follow these methods:
Open Windows Settings by pressing Win + I.
Go to the Network & internet, and click on Wi-Fi or Ethernet, depending on which connection you are using.
Select Manual.
Enable IPv4.
Restart your PC.
We have used Google DNS for the above steps. If you want, you can use any other stable public DNS address.
3. Reset the Network
Open the Windows Settings like before.
Click on Network Reset.
Next, click on Reset.
Restart your PC.
After resetting the network, you may need to reconfigure your connection settings in specific cases. But it is a very helpful way to solve connection errors in Destiny 2.
4. Troubleshoot the internet connection
Time needed: 2 minutes.
If you want to fix the error code bird in Destiny 2, troubleshooting your internet connection is a highly effective solution.
Follow any other steps required to complete the troubleshooting process.
5. Clear cache
Open the Steam desktop app.
Go to Settings, as shown in the screenshot.
Relaunch Steam.
Now, launch Destiny 2 and see if the error code bird still exists or not. You also should check if there is a game update available. Keep Destiny 2 up to date to avoid any type of difficulties.
Additional suggestions:
If the above methods have not worked for you, follow these suggestions:
Update Windows to the latest version.
Contact Bungie support.
Also, contact your ISP if you suspect the error code bird is occurring because of your ISP's fault.
If you are interested, learn how to solve the error code chicken in Destiny 2.
This article has shown how to fix Destiny 2 error code bird easily. Let us know in the comment box if you have any better suggestions.
If you encounter any issues or errors while playing your favorite games and require support, feel free to contact us here. Our team is always ready to assist you and ensure your gaming experience is seamless and enjoyable.