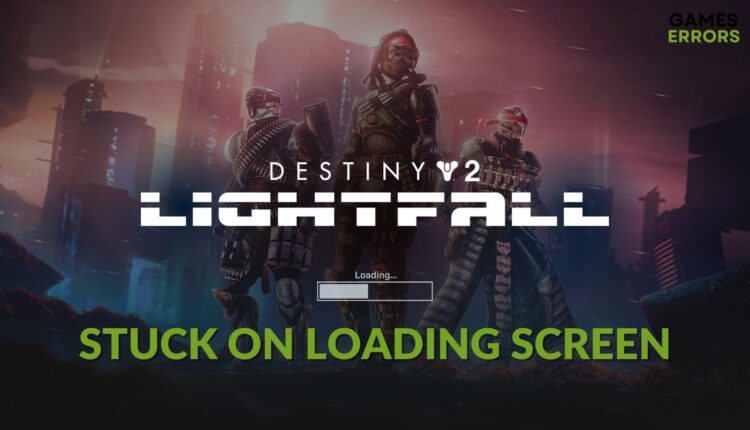 Destiny 2 Lightfall Stuck on Loading Screen: How to Fix
If Destiny 2 Lightfall is not loading, update the GPU driver, run it as an admin, and follow these steps 🎯
X
INSTALL BY CLICKING THE DOWNLOAD FILE
Is Destiny 2 Lightfall stuck on the loading screen? Like you, many others are facing this problem with this new DLC. If you take essential steps, you can easily avoid this freezing problem and enjoy the game.
The Sci-Fi first-person shooter action-adventure game Destiny 2 is indeed a favorite title for avid gamers. Many were waiting for the new DLC Lightfall. But, after installing it, you may notice that the game isn't loading. It is a big frustration as, unlike the main game, this DLC is not free to play, and you were probably eagerly waiting for it.
Why is the Destiny 2 Lightfall taking forever to load?
The Destiny 2 Lightfall may not load and remains in the launching or loading screen for an infinity amount of time if any of these reasons exist:
System requirements:

 System requirement is important. If your PC lacks the recommended specifications for this game, it may not load at all.

Disk problem:

 If you have installed Destiny 2 Lightfall on a slow HDD or the disk has some issues, this game will have difficulties while loading and may become stuck.

Graphics driver issues:

 When you launch or try to play a video game, all necessary elements need to be loaded on your GPU memory. If the graphics driver is having some problems, it may not happen successfully, which may trigger crashing issues or loading problems.

Corrupted game components:

 Game components are necessary to run a game without any problem. Destiny 2 Lightfall will be stuck on the load screen if any of them goes missing or is corrupted.

Third-party services:

 Some third-party services, like your antivirus and firewall, also may be responsible for this problem.
What should I do to fix Destiny 2 Lightfall stuck on the loading screen?
We have prepared the best methods that can help you to get rid of the Destiny 2 Lightfall stuck on the loading screen problem. However, before trying our methods, we want you to do the following things:
If you still face the problem, go through the following methods:
1. Run as administrator
Open Steam or Epic Games Launcher, depending on where you have installed the game.
Go to the game library.
Right-click on Destiny 2's EXE file

 and go to its 

Properties

.

Navigate to the

Compatibility

 tab.

Click on Apply and OK.
2. Update the graphics card driver
Press Win + X on the keyboard and go to Device Manager.

Find the

Display adapters

, and

 expand it.

Choose 

Search automatically for drivers

and complete the process.
To download the most compatible graphics driver for your PC and update it, you should use
DriverFix
. It is one of the most valuable tools for PC gamers. It can scan for outdated drivers and update them automatically. This helps to get rid of problems like Destiny 2 Lightfall stuck on the loading screen.
3. Reduce background services
Press CTRL + Shift + Esc on the keyboard to open the 

Task Manager

.

Go to the

Processes

tab if you are not already there by default.

Disable every other non-essential process in this way.
4. Repair the game files
Go to your Steam game library like before.
Right-click on Destiny 2

and go to

Properties

.

Go to the

Local Files

 tab.

Steam will take a while to scan and repair the game files.
If you are using Epic Games Launcher, you will get a similar Repair option. Figure it out and go ahead to fix Lightfall's loading screen freezing problem.
5. Update Destiny 2 Lightfall
Go to Destiny 2's properties from the Steam game library like the previous method.
Navigate to the Updates tab.
Click on the dropdown icon of Automatic Updates, and choose High Priority – Always auto-update this game before others.
Relaunch Steam.
Now, when a new update is available, Steam will immediately download and install it with the highest priority. In other game launchers, you will get similar options.
6. Repair disk issues
Open

This PC

.

Right-click on the disk drive where you have installed Destiny 2 and go to its

Properties

.

Navigate to the

Tools

 tab.

Click on 

Scan drive

.

Keep patience until it finishes the scanning and repairing process.
Now, launch the game and see if you still face the problem or not.
Extra methods:
If you still get the freezing-up issues on the loading screen with Destiny 2's Lightfall DLC, we suggest you try these methods as well:
Delete local game data.
Uninstall apps like your Antivirus, Firewall, game booster, etc.
Free up some disk spaces in the drive where you have installed the Lightfall.
Re-install the game and the Lightfall DLC.
Update Windows to the latest version.
We also suggest you see this guide on how to fix crashing problems with any game.
These are the most effective solutions you can apply if the Destiny 2 Lightfall is stuck on the loading screen. If you have any questions or opinions, feel free to let us know in the comment box.
If you encounter any issues or errors while playing your favorite games and require support, feel free to contact us here. Our team is always ready to assist you and ensure your gaming experience is seamless and enjoyable.