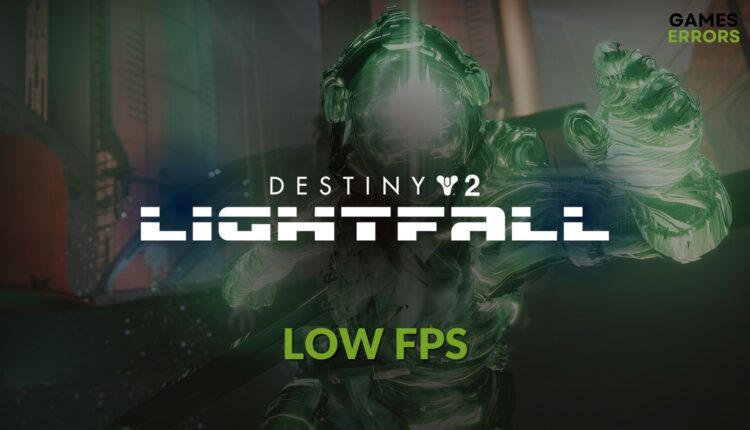 Destiny 2 Lightfall Low FPS: How to Improve Performance
If Destiny 2 Lightfall performs awfully, update GPU, turn off Vsync, increase FPS limit and follow these methods ✅
X
INSTALL BY CLICKING THE DOWNLOAD FILE
If you are going through Destiny 2 Lightfall low FPS problem on your PC, it must be a frustrating experience. But you can easily boost the framerate and improve the overall performance of this Sci-Fi adventure game.
There is no doubt that Destiny 2 is a fantastic game loved by a lot of gamers. In addition, it's a free-to-play title available on various platforms. The new paid DLC, Lightfall, has brought even more exciting things to this game. But if it performs poorly, it will ruin your experience.
What causes the Destiny 2 Lightfall frame rate drops and stuttering issues?
Graphics driver problem:

 If the graphics driver has some issues or it is outdated, Lightfall's frame rate may drop.

Third-party apps:

 If any third-party apps or services create conflict, you may get poor performance from this game.

System requirements:

 System requirement is important. If your PC's specifications are not ideal for Destiny 2: Lightfall, problems like stuttering and low FPS will arise.

Disk performance:

 For a large game, disk performance has a direct effect on the performance. If there is a problem with the Hard Disk or SSD, you may encounter problems like Destiny 2 Lightfall being stuck on the loading screen, not launching, poor frame rate, etc.

Improper configuration:

 If you play with high settings on a low-end PC or the settings on your PC are not ideal for this game, you may not expect a very playable experience.

Corrupted game components:

 Corrupted components are another reason behind this poor frame rate problem.
How can I fix Destiny 2 Lightfall's low FPS problem?
Before getting started, you can check the following things:
Now, you can try these methods to fix the problem:
1. Update the graphics card driver
Press Win + X on the keyboard and click on Device Manager.

Double-click on

Display adapters.

Choose 

Search automatically for drivers

 and complete the process.
To update the graphics card driver, it will be better if you use
DriverFix
rather than the device manager. This tool can find the most recent version of the driver from the official source and complete the whole process with just a single click.
2. Disable full-screen optimization
Open Steam.
Go to the game library.
Right-click on the destiny2.exe file

and click on

Properties

.

Navigate to the

Compatibility

 tab.

Click on Apply and OK.
In other game launchers, you will get the option to browse local files too. If not, you can manually navigate to the game installation directory using File Explorer. Disabling fullscreen optimizations can help you to gain a few more FPS in Destiny 2 Lightfall.
3. Reduce background activities
Press CTRL + Shift + Esc to open the 

Task Manager

.

Go to the 

Processes

tab if you are not already there by default.

In this way, disable every unnecessary process.
4. Enable game mode
Press 

Win

 + 

I

 on the keyboard to open Windows Settings

.
The game mode makes Windows more friendly for games. It can increase Destiny 2 Lightfall FPS noticeably.
5. Disable Vsync
Open the NVIDIA Control Panel or any other graphics control panel, depending on your GPU.
Go to Manage 3D Settings.
Find and turn off Vertical Sync, as shown in the screenshot.
Relaunch Destiny 2 Lightfall.
You also can disable Vsync from the in-game settings. It helps to gain more frame rates in specific computers.
6. Change the Framerate cap
Go to Destiny 2's in-game settings.
Go to Video Settings.
Change the Framerate cap to the higher one.
Relaunch the game.
Now, you may notice a significantly increased FPS in Destiny 2 Lightfall. If not, you also can disable the Framerate Cap and see if it helps.
7. Roll back the GPU driver
Open the 

Device Manager

like before.

Double-click on the GPU driver and go to its Properties.

Go to the

Driver

tab.

Restart Windows.
This method will help if you start noticing FPS drops and stuttering issues on Destiny 2 Lightfall after updating the GPU driver.
8. Re-install the video driver
8.1 Uninstall the GPU driver
Open Device Manager.

 Right-click on the video driver and choose

Uninstall

.

Restart Windows.
8.2 Install again
Visit

AMD

, 

Intel

, or 

NVIDIA driver download page

, depending on your graphics card model.
Click on the correct Download button to download the driver.

Install it on your PC.

Restart Windows.
9. Repair the game files
Go to the Steam game library.
Right-click on Destiny 2 

and go to

Properties

.

Go to the

Local Files

 tab.

Wait for a while until it finishes the process.
10. Re-install the game on an SSD
Install the game again by clicking on the Install button.

Complete the installation process.
Installing Destiny 2 Lightfall on an SSD may also solve the low FPS problem.
Extra steps:
If you still encounter the problem, we suggest you do the following things:
Play with lower settings.
Disable in-game overlay.
Update Windows to the latest version.
If it is a known issue with the current version of Destiny 2 Lightfall, wait for the next update.
Also, consider disabling any FPS booster, overclocking apps and similar services or uninstalling the related software.
If necessary, learn how to fix Destiny 2 Lightfall crashing problem.
These are the most effective methods you can try to fix Destiny 2 Lightfall's low FPS problem. Let us know in the comment box if you have any questions or opinions.
If you encounter any issues or errors while playing your favorite games and require support, feel free to contact us here. Our team is always ready to assist you and ensure your gaming experience is seamless and enjoyable.