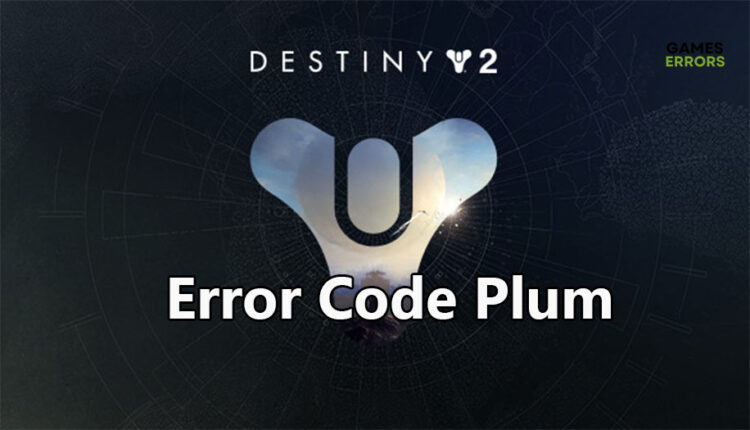 Destiny 2 Error Code Plum: Tips For Quick Fixes
Are you getting the Plum error code when playing Destiny 2? You're not alone. Fix it with one of these solutions.
X
INSTALL BY CLICKING THE DOWNLOAD FILE
Destiny 2 is known for its creative error code names. I'm not sure that naming an error code baboon will make it less frustrating for players. But as it happens, Destiny 2 error code Plum is one of those errors that can get you in hot water for no fault of your own. Despite its delicious name, this error has sinister undertones and will prevent you from accessing the game servers unless you do something about it.
What is Destiny 2 Error Code Plum?
Put simply, Destiny error code Plum implies that the game software has detected cheat code running on your system at the same time as the game. In other words, the developers of the game have scanned your open processes and suspect that you're trying to cheat on the game. In theory, this is a good thing since it gives all gamers a fair chance at playing without someone having an advantage over the other players.
But in reality, most of the time this error code is a false positive. That means that your system would be clean as a whistle and you're a good player. Still, BattlEye developers would still think you're trying to cheat or violate their terms and conditions. There's nothing for you to do but prove your innocence by fixing the problem yourself. Let me help you do just that.
How to Fix Destiny 2 Error Code Plum
1. Disable Valorant Vanguard
Time needed: 2 minutes.
You know how two anti-virus software cannot run on the same machine since each one will flag the other as malware? That's the case with anti-cheat software in games. Both Valorant and Destiny 2 have their own anti-cheat tools that scan the running code on your system while you're playing the game. These tools often run in the background and the Valorant vanguard can trigger the Destiny 2 error code plum. Here's how to fix it.
Close Destiny 2 and click the arrow in the taskbar to expand the box of apps.
Right-click Valorant Vanguard and click Exit Vanguard.
Right-click the taskbar and launch Task Manager
Under Processes, search for any Valorant processes, right-click each one, and select End Task.
Now launch Destiny 2 and see if the error code is fixed.
2. Clean Boot your PC
When your start Windows, a whole bunch of apps and services start running in the background as well. Most of the time you won't need these apps or services while playing Destiny 2. The problem is that these apps strain the limited resources on your system which can trigger errors in the game. You'll need to perform a clean boot of your PC as follows.
Press Win + R to launch the Run app.
Type msconfig in the Run box and click OK to launch System Configuration app.
In the General tab uncheck Load startup items.
Click the Services tab and at the bottom check Hide all Microsoft Services box.
Select all remaining services and click Disable All button.
Click OK and restart your PC. Now you can play Destiny 2 without issues.
3. Close Background Apps
Closing background apps has the same advantages as the previous solution but it doesn't take as much time and doesn't require rebooting your PC. Moreover, you can perform this solution on the fly and go back to your game in a couple of minutes. The tricky part here is to know which apps to close. Focus on memory-hungry apps such as browsers, Cortana, Spotify, NVIDIA Gaming Experience, and others. Don't terminate your anti-virus. That puts your system at risk.
Close Destiny 2 and right-click the taskbar to start Task Manager.
Scroll down the list of open Processes and identify the apps taking up the most resources on your system.
Right-click each process and select End Task.
Close Task Manager and relaunch Destiny 2. Check if the Plum error is gone.
4. Update Windows
If you haven't set your Windows Updates to check for new updates and download them automatically, then you might encounter Destiny 2 error code Plum more than other gamers. Many players reported that updating Windows fixed the problem and allowed them to log into the game servers and take up where they left off. Also updating your system keeps you safe against malware, so it's a win-win situation.
Launch Settings from the Start menu and click Updates & Security.
Click the Check for Updates button and download and install the latest updates. [windows-update]
Restart your PC then launch Destiny 2.
Related Articles:
Beat the anti-cheat error in Destiny 2 with these workarounds and tell us in the comments section if you have other fixes.
If you encounter any issues or errors while playing your favorite games and require support, feel free to contact us here. Our team is always ready to assist you and ensure your gaming experience is seamless and enjoyable.