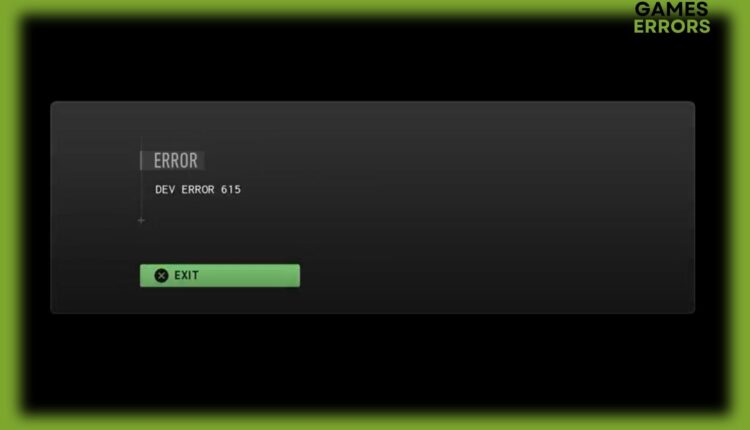 Dev Error 615 in Call of Duty Modern Warfare 2 [Quick Fix]
The poor Internet connection might be the cause for Dev 615 error on Modern Warfare 2
X
INSTALL BY CLICKING THE DOWNLOAD FILE
There are numerous players that love the Call of Duty Modern Warfare 2 gameplay but crash errors don't seem to stop at any minute.
If you're an avid player, you certainly need to know how to resolve the Dev error 615 on MW2. Different users recently reported game crashes since the launch of the game.
Basically, this dev 615 error code occurs in the game and can interrupt your gameplay while performing different actions.
What does Dev Error 615 mean?
Currently, there is no specific cause for such an error code in Modern Warfare 2 and users are reporting different scenarios when playing the game. As an example, a crash may occur if you're jumping too much in the game.
However, you may encounter this unpleasant error due to a poor internet connection or server issues.
Moreover, multiple players reported this crash error as being kicked for no reason to the main menu when jumped over a wall, and Dev error 615 appeared.
How can you fix the Dev error 615 on MW2?
Before applying our descriptive solutions below, you should always consider restarting the game as a preliminary check.
1. Update the game ✅
An essential step you should follow is checking if your game is currently outdated and getting the latest updates right away.
That is because running the outdated game version may generate crash errors like error 615 due to compatibility reasons.
2. Verify the integrity of game files
For Steam users:
Open the Steam client, head to Library, and right-click on CoD MW2.
Choose Properties then click on the Local Files tab.
Now, click on Verify integrity of game files.
For Battle.net users:
Now, begin the Scan and wait to see if there are corrupted files.
Restart the game and verify if the errors still appear.
3. Check the game servers
Sometimes the problem you are having may be related to MW2's server being down or for maintenance. Therefore, make sure to check the server status regularly.
Visit the Activision Online Support official page or look at the game's official Twitter account if there are any reports of servers being down.
4. Check and optimize the Internet connection
Check the internet connection
First, ensure that your Internet connection is working properly.
Check the internet speed to see if the connection is stable. (For this purpose, use this Speedtest website).
Press on Go and wait for the process to measure your Internet network speed.
If the Internet connection works properly, you should play the game without crashing.
Optimize the internet connection
Restarting your router might help you fix any connectivity issues and enhance the functionality of your internet connection.
Positioning your router near your machine can help to ensure a strong signal.
Reduce interference: Other electronic gadgets can disrupt your internet signal, including mobile phones and microwaves. To reduce interference, try to keep these devices far enough from your router.
5. Reinstall the game
As a last resort, you can try as well to resolve this error code on Modern Warfare 2 by reinstalling the game completely from your PC.
To do that, access MW2 from your game launcher → Click on the gear icon and select Uninstall  → Follow the uninstalling process → Install the game again on your device.
In addition, the players discussed this issue online and it seems that the error code affects every player, even more after the new update. More so, different players reported messages like this:
https://twitter.com/TheRealKuzzy/status/1599198636231258112?s=20&t=XSXEvYz-M-iA3Dom9D0PeA
If you encounter any issues or errors while playing your favorite games and require support, feel free to contact us here. Our team is always ready to assist you and ensure your gaming experience is seamless and enjoyable.