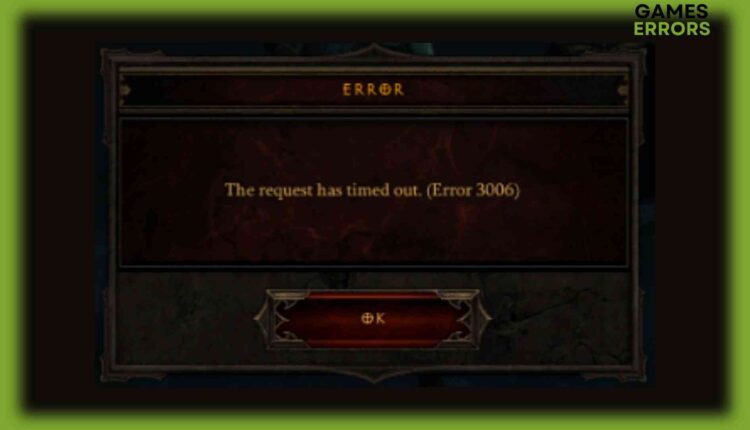 Diablo 3 Error Code 3006: Fix It Quickly
When Diablo 3 throws error code 3006 at you, don't take it sitting down. Try these fixes to get access to the game servers again.
X
INSTALL BY CLICKING THE DOWNLOAD FILE
At heart, most online game error codes are connectivity issues. You can't access the game servers for one reason or another. This could happen while trying to log into the game, start a mission, switch characters or perform an action that requires you to log into a different server. This applies to Diablo 3 error code 3006 which can be a frustrating error that won't let you progress further.
What is Diablo 3 Error Code 3006?
If you have been playing Diablo 3 and error code 3006 jumped at you out of nowhere, you're not alone. This is a connectivity issue that could happen when switching characters or trying to access the Auction House. You might think it has something to do with your connection or network and you'd be right about that. But that's not the only cause. Diablo 3 error code 3006 could happen because of any of the following.
Current game region is overcrowded.
DNS cache is corrupt or outdated.
Router needs to restart
Game servers are overloaded.
There's scheduled maintenance of the game servers
How to Fix Diablo 3 Error Code 3006?
1. Check Diablo 3 Server Status
When you get Diablo 3 error code 3006, the first thing you would want to do is to check that the error is caused by the game servers being down. This can be a technical problem that the developers would work on fixing or it could be down for scheduled maintenance work. You can quickly figure it out by heading over to the Blizzard Twitter page.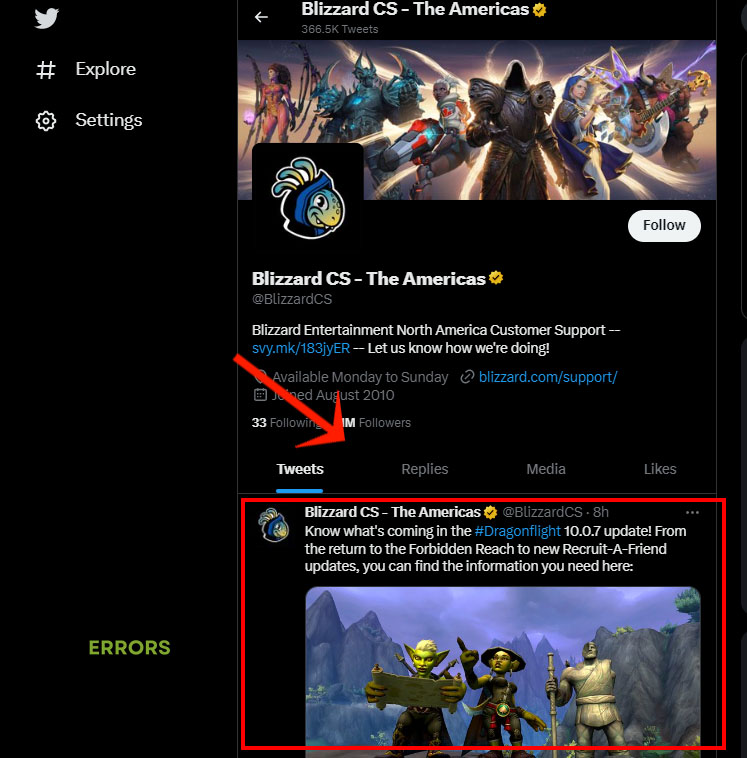 Now you just have to wait it out and try again after the servers have gone back online.
2. Restart the Router
Time needed: 2 minutes.
Your router could be the real issue here. It might have switched to a different connection or it's probably cluttered with a lot of junk files that mess up its configurations and cause connectivity issues. It's easy to fix this issue by simply restarting the router.
Shut down Diablo 3 and close any open apps on your system.
Unplug the router and modem from the power source.
Wait for about 60 seconds before plugging the modem back.
Wait for the lights to turn green then plug in the router.
Start Diablo 3 and see if that fixes the problem.
3. Change your Diablo 3 Region
Diablo 3 allows you to pick the in-game region. But some regions are more popular than others and these regions would get overcrowded with players pretty quickly. Accessing overloaded regions is difficult and could trigger error code 3006. You just need to switch to another region.
Close Diablo 3 and launch the game client.
Click Options and select Account.
Scroll down to the Server Region and click the dropdown menu to expand it.
Select a different region and click OK to save your settings.
Launch Diablo 3 and log in to continue your gaming experience.
4. Clear DNS Cache
Much like your router, the DNS cache gets corrupted or outdated. This can create connectivity issues and trigger errors when playing online games. It's recommended to flush your DNS server regularly to sync the cache and prevent possible connectivity issues like Diablo 3 error code 3006. Just follow these steps to clear your DNS cache.
Shut down all apps that might be using the internet including Diablo 3.
Right-click the Start menu and select Windows PowerShell (Admin).
Type ipconfig /flushdns at the prompt and click Enter.
Wait for the process to finish then close Windows PowerShell and restart your computer.
Relaunch Diablo 3 and make sure you can log in without any issues.
5. Troubleshoot your Network
When none of the above solutions seem to work, the problem might be in your network configurations. The best way to fix that problem is to launch the network troubleshooter and let it find out what's wrong with your network and offer you options to fix it.
Open Settings from the Start menu and select Update & Security.
In the left panel select Troubleshoot.
Scroll down to Additional Troubleshooters and click it.
In the new screen, click Internet Connections to expand it and hit Run the troubleshooter.
Follow the instructions on the screen and click the fixes the troubleshooter offers.
Restart Diablo 3 and check that you can access the game servers without any issues.
Related Articles:
If Diablo 3 error code 3006 interrupts your game, try these 5 solutions and get back into the game in almost no time. Let us know which solution worked for you.
If you encounter any issues or errors while playing your favorite games and require support, feel free to contact us here. Our team is always ready to assist you and ensure your gaming experience is seamless and enjoyable.