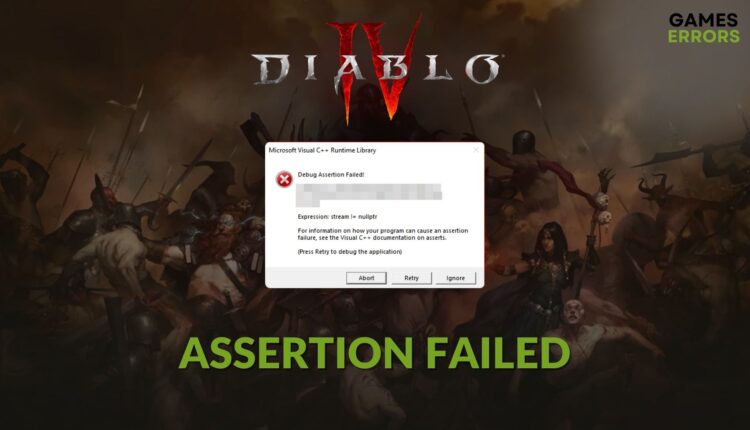 Diablo 4 Assertion Failed: Most Effective Solutions
To fix assertion failed error on Diablo 4, re-install Visual C++ Redistributables, update the GPU driver and follow these tricks👇
A lot of gamers are encountering Diablo 4 assertion failed error. If you are one of them, this article has the necessary solutions.
After being made public to users, this game has been going through a lot of errors. You can find solutions to many of them in this Diablo 4 page. Assertion failed error is not something like other Diablo IV problems. When users encounter this issue, a message will appear like the following one:
Microsoft Visual C++ Runtime Library

Assertion Failed!

Program: C:\Program Files (x86)\Diablo IV\igxess.dll

File:

D:\qb\workspace\28510\source\product\XeFX\i…\ip_cm.cpp

Line: 478

Expression: _kernel_PSO
Luckily, you can solve this problem by applying some effective techniques.
If needed, learn how to solve Diablo 4 won't launch.
What causes assertion failed in Diablo 4?
Usually, gamers get this problem on both Microsoft Windows 11 and 10. It occurs due to the following reasons:
Problematic game components: Microsoft Visual C++ redistributables, DirectX Runtime, etc., are necessary for this game. If these are missing or corrupted, this assertion failed error may appear in Diablo IV.
Corrupted installation: In case the game installation gets corrupted or altered by something, you may encounter the problem we are talking about.
GPU driver problem: According to some gamers, problematic GPU drivers can also be the root of assertion failure issues in this action RPG game.
How do I fix the Diablo 4 assertion failed on a Windows PC?
You should confirm that your PC meets the system requirements of Diablo 4 properly before taking any actions. If everything is OK, then do these quick things right before going through the main methods:
Disable your antivirus and firewall.
Ensure that your PC's system files are not corrupted.
Make sure that you are using the genuine version of the game.
✅ Then, try the following methods to get rid of the assertion failed error while launching Diablo 4:
1. Re-install Visual C++ Redistributables
Visit the Microsoft Visual C++ Redistributables page.
Download the installer for X64 architecture.
Install it.
Also, install DirectX Runtime and restart your PC.
Now, run Diablo 4 again and see whether it still crashes by showing the assertion failed message or not.
2. Update graphics card driver
Time needed: 3 minutes
If the Diable 4 keeps showing the assertion failed error while launching, update your graphics card driver, including the iGPU, to fix it.
Click on Search automatically for drivers and follow any other on-screen steps to finish the process.
Restart your PC.
To update your graphics driver, you should use a tool like Outbyte Driver Updater. It can find the latest official version of the driver and install it on your PC without any manual effort. As a result, you can get better gaming performance.
3. Repair Diablo 4
Is Diablo 4 still crashing by showing Microsoft Visual C++ Runtime Library Assertion failed error? Take the following steps to repair the game files to fix this problem:
Open the Battle.net launcher app.
Go to Installed Games.
Click on Diablo 4.
Finish the process.
4. Re-install the graphics card driver
Go to the Device Manager like before.
Right-click on your graphics card driver and click on Uninstall.
Restart your PC.
Then, visit AMD, Intel, or NVIDIA driver download page, depending on your GPU model.
Select your graphics card model and click on Search.
Download the driver.
Install it on your PC.
Restart Windows.
If you have an iGPU like Intel HD/Iris/Xe graphics, you should re-install that one, too, besides the dedicated GPU. It will help to solve Diablo 4 assertion failed or similar errors.
5. Re-install Diablo 4
Go to the game library of the Battle.net app like before.
After finishing the uninstallation process, install the game again.
After that, launch Diablo 4 and see if it still shows the assertion failed error or not.
Extra tips:
If the problem still stops you from playing this ARPG, you can do the following things:
Update Windows to the latest version.
Navigate to the Diablo IV installation directory and rename igxess.dll to something like igxess.dll.old. Then see if it helps. You also can get a fresh copy of this DLL file and replace the old one.
Hopefully, any of the above methods will solve the Diablo 4 assertion failed error. If you have any questions, let us know in the comment box.
If you encounter any issues or errors while playing your favorite games and require support, feel free to contact us here. Our team is always ready to assist you and ensure your gaming experience is seamless and enjoyable.