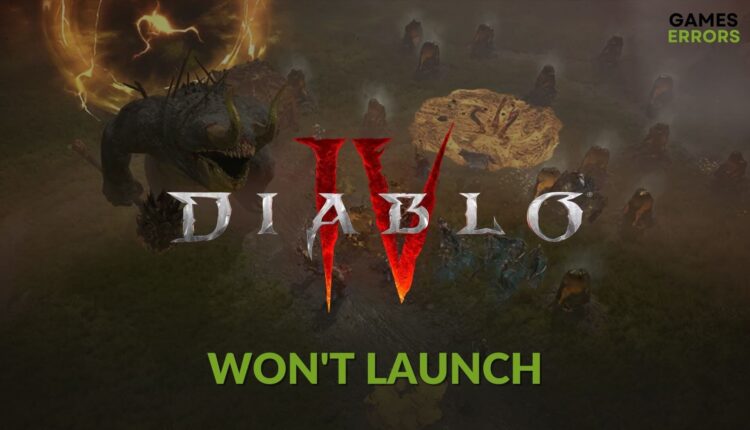 Diablo 4 Won't Launch: How to Make it Work [Quick Fix]
If you cannot run Diablo 4, repair the game files and update the drivers and game components 🎯
Diablo 4 won't launch if there is something wrong with the game or your PC. But, if you can tweak the proper things, you will be able to run this game without any problem.
If you are a big fan of action role-playing games, Diablo is one of the best options. Its latest edition, Diablo IV, has brought a lot of new elements. But if it doesn't run on your PC at all, you will miss the whole thing. Luckily, you can follow some effective steps to solve this problem.
Why won't Diablo 4 launch?
Diablo IV will not run on your PC at all if the following reason exists:
Corrupted game files: The first reason why Diablo 4 may not run on your Windows 10 or 11 PC is the corrupted game files.
Problematic drivers: Outdated or buggy drivers, particularly the GPU driver, can create this problem as well.
Corrupted cache: If the cache files related to the games and the launcher become corrupted, Diablo IV won't launch.
Problematic game components: Problematic or outdated game components can cause Diablo 4 crashing or launching problems.
How can I fix Diablo 4 won't launch?
If you cannot run the game on your PC, first, check Diablo IV's system requirements and determine if everything is OK. Now, do these quick things before going through the troubleshooting process:
After ensuring the above things, go through these methods one by one to solve Diablo IV won't launch:
1. Run Diablo 4 as an administrator
Open the Battle.net launcher.
Click on All Games and choose Installed.
Go to Diablo IV.
Go to the Diablo 4 directory.
Right-click on the Diablo.exe file and go to Properties.
Navigate to the Compatibility tab.
Click on Apply and OK.
Now, launch Diablo IV and see if it runs on your PC or not.
2. Update the drivers
Press Win + X and then click on Device Manager.
Expand Display adapters.
Right-click on the graphics card driver and choose Update driver.
Select Search automatically for drivers and finish the update.
Update all other drivers in this way.
Restart your PC.
Manually updating all of the drivers may take a lot of time. So, you should use Outbyte Driver Updater. This tool is capable of updating dozens of drivers with just a single click. Moreover, it can find the most recent version of the compatible drivers, which helps to solve various game-related problems.
⇒ Get Outbyte Driver Updater
3. Reset in-game options
If Diablo 4 or any other battle.net games won't launch on your PC, you should reset the in-game options. It is an excellent way to solve this type of problem. To do it, follow these steps:
Click on Reset In-Game Options and finish the process.
Relaunch the Battle.net.
4. Clear cache
Problematic cache files with the game and the launcher can also cause this issue. So, you should delete Blizzard Entertainment and Battle.net folder's content from the ProgramData folder. Here are the instructions to follow:
Press Win + R to open Run.
Find the Blizzard Entertainment folder and delete its contents.
Similarly, find and delete the contents from the Battle.net folder.
If you cannot delete it, close the batte.net app and disable any processes related to the game and this launcher from the task manager. Then, try again. It should fix the Diable 4 not launching issue.
5. Update the game
Install any available updates.
Relaunch the game.
6. Repair Diablo IV
Time needed: 3 minutes
If the game files become corrupted, Diablo 4 will not launch. So, you should repair its installation files to solve this problem.
Next, click on Begin Scan.
Follow any additional on-screen steps to complete the process.
7. Re-install the game
Follow any on-screen steps to uninstall the game.
After that, install the game again.
You should install this item on an SSD. After re-installing, try to run Diablo 4 and see if it is having any issues while launching or not.
More suggestions:
If you still cannot launch Diablo 4, do these things as well:
Uninstall your antivirus and firewall to see if it helps.
Update Windows to the latest version.
Uninstall any cheat or hack tools.
If nothing works, try to find out whether it is a known problem or not. If yes, wait for the next game update.
You also can consider re-installing Windows 11 or 10.
In case you see the game is crashing while launching, we suggest you check out this guide on how to stop games from crashing.
This article has explained how you can fix Diablo 4 won't launch or similar problems. You can share your opinions or helpful suggestions in the comment box.