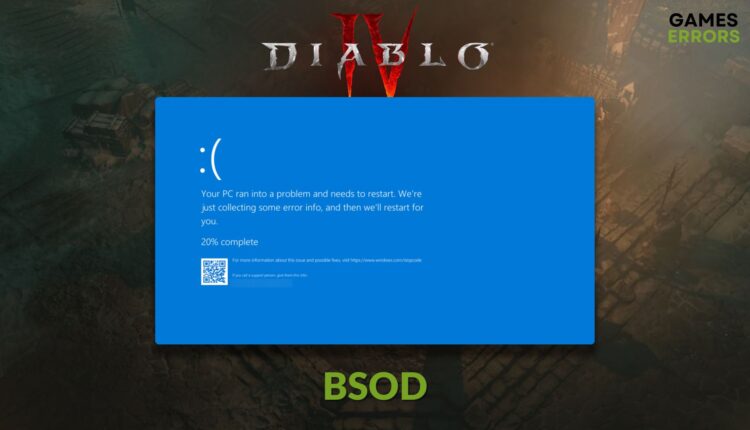 Diablo 4 BSOD: How to Fix it Easily & Prevent Further BSODs
Prevent any type of BSOD errors while playing Diablo IV by applying these effective solutions 👇
If you are frequently having BSOD errors while playing Diablo 4, try the solutions from this article. Here, you will also know why the blue screen of death occurs when you try to play this ARPG.
After its release, this high-end video game has gained a large user base. But, many gamers are going through various performance issues on Diablo 4. The BSOD is the worst of them. A mentionable number of gamers, particularly the ones with AMD processors, are having this issue more.
What causes the BSOD error while playing Diablo 4?
If Diablo 4 keeps crashing to a blue screen of death, it is mainly because of any of these reasons:
System requirements: In many cases, Windows users are having BSOD errors while playing Diablo 4 because their PCs don't have the required specifications to run this game properly.
Overclocking: If you have enabled overclocking, Diablo 4 may stop working after a while, and your PC will restart automatically by showing a blue screen.
Memory problem: The problem with memory is another reason behind Diablo 4's BSOD crashings.
Driver issues: Outdated and faulty drivers are also responsible for this type of issue.
Third-party services: Third-party services can also trigger BSOD errors while playing Diablo 4.
Else, overheating, incorrect settings, and corrupted components also can trigger stop code errors when you are playing Diablo IV.
How do I fix Diablo 4 BSOD on Windows 11 or 10?
First of all, confirm that your PC meets Diablo 4's system requirements. Then, the BSOD should disappear after restarting your PC. To prevent further BSODs, do the following things quickly before applying the actual fixes:
Install Visual C++ and DirectX Runtime and restart your PC.
Make sure that your cooling system is well-capable and that your PC is not going through any overheating issues.
Ensure that you have not enabled any type of overclocking features.
After ensuring the above things, try these effective methods to fix this blue screen issue:
1. Update the graphics driver
Time needed: 2 minutes
An outdated GPU driver may cause the BSOD on Diablo 4. So, to fix it, you should update this driver properly.
Click on Search automatically for drivers and complete the update.
Similarly, update some other vital drivers, particularly the ones related to your network adapter, chipset, etc.
After finishing the process, restart Windows.
You should use an app like Outbyte Driver Updater to update any type of driver on your PC. This tool can find the most compatible version of the drivers and install it automatically on Windows 11 or 10. As a result, you will be less likely to encounter BSOD errors while playing games like Diablo IV.
⇒ Get Outbyte Driver Updater
2. Disable third-party in-game overlay
The third-party in-game overlay features also can trigger a blue screen error when you play Diablo 4. To fix it, disable this feature. Here are the steps for GeForce Experience:
Open the Geforce Experience app.
Go to its Settings and make sure you are on the General tab.
Disable the In-game overlay.
Close the app.
Relaunch Diablo 4.
3. Roll back the GPU driver
Press Win + X and open the Device Manager.
Double-click on the graphics card.
Navigate to the Driver tab.
Finish the process and restart your PC.
4. Re-install the GPU driver
Go to Device Manager like before.
Right-click on the GPU driver and then click on Uninstall.
Restart your PC.
Then, visit AMD, Intel, or NVIDIA driver download page, depending on your GPU model.
Select the GPU you are currently using and click on Search.
Download the driver.
Install it.
Restart Windows.
5. Run in clean boot
Press Win + R on the keyboard to open Run.
Type msconfig, and click on OK.
Go to the Services tab.
Click on Apply and OK.
Restart your computer.
6. Repair common memory issues
Open Run like before.
Type mdsched and then hit Enter.
Restart Windows.
Now, Windows will automatically look for common memory issues and apply necessary fixes. If it's a physical problem, you will also know it. This should fix the BSOD errors while playing Diablo 4.
More methods:
Is your PC still crashing to a blue screen while running Diablo 4? These methods may come in handy:
Update Windows to the latest version.
Repair the game files.
Disable XMP. For more, learn how to solve games crashing with XMP enabled.
Use SFC and DISM commands to repair the corrupted system files.
Play with lower settings.
Reset Windows.
Change PC hardware.
For more tips, check out this guide on how to fix stop any game from crashing.
This article has shown the methods to solve Diablo 4 BSOD problems. Let us know in the comment box if you have any questions.