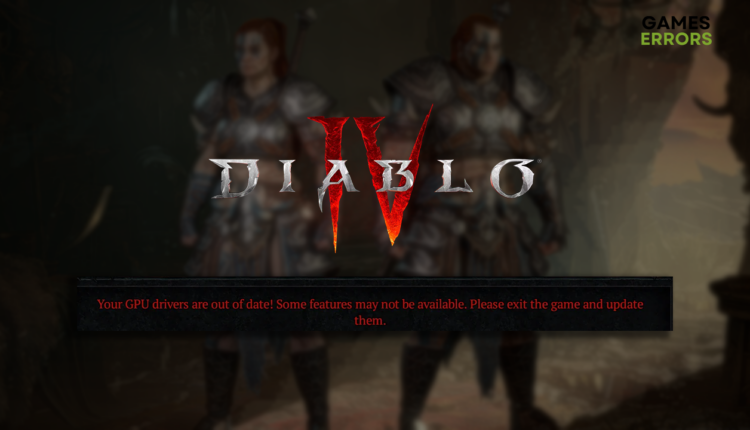 Diablo 4 Graphics Drivers Out of Date: How to Update Them
Are you encountering a message warning you about driver version when you launch Diablo 4? Here is what you should do! 👾
You launched the game and saw that the Diablo 4 graphics drivers out of date message might interrupt your intentions. It doesn't matter if you can play the game or not. Resolving this problem can help you avoid other game bugs, so you better do it today!
If you have general performance issues when playing this game, learn to fix lag and stuttering in Diablo 4.
Why does Diablo 4 say my graphics driver is out of date?
You get the Drivers Out of Date message in Diablo 4 because the game recognizes your outdated graphics driver. To resolve this, update the graphics driver by following one of the methods described below.
What graphics driver do I need for Diablo 4?
In Diablo 4, you need DLSS 3 which helps GeForce RTX 40 Series gamers enhance performance at 4K by an average of 2.5X, according to Nvidia.
How do I update my Diablo 4 graphics driver?
To update your graphics driver so you can play Diablo 4, visit the website of your GPU manufacturer. You can find the model and the latest driver release for your graphics card there:
After you download the installation package, launch it and follow the installation steps. Once you complete all of the steps, restart your PC and enjoy your time playing Diablo 4 with the latest graphics driver.
💻 Use the Device Manager
Time needed: 5 minutes
If you don't feel comfortable downloading the drivers from the official website entirely manually, you can use Device Manager to somewhat automatize the process.
Click on the Windows icon, type Device Manager, and open it.

Double-click on the Display Adapters section.

Right-click on your graphic card and select the Update driver option.

Click on Search automatically for drivers.
Install the driver update.
Restart your PC.
🚀 Use a driver updater tool
Fully automate the process and ensure you have the latest driver installed. The tool that we recommend for this purpose is Outbyte Driver Updater. Swift, portable, and most importantly, reliable, Outbyte Driver Updater always finds the latest updates and installs them with minimal effort!
⇒ Get Outbyte Driver Updater
Related articles:
Conclusion
These were our methods for troubleshooting the Diablo 4 Drivers Out of Date issue. Let us know if it was helpful and how it went for you.
💬 Comment if you find other reasons this message appears.