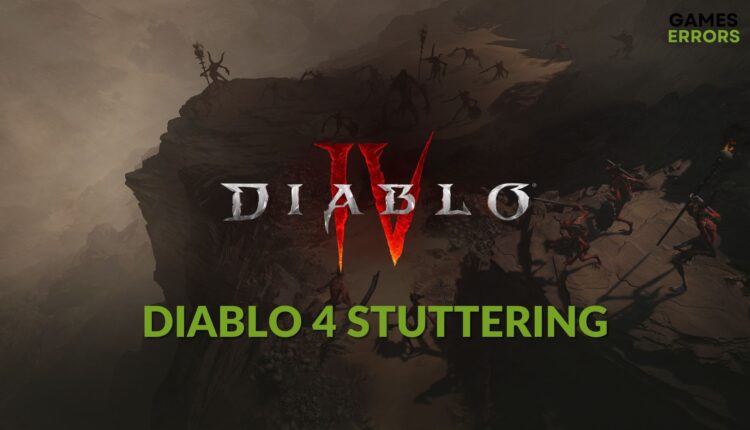 Diablo 4 Stuttering/Lagging: How to Stop & Run It Smoothly
Update the GPU driver, repair the Diablo IV game files & follow these methods if it keep stuttering during the game play ✅ Say no to Diablo 4 lag & follow our quick steps ⤵️
The stuttering and lagging problem on the new ARPG Diablo 4 is bugging a lot of gamers. This performance issue will go away from your Windows 11 or 10 PC if you take the proper steps in time.
Even though a basic Windows PC with an older generation i5 processor and an old GPU should handle this game well, a lot of gamers, including some with high-end systems, are experiencing various performance problems. The stuttering issue is the most common among them.
Learn the methods to boost FPS on Diablo 4 if necessary.
Why is Diablo 4 so laggy?
Why does Diablo 4 keep stuttering or lagging? If Diablo 4 keeps lagging or stuttering, this is because of the following reasons:
System requirements: If your PC doesn't have the required specifications properly, Diablo IV may go through stuttering issues.
Third-party background services: Too many active background services also can cause the Diablo 4 lag problem.
Improper settings: If the in-game settings put much pressure on your PC, it may be why Diablo 4 is stuttering.
Problematic GPU driver: Faulty, outdated, or buggy graphics card drivers also can trigger stuttering/laggy problems.
Network issues: Inconsistent internet connection or problems with network configuration can also cause this problem on Diablo IV.
How do I fix stuttering in Diablo 4?
Before doing anything, check Diablo 4's system requirements and determine if your PC is capable. Then, do these quick things:
Power cycle your PC and internet router. Also, ensure that you have a stable internet connection.
Use ExpressVPN and unlock a range of benefits that will reduce pin and lag.
Disable your antivirus and firewall.
Disable any type of overclocking.
Ensure that your PC's cooling system is good enough.
Also, make sure that you have a faster SSD and that you have installed the game on it.
Now, go through the following methods to fix Diablo IV's stuttering problem:
1. Reduce the background activities
For some gamers, when they start moving during the gameplay in this new action RPG, Diablo 4, this game may start lagging or stuttering. In this situation, reducing non-essential background tasks may help. Here are the steps:
Press CTRL + Shift + Esc to open Windows Task Manager.
Go to the Processes tab.
Select the process you want to disable and then click on End Task.
In this way, disable any other unnecessary services.
2. Update the graphics card driver
Time needed: 2 minutes
To solve Diablo 4 stuttering issues, updating the graphics card driver is a very effective solution.
Click on Search automatically for drivers.
After finishing the process, restart your PC.
To update the display driver to the latest version, Outbyte Driver Updater is the best option. This small application can automatically scan and detect outdated drivers and install the latest update. Else, it can find the most appropriate version of the official game-ready driver, which is better for gaming.
3. Tweak in-game graphics settings
To make Diablo 4 less laggy, you should tweak a few in-game settings. For this, follow these instructions:
Launch Diablo 4.
Go to its graphics settings.
Scroll down the Quality Preset.
Lower the Texture Quality.
Also, decrease the shadow quality.
Go to the Performance section.
Tweak some other settings according to your own preference.
Relaunch the game.
If Diablo 4 stutters every few seconds when moving, this might be a cause of improper graphics settings. By taking the aforementioned actions, the lag should instantly disappear.
4. Reset the network
If you notice that Diablo 4 is stuttering every few seconds, it can be because of inconsistent network activities. In this situation, resetting the network by following these steps may come handy:
Press Win + I on the keyboard to open Windows Settings.
Click on Network reset.
Next, click on Reset Now.
Restart your PC.
5. Repair the game files
Even if you have applied all of the Diablo 4 optimization techniques, it may still go through stuttering issues until you fix the corrupted game files. To do it, follow these steps:
Launch the Battle.net app.
Go to Installed Games.
Click on Diablo IV.
Click on the gear icon and then click on Scan and Repair.
At last, click on Begin Scan.
Give it some time to finish the process.
This method will also help if Diablo 4 keeps crashing.
6. Roll back the GPU
Open the Device Manager like before.
Double-click on the GPU driver.
Go to the Driver tab.
Complete the process and restart your PC.
Now, run Diablo 4 and see whether it still performs poorly or not.
🧚‍♀️ Extra methods:
Re-install the GPU driver.
Update Windows.
Re-install the game on an SSD.
If needed, learn how to solve game freezing at logging into Diablo 4.
To get more tips, check out this Diablo 4 tag page.
This article has shown how you can fix Diablo 4 stuttering on PC issues. If you have any questions, ask in the comment box.
If you encounter any issues or errors while playing your favorite games and require support, feel free to contact us here. Our team is always ready to assist you and ensure your gaming experience is seamless and enjoyable.