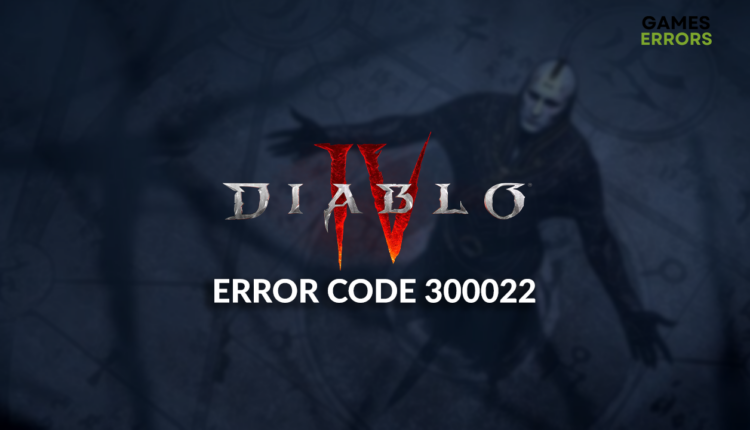 Diablo 4 Error Code 300022 [Quick Fix]
Network-related errors are the worst. They can occur due to problems on Diablo 4 servers but also due to problems on your device! 📶
X
INSTALL BY CLICKING THE DOWNLOAD FILE
You must wonder what would happen if you encountered a Diablo 4 Error Code 300022. Although the error occurred in the early beta due to overloaded servers, nowadays, it occurs due to various network-related reasons. Keep reading to discover these reasons and suitable fixes that will help you!
If you experience latency-related issues, learn how to fix high ping in Diablo 4.
What is Diablo 4 Error Code 300022?
Error Code 300022 in Diablo 4 is a network-related error that occurs due to poor internet connection, temporary issues on the network devices, unreliable VPN, an outdated network driver, wrong DNS settings, or problems with network settings on your device.
On PS5, the error code 300022 occurs due to pilled-up cache files, your home network blocking the console, or outdated PS5 software.
How to fix Diablo 4 Error Code 300022?
Start troubleshooting this annoying error code with these checks and fixes:
Check your internet connection: Head to the Google Speed Test and check if your network works. If so, check the speeds and the latency.
Restart the network devices: Find your router or modem and restart them by pressing the restart button on the back side of the device.
Disable the VPN: Although it can be a great way to preserve anonymity and give you access to otherwise blocked content, the Diablo 4 server might refuse the connection made through the VPN.
Here are the most effective solutions for Error Code 300022 in Diablo 4.
1. Update the network driver
Time needed: 5 minutes
Your PC connects to the internet through your home network. To communicate with the home network, two requirements must be met. The first is to have an internet adapter, and the second is to have a network driver to manage the physical adapter.
Click the Windows icon, type Device Manager, and open it.

Double-click on the Network Adapters section.

Right-click on your internet adapter and select Update driver.

Select the Search automatically for drivers option.
Install the driver update.
Restart your PC.
You can avoid network-related problems due to outdated network drivers by using Outbyte Driver Updater. This driver updater tool will scan and download updates whenever necessary, so you don't have to!
2. Use the Google DNS
Windows automatically assigns a DNS server address suitable for your location. We discovered that Google DNS works the best for the majority of the games, including Diablo 4.
Using the Windows Key + R shortcut, open the Run dialog, type control, and hit OK.

Click on View network status and tasks.

Click on the Change adapter settings.

Right-click the internet network you use and select Properties.

Double-click Internet Protocol Version 4 (TCP/IPv4).

Enable Use the following DNS server addresses and add:
➡ 8.8.8.8 for the Preferred DNS server
➡ 8.8.4.4 for the Alternate DNS server

Click OK and restart your PC.
3. Restart network settings
Some network settings are stored on your PC and can harm your online gaming experience. To prevent this, we recommend restarting network settings whenever you see obstacles to connecting to a game server.
Click on the Windows icon, type Command Prompt, and select it from the search results.
Type the following commands in separate lines, one by one, and hit Enter after each one:
ipconfig /flushdns
ipconfig /registerdns
ipconfig /release
ipconfig /renew
netsh winsock reset

Restart your PC.
🎮 How to fix Diablo 4 error code 300022 on PS5?
Diablo 4 Error Code 300022 PS5 error can be fixed by applying these solutions:
Clear the PS5 cache: Turn off your PS5, open the Safe Mode, and find the Rebuild Database & Clear Cache option. Run this option and wait until the process is completed.
Whitelist your PS5 on the network: Open your router or modem settings and whitelist the MAC address of your console so it can fully access and use your home network.
Launch another game before Diablo 4: Some players claim that the issue was fixed after they launched a different game, closed it, and then started Diablo 4.
Related articles:
Conclusion
If you apply all of the solutions we proposed, the Diablo 4 Error Code 300022 should be the past for you! Let us know how it went, and comment if you find another suitable fix.