Diablo 4 High Ping: How to Reduce Latency
If you're struggling with high ping in Diablo 4, we've got some proven solutions to help you fix the issue. 💡
Blizzard Entertainment's Diablo 4 is an ARPG and the fourth installment in the highly acclaimed Diablo series. Players were allowed to experience the game's final version through public betas, released in March 2023. Notably, the game boasts an open-world feature that enriches the player experience through expanded exploration and adventure. Moreover, Diablo IV introduces PVP, allowing players to engage in thrilling combat with one another. However, high ping issues in Diablo 4 can significantly disrupt enjoyable gaming, causing lag and a frustrating experience. That is why solving Diablo 4 high ping through our guide is very important to enjoy this great game smoothly.
Why is my ping so high in Diablo 4?
If you're experiencing high ping or latency issues in Diablo 4, there could be several factors impacting the connection between your device and the game server:
Poor and unstable internet connection
Network settings issues
The physical distance between your location and the game server
Congested game servers
PC hardware doesn't meet the recommended specifications
How do I fix lag in Diablo 4?
Before attempting anything complex, start by following these straightforward steps:
Check the Diablo 4 server status. If servers are down, you must wait until the servers come back online.
Check if your PC meets the recommended system requirements. You may need to upgrade your hardware.
Check if you have problems with the download, upload, and latency (ping). If the problem persists, contact your ISP to make sure it hasn't limited your network resources for some reason.
Power cycle your network devices. We advise using a wired Ethernet connection to enhance stability and minimize latency.
If you have completed all the previous steps and are still encountering high ping, try our following tips:
1. Update system drivers
If your system drivers, especially network drivers, are outdated, they may cause compatibility issues and impede optimal network performance, resulting in high ping in Diablo 4. Do the following for the network driver update process:
1. Right-click on Windows Start and select Device Manager.
2. Double-click the Network adapters and right-click on your network card to select Update driver.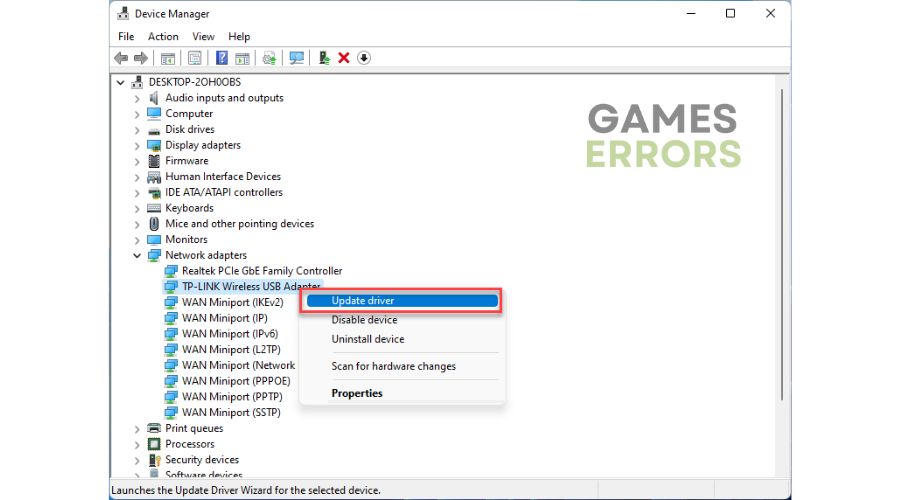 3. Click on the Search automatically for drivers. Wait to finish the update process.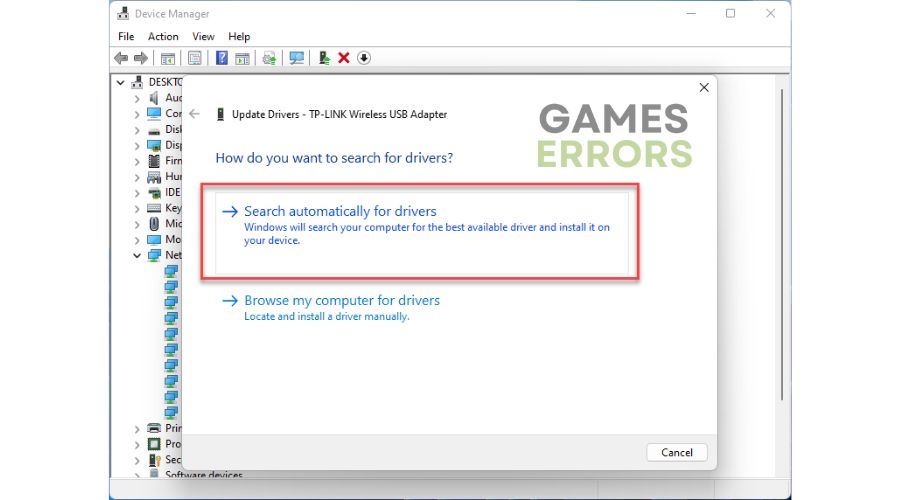 We recommend utilizing Outbyte Driver Updater to keep your Windows drivers up-to-date effortlessly. This reliable tool thoroughly scans your system for all drivers and installs the latest versions available.
⇒ Get Outbyte Driver Updater
2. Change NAT Type to Open
Adjusting specific network settings in your router may be necessary to avoid connection issues. A Restricted NAT Type could potentially result in errors, but activating UPnP is a straightforward solution to address this.
1. Log into your router's admin panel.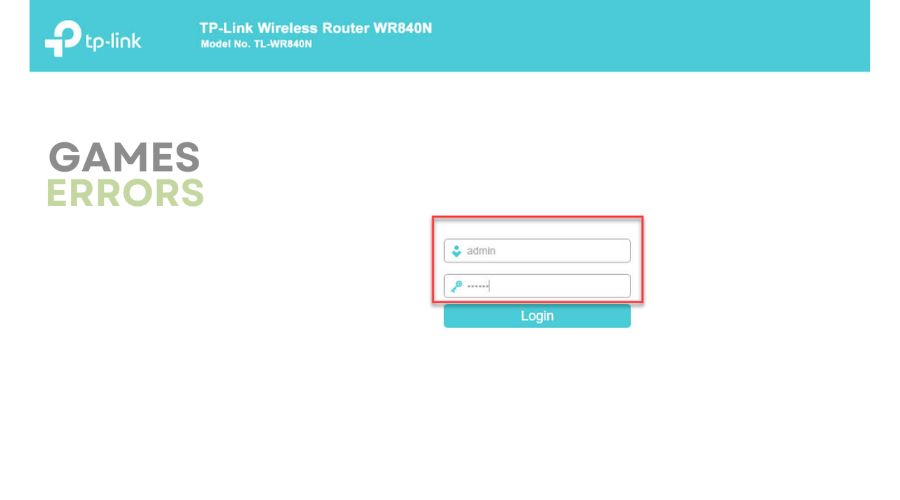 2. Search for the UPnP setting in the router menu and select Enable. Save changes and close the rooter settings menu.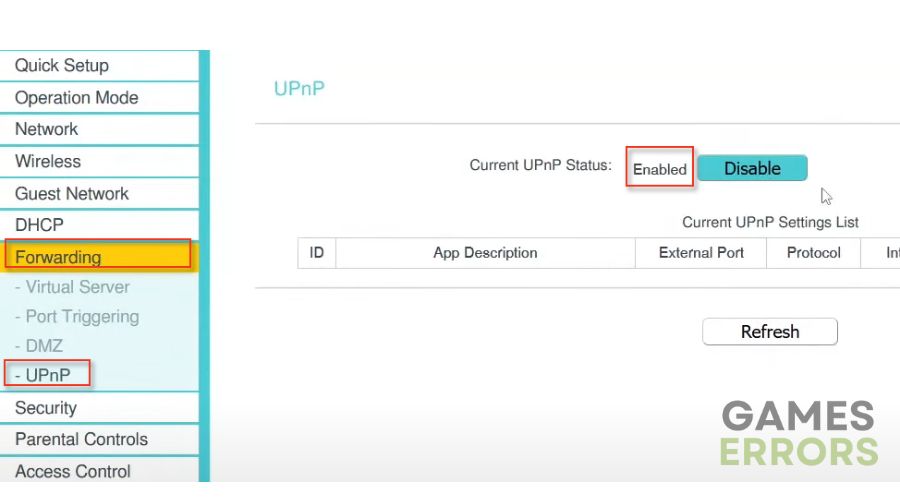 4. Test the internet connection to check if the high ping issue is gone.
3. Reset network settings
Time needed: 1 minute
Resetting your network settings can resolve the issue if you're experiencing high latency and ping problems in Diablo 4. Follow these steps to reset:
Press Win + I keys to open the Settings

Navigate to go to Network & Internet> Advanced network settings.

Click Network reset

Under Advanced network settings, click on the Network reset.

Click Reset Now

Click the Reset Now button and confirm on Yes. Then restart your PC for the network settings to take effect.
4. Use a VPN
Are you experiencing high ping in Diablo 4 despite having a stable internet connection? The issue could be with the regional server you are connected to. To resolve this, we suggest using a VPN to connect to a server in a different region or closer to your location. While there are free VPN services available, they may compromise your security and use your internet bandwidth for a shared server. We recommend using a trusted VPN service like ExpressVPN for a more reliable and secure connection. It offers quick and easy connectivity, fast and stable performance, lower ping for gaming, and a wide selection of servers in 94 countries for online matches with friends.
👉Extra steps
Do you still have a high ping in Diablo 4? Here are some additional options to consider:
Update Windows to the latest version.
Update DirectX, .NET Framework, and VCRedist.
Temporarily turn off Windows firewall and antivirus software.
Reduce eye candy in-game graphics settings (Texture Quality, Anisotropic Filtering, Shadow Quality, Fog Quality, etc.)
Cancel any ongoing background downloads.
Close any heavy tasks running in the background.
Reinstall Diablo 4.
Related articles:
Conclusion
We hope one of our solutions has effectively resolved the high ping you are experiencing in Diablo 4. If you have any queries or recommendations, feel free to share them in the comments section below.