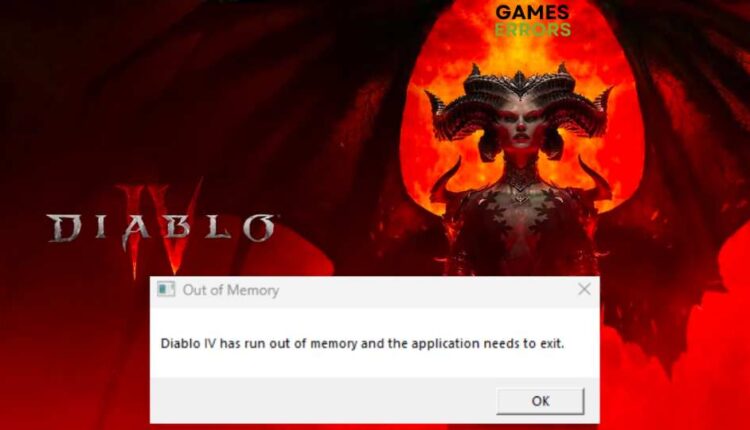 Diablo 4 Run Out of Memory Error: Easy Fixes
We have got you covered when it comes to Diablo 4 run out of memory error with these easy fixes😀.
Nothing is more disruptive and frustrating when playing Diablo 4 than running into a bug or error. One common error that players keep experiencing is the "Out of Memory" error, which causes the game to crash. As Diablo 4's release date approaches, players are desperate to fix this issue for a fun gaming experience. Luckily, we have compiled a list of proven solutions to help you fix the Diablo 4 memory problem.
What causes the Diablo 4 has run out of memory error?
When your PC runs out of space for new information in its memory, it causes the "Out of Memory" error. Memory refers to the RAM in your system, and Diablo 4 utilizes it to load up anything. So, having enough is crucial to the game running smoothly and operating at peak performance. Diablo 4 may not have an inherent memory leak, but it uses a lot of memory.
At times, when there's too much information for the PC to process, it's unable to handle it, leading to a memory leak. This, in turn, affects memory processes on your system, which causes Diable 4 to slow down, freeze, or crash. While there's no definitive fix for this error, some proven solutions help solve the memory has run out error. Check them out below to find one that works for you.
How to fix the Diablo 4 has run out of memory error?
Before doing anything, as a precheck, check to see whether your PC meets the system requirements for playing Diablo 4. If it doesn't meet the minimum and recommended specs, you may run into some memory issues that cause the game to crash.
Here's how to fix the memory-leaking issue when playing Diablo 4:
1. Disable background programs
Applications like browsers and capture software running in the background take up significant resources. This leaves you with minimal memory that Diablo 4 can use to run smoothly. Disabling background programs can help clear your memory usage to ensure the game has enough to operate. Here's how to do this:
Right-click the Windows taskbar and select Task Manager to open it.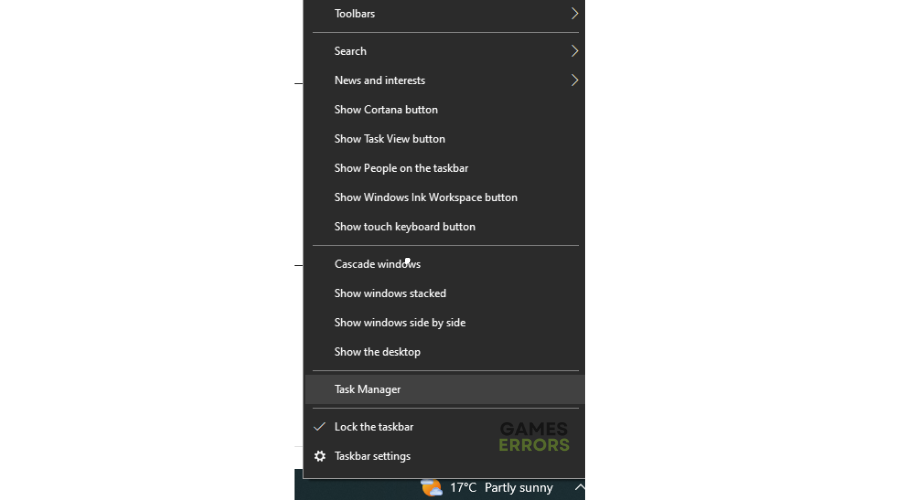 Click on Processes and click on the respective task to select.
Now, click on End Task and repeat the process for other tasks.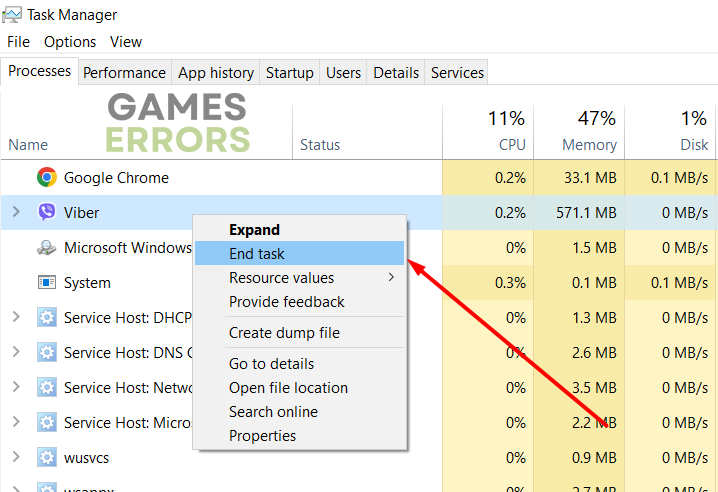 Once done, close Task Manager and reboot the PC.
Launch Diablo 4 to see if the issue is solved.
2. Update your GPU card driver
Time needed: 4 minutes
Outdated or missing graphic card drivers may have trouble allocating resources and running newer games. Updating these drivers to the latest version ensures your graphics drivers function properly, eliminating memory issues. Here's how to do this:
Run box

Press the Windows key + R to open the run box

Device manager

Type devmgmt.msc and click OK to open Device Manager.

Display adapters

Double-click display adapters to view the list of graphic drivers on your PC.

Update driver

Right-click on the dedicated driver you're using and choose Update driver.

Install

Select Search automatically for drivers and let Windows find and update drivers.

Launch

Launch and play Diablo 4 to see if the issue is solved
You can also install Outbyte Driver Updater – a trusted third-party app that automatically updates and installs your GPU drivers hassle-free. It saves you the hassle and time required to manualy update your drivers.
3. Lower in-game graphic settings
If you've turned off all unnecessary background programs but are still experiencing memory issues, consider toning down your graphics settings. Although this fix lowers the game's visual quality, it frees up much-needed memory for Diablo 4 to run smoothly. So, if you don't mind the low quality when playing, lowering your graphics settings is worth trying to fix the memory issue. Here's how to do this:
Open your game launcher and click on Diablo 4.
Navigate to Settings and click on Graphics.
Reduce the in-game visual settings to a medium level and set the FPS limit to 60FPS.
4. Scan and repair game files
If your Diablo IV game files are missing or corrupted, it may trigger issues, including memory leaks when playing. Scanning and repairing these game files can help solve the issue. To do this:
Open the Battle.net client on your PC.
Right-click on Diablo IV from the list of options.
Click on Options (Gear icon)
Click on Scan and Repair.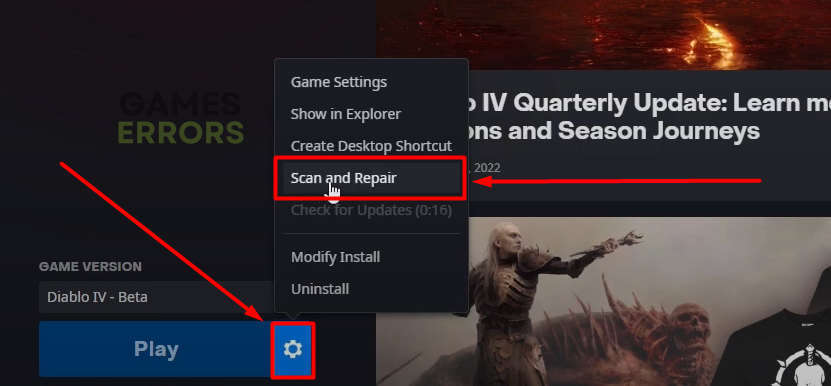 Wait for the process to complete.
Relaunch the game to see if the issue is solved.
Other fixes
Some users report fixing the "Out of Memory" error with these fixes:
Reboot your PC
Reinstall or update Diablo 4
Update Windows
Related articles
Conclusion
There you go, four proven solutions to fix memory errors when playing Diablo 4. Work your way down the list to find a fix that works for you. Feel free to leave any additional comments, questions, or solutions below.
If you encounter any issues or errors while playing your favorite games and require support, feel free to contact us here. Our team is always ready to assist you and ensure your gaming experience is seamless and enjoyable.