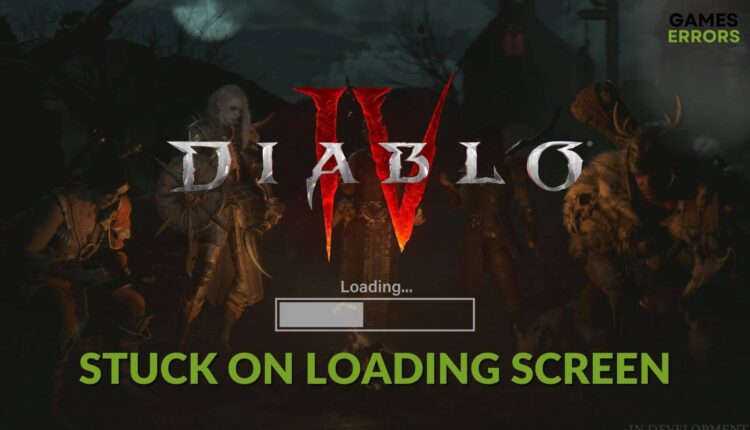 Diablo 4 Stuck on Loading Screen: Fix The Infinite Loading
Are you stuck in Diablo 4 infinite loading screen? Update the GPU driver & follow these tricks to get back in the game 🚀
X
INSTALL BY CLICKING THE DOWNLOAD FILE
If you notice that Diablo 4 is stuck on the loading screen or is freezing while loading, you should take some effective steps to fix this problem. This article is all about this problem and its solutions.
Diablo is a very mentionable name in the action role-playing game industry. Its latest edition, Diablo IV, brought new stories and new gameplay. But, for some users, it may take forever to load. This problem can sometimes prevent you from playing the game completely.
Why is Diablo 4 taking so long to load?
Diablo 4's infinite loading screen can occur because of the following reasons:
| Possible Causes 😵‍💫 | Meaning..💬 |
| --- | --- |
| System requirements | Your PC may not meet the recommended specifications, leading to the game being stuck on the loading screen. |
| Corrupted cache | The cache related to Diablo 4 and battle.net launcher might be corrupted, causing the loading issue. |
| Problematic graphics driver | Even if your PC meets the system requirements, a faulty or outdated GPU driver can cause freezing or getting stuck while loading Diablo 4. |
| Third-party services | Certain third-party services like antivirus or firewall software can interfere with the game's loading process. |
| Corrupted game files | If the installation files of Diablo IV are corrupted or if any related gaming components have issues, you may encounter this problem. |
How to fix Diablo 4 stuck on the loading screen?
If Diablo IV is constantly freezing up while loading or gets stuck on the launch screen, you should ensure that your PC meets the system requirements of this game. Then, do these quick things before getting started with the troubleshooting steps:
Ensure that your PC doesn't have any disk-related problems.
Disable your antivirus or firewall to see if it helps.
Complete any pending restart.
Now, go through the methods mentioned below to solve the Diablo 4 not loading problem:
1. Update the graphics card driver
Time needed: 4 minutes
Diablo IV may get stuck on the loading screen due to the outdated graphics driver problem. Updating it to the latest version can fix this issue.
Select Search automatically for drivers and finish the process.
To update the graphics card driver to the latest version, we strongly suggest you use Outbyte Driver Updater. You need game-ready GPU drivers to gain more game performance and solve various gaming problems. This tool can install that compatible driver on your PC with just a single click.
2. Uninstall problematic apps
If you start encountering this problem after installing an app recently, you should uninstall it. Also, there are some tools similar to the game boosters that can cause this problem. So, uninstall these tools by following the steps shown below:
Press Win + I on the keyboard to launch Windows Settings.
Finish the process by following any additional on-screen steps.
Restart your PC.
Now, Launch Diable 4 and see if it still takes forever to load or not.
3. Clear cache
Close the game and the Battle.net launcher.
Press Win + R on the keyboard to open Run.
Find the Battle.net folder and delete its contents.
Similarly, delete contents for the Blizzard Entertainment folder too.
Relaunch the Battle.net app.
If you cannot delete it, end all related tasks from the task manager and try again. It should fix if Diablo 4 is stuck while loading.
4. Reset in-game options
Open the Battle.net app.
Click on Diablo IV.
Next, click on Reset In-Game Options and finish the process.
Relaunch the Battle.net app.
Now, try to play the game and see if it has worked.
5. Repair Diablo IV
Click on Begin Scan.
Finish the process.
This process may take a while to complete. So, keep patience. It works to solve problems like Diablo 4 won't launch, being stuck on the loading screen, etc.
6. Run in clean boot
In Run, type msconfig, and hit Enter.
Navigate to the Services tab.
Click on Apply and OK.
Restart Windows.
Now, run Diablo IV and see what happens. If you don't face any problems, it indicates that there is a problematic third-party service. So, try to find out and uninstall that problematic service to get rid of the issue permanently.
7. Add more virtual memory
Open Run like before.
Type SystemPropertiesPerformance and click on OK.
Go to the Advanced tab.
Uncheck Automatically manage paging file size for all drives and tick Custom size.
Now, choose the system driver and increase the Virtual memory size.
Save the settings and restart your PC.
According to a large number of gamers, increasing virtual memory has worked for them.
However, if you still encounter the same problem, re-install Diablo IV and update Windows to the latest version. Also, install the DirectX Runtime and Visual C++ packages to see if it helps.
If necessary, learn how to solve Diablo IV crashing problem.
From this article, you have learned about what you should do if Diable 4 is stuck on the loading screen. If you have any questions, let us know in the comment box.