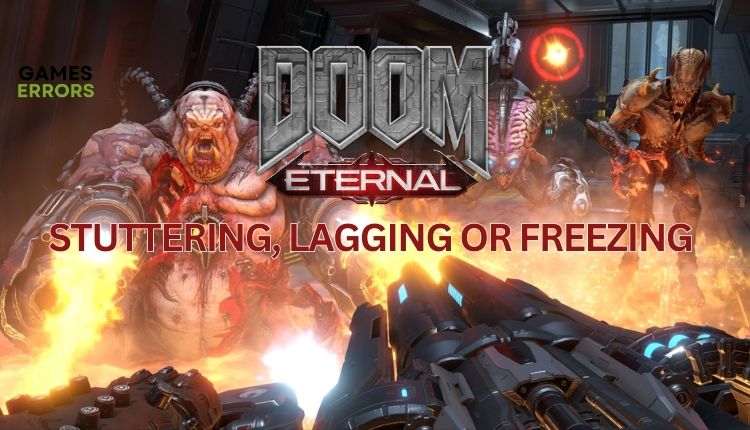 Doom Eternal Stuttering, Lagging, or Freezing: Here's The Fix
Do you have a stuttering, lagging or freezing issue in Doom Eternal? We know how to deal with that. 🔥
X
INSTALL BY CLICKING THE DOWNLOAD FILE
Doom Eternal is a must-play if you're looking for a thrilling and intense shooter game with a classic feel and modern graphics. Despite the advancements in first-person shooter games, Doom Eternal remains unrivaled in its non-stop, high-energy gameplay that's both fast-paced and incredibly entertaining. But what if Doom Eternal greets you with stuttering, lagging, or freezing when playing? If you are affected by this problem, we have created a quick guide for its effective repair.
Why is my Doom Eternal stuttering?
Let us point out some of the primary reasons why you might be experiencing this issue:
incompatible pc specification
outdated graphics drivers
corrupted game files
the game is not updated
driver settings not optimal
heavy apps running in the background
How do you fix stuttering in DOOM Eternal?
To start, it's essential to complete these simple initial tasks before moving on to anything more complex:
Check if your PC meets the recommended system requirements. The game is quite hardware-demanding; you may need to upgrade your hardware.
Run the game as an administrator.
Restart the game or your PC.
Close any unnecessary tasks running in the background (like downloads or heavy apps – Office, Photoshop, etc.)
Now, if after preliminary checks you still have stuttering in Doom Eternal, do the following:
1. Update GPU driver
In all modern games, outdated graphics drivers can generate various problems and lead to the impossibility of starting or crashing the game. We strongly recommend that you constantly have updated GPU drivers, and you can do this in the following way:
1. Right-click on the Windows Start Menu and choose Device Manager.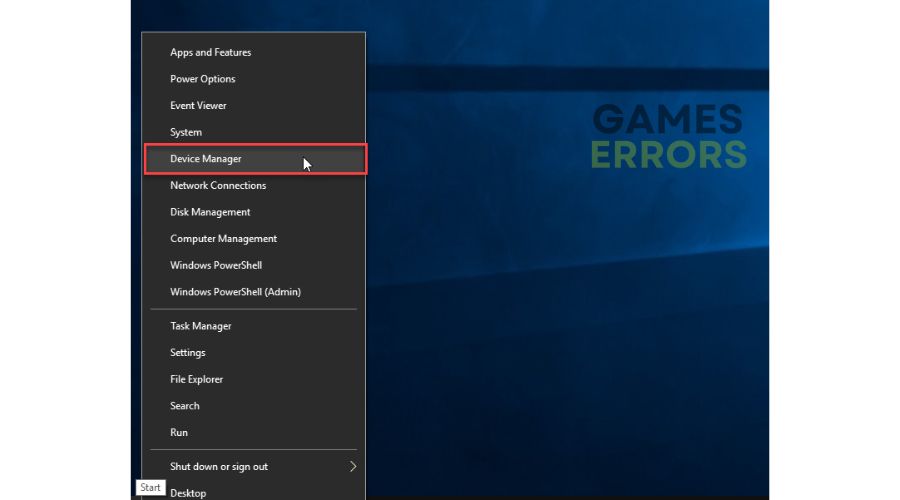 2. In the Device Manager window, double-click to expand Display adapters.
3. Right-click on your primary graphics card and click Update driver.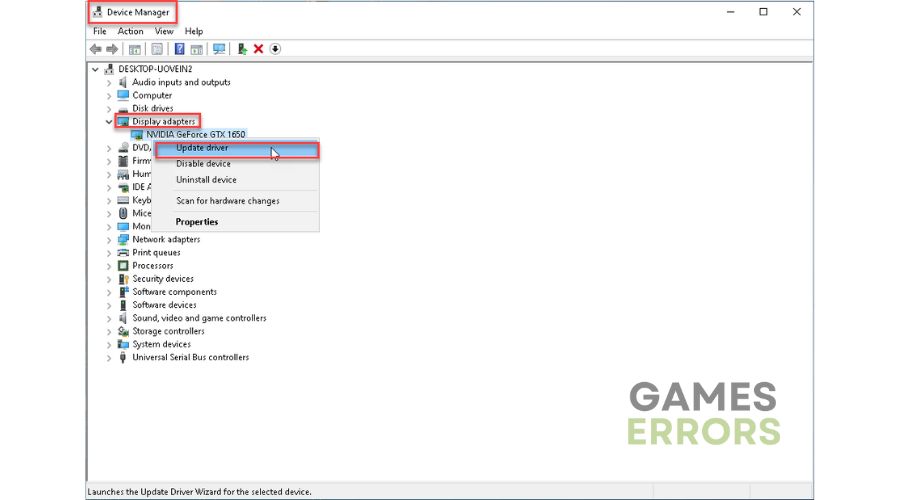 4. Choose Search automatically for drivers and wait for Windows to complete the update.
An effortless solution to ensure that all drivers on your Windows OS are always up-to-date is to utilize DriverFix. With this tool, you no longer need to worry about checking updates for your drivers, as it will take care of everything for you.
2. Verify and repair game files
If one or more game files are damaged or missing, you may have various problems in Doom Eternal. We advise you to repair the game files as follows:
1. Open the Steam client and go to Library.
2. Right-click on Doom Eternal, and select Properties.
3. In the Properties windows, select Local Files and then click on Verify integrity of game files.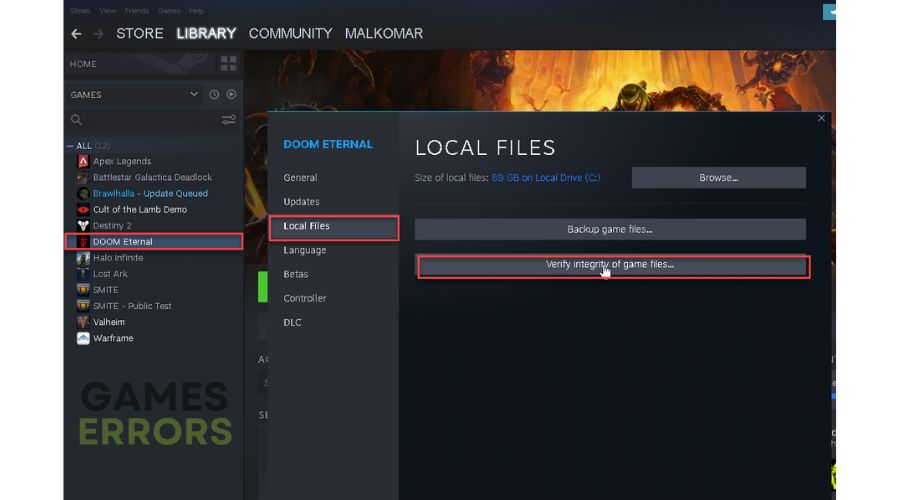 3. Update Doom Eternal
We recommend that you always have an updated version of the game. Do the following:
1. Open the Steam client and go to "Library." Select Doom Eternal.
2. Steam will automatically search for any available updates. Click on the "Update" button if there is an update.
3. To ensure the game is always up to date, right-click on the game and select Properties.
4. Click "Update" from the left pane and choose "Always keep this game updated."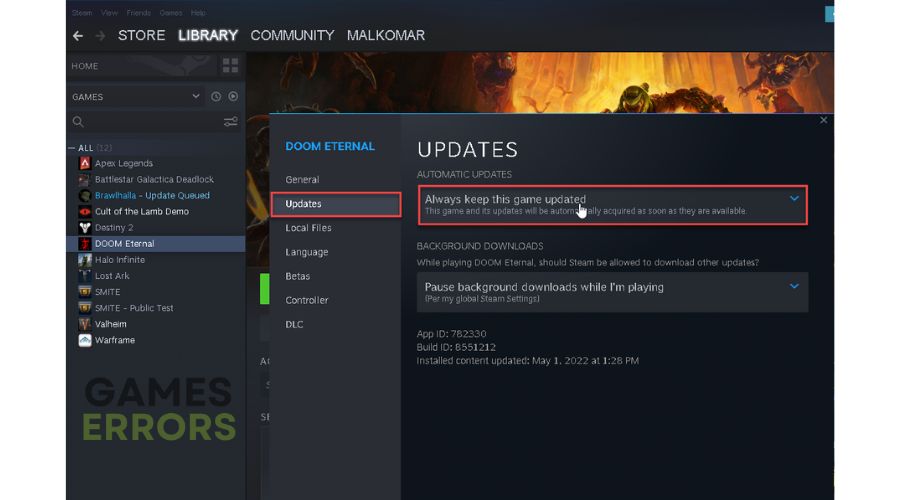 4. Adjust your GPU driver
Time needed: 1 minute.
We recommend setting up your graphics card through the driver to eliminate Doom Eternal stuttering. The example is for NVIDIA drivers, but the procedure is similar for AMD.
Open the NVIDIA control panel

Right-click on the desktop and select NVIDIA Control Panel.

Choose "Manage 3D Settings."

Select Global Settings and choose ON for "Low Latency Mode."

Select Program Settings

Click "Add" to manually add the Doom Eternal if it's not on the list. Now adjust next:
Threaded optimization: On, Power Management: Prefer maximum performance, Texture Filtering – Quality: Performance.

5. Lower in-game graphics settings
Maybe you've set ambitious graphics settings that your graphics card can't keep up with. In that case, reduce the screen resolution or graphic details to medium or low and then try to see if you still have the problem.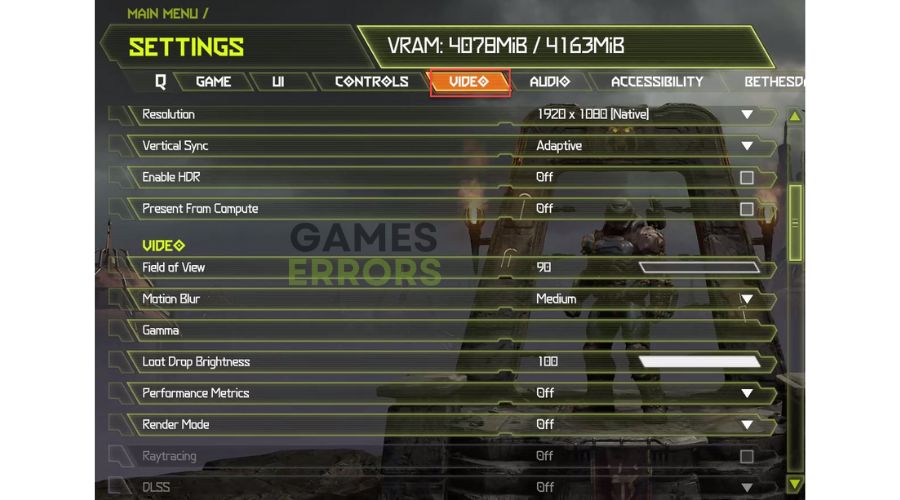 ✅ Extra steps
Do you still have a stuttering, lagging, or freezing issue in Doom Eternal? Here are some additional options to consider:
Update Windows to the latest version.
Update DirectX, .NET Framework, and VCRedist.
Disable overlay apps (Steam, Xbox Game Bar, Discord, etc.)
Temporarily disable Windows Firewall and Virus and Threat Protection.
Disable OC tools like MSI Afterburner, OC Guru, etc.
Reinstall game.
Related articles:
Conclusion
We hope our tips helped resolve the stuttering issue in Doom Eternal. If you have any further queries, suggestions, or alternative solutions, feel free to leave a comment below.
If you encounter any issues or errors while playing your favorite games and require support, feel free to contact us here. Our team is always ready to assist you and ensure your gaming experience is seamless and enjoyable.