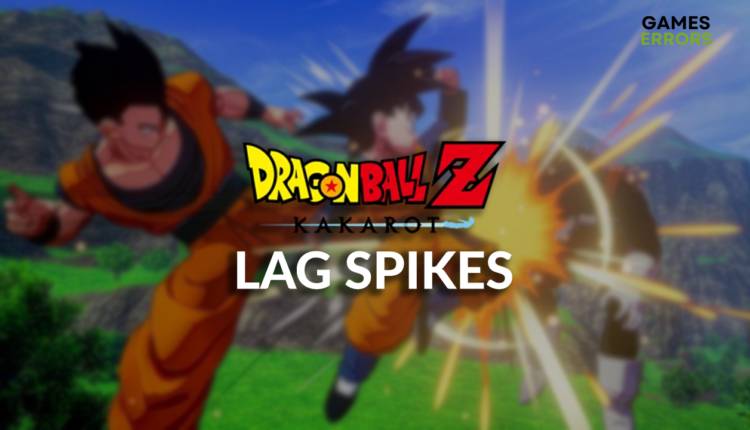 Dragon Ball Z Kakarot Lag Spikes: Fix It Quickly
Although based on anime, this game was designed to have fluid gameplay. Let's discover what is stopping your PC from performing correctly! 🚀
Are you annoyed by the Dragon Ball Z Kakarot lag spikes? So are others also! We dug a bit to discover the root of this problem, and we created a list of the best solutions to fix this issue on your PC so you can enjoy Dragon Ball Z Kakarot the way you deserve!
Besides the latency problem, some players complain that they constantly lose in-game progress. Learn what to do when Dragon Ball Z Kakarot is not saving.
Why do I have lag spikes in Dragon Ball Z Kakarot?
You have lag spikes in Dragon Ball Z Kakarot due to poor PC specifications, corrupted game files, unnecessary background apps, resource-consuming background apps, an outdated GPU driver, pilled-up Steam cache files, or unnecessary startup services.
💡 Since Dragon Ball Z Kakarot doesn't have a multiplayer mode, the lag spikes you experience are stuttering and low FPS issues.
How do you fix lag in Dragon Ball Z: Kakarot?
Perform the following checks and apply easy fixes:
Check the system requirements: Dragon Ball Z Kakarot has decent system requirements, yet your PC must meet at least the minimum if you want to play the game without performance issues.
Verify game files on Steam: This game distribution platform has a quick and reliable way to find and fix corrupted game files, so use it for Dragon Ball Z Kakarot.
Close background apps: Before launching the game or Steam, terminate all apps visible in the taskbar and use Task Manager to close background apps.
Disable mods: If you installed any game modifications to enhance your in-game performance, you might consider disabling them individually to discover which is causing performance issues.
Proceed with the solutions for the lag in Dragon Ball Z Kakarot.
1. Update the graphics driver
Time needed: 5 minutes
An outdated graphics driver will limit your graphics card and won't perform fully. To avoid this, we recommend you install the latest graphics driver update and keep it updated in the future. This way, you will ensure the best gaming performance on your PC.
Click on the Windows icon, type Device Manager, and open it.

Double-click on the Display Adapters section.

Right-click on your graphics card and select the Update driver option.

Select the Search automatically for drivers option.
Follow any additional steps for driver installation.
Restart your PC.
Drivers can be challenging to manage, and we discovered that many gamers often forget to update them. Luckily we found a potential solution, and it is called Outbyte Driver Updater. This tool can control the complete driver management process, thus saving you a lot of time and frustration.
2. Clear Steam cache
Dragon Ball Z Kakarot and Steam store temporary cache files locally on your PC. These files are helpful since they make the app and game launch and run smoother, but if they are corrupted, they can have a counter-effect.
Open File Explorer using the Windows Key + E shortcut.
Paste the path to the Steam directory and hit Enter.
The default one is C:\Program Files (x86)\Steam

Right-click on the appcache folder and select Copy.
Navigate to Desktop using Windows Key + D.
Create a backup of the appcache folder using the CTRL + V shortcut.
Return to the Steam directory, right-click on the appcache folder, and select Delete.

Restart your PC.
3. Disable startup services
Prevent apps from launching their services with your OS by enabling only necessary Microsoft services in the Service Configuration.
Use the Windows + R shortcut, type msconfig, and hit Enter.
Navigate to the Services tab.
Check Hide all Microsoft services and then hit the Disable All button.
This way, only Microsoft services will run when you restart your PC.

Click OK and restart your PC.
Extra steps
If Dragon Ball Z Kakarot is still laggy, try to:
🥶 Keep it cool: Ensure proper ventilation and change the thermal paste on your CPU and other required components. This way, you will avoid overheating, which causes poor performance.
❌ Disable overlays: If you want to use some apps like Razer Cortex and GeForce Experience, you will have to disable overlays in the app settings to boost the game's performance.
🧹 Perform a Disk Cleanup: Click on the Windows icon, type Disk Cleanup, and open this app. Find and delete any temporary files on your PC.
⬆ Update Windows: Always keep Windows and related components up-to-date. To do it manually, click the Windows icon, type Check for updates, and open these System Settings.
Conclusion
Hopefully, you managed to resolve the Dragon Ball Z Kakarot lag spikes by applying the fixes we proposed. Comment with the feedback, and let us know if you find any other method that helps you boost performance in this awesome role-playing fighting game.
If you encounter any issues or errors while playing your favorite games and require support, feel free to contact us here. Our team is always ready to assist you and ensure your gaming experience is seamless and enjoyable.