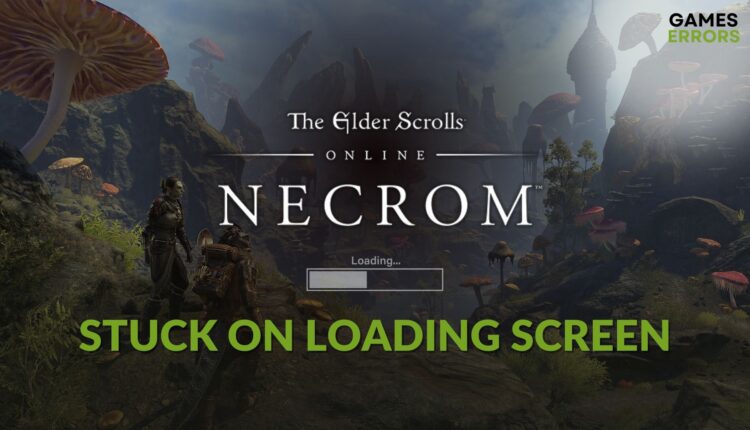 Elder Scrolls Online: Necrom Stuck on Loading Screen [Fixed]
If ESO: Necrom takes forever to load, update display driver, troubleshoot connection issues and follow these tips 👇
X
INSTALL BY CLICKING THE DOWNLOAD FILE
You may experience that The Elder Scrolls Online: Necrom is stuck on the loading screen on your PC. Though it's a common problem with this game, you can fix it very easily.
After installing the latest DLC, Necrom, the ESO users may see that it's taking forever to load or it is freezing on that screen. This problem can completely prevent you from playing the game. Luckily, by taking the proper steps, this issue can be resolved very quickly.
Learn how to solve ESO: Necrom won't launch if needed.
Why am I stuck on the loading screen in ESO: Necrom?
If you notice that the Elder Scrolls Online is taking forever to load after installing Necrom DLC, it means any of the following reasons exist on your PC:
Problematic display driver: Buggy, outdated, or corrupted display adapter driver can prevent this game from loading.
Third-party services: Many third-party services, like your antivirus, and firewall, can interfere with the in-game process and cause this problem on ESO: Necrom.
Problematic game components: Outdated, faulty, or missing game components can trigger this problem or ESO: Necrom's crashing issues.
Slow disk performance: Slow and problematic disk drive is a very common reason behind game freezing issues on the loading screen.
Network problem: Elder Scrolls Online: Necrom also may get stuck while loading if the servers are down or your internet connection or network configuration has some problems.
How do I fix Elder Scrolls Online: Necrom stuck on the loading screen?
First, confirm that your PC meets the ESO's system requirements. Also, check the Elder Scrolls Online server status and determine whether it's a serverside issue or a client side. Then, do these quick things before trying the main troubleshooting methods:
Run the game as an administrator and see if it helps.
Update/Install DirectX Runtime and Visual C++ redistributable.
Disable your antivirus and firewall and restart your PC.
Ensure that you are not using any proxy or VPN and that your internet connection is stable enough.
After that, try the following solutions to fix the loading screen stuck problem on ESO: Necrom:
1. Update the GPU driver
Time needed: 2 minutes
To fix the infinite loading screen problem on The Elder Scrolls Online: Necrom, updating the GPU driver should be the primary solution.
Select Search automatically for drivers.
Finish the process.
Restart your computer.
We suggest you use Outbyte Driver Updater to update your graphics card. This small application can find the most recent version of the official driver and install it automatically on your PC. As a result, you will always get better convenience and experience compared to the device manager.
2. Use a better DNS
Press Win + I to open Windows Settings.
Select Manual.
Toggle the switch on for IPv4.
Restart your PC.
3. Reset the network
As the infinite loading problem on ESO: Necrom can be a result of a network issue, you should reset the network settings on your PC to fix this problem. To do it, follow these steps:
Go to Windows Settings like before.
Click on Network reset.
After that, click on Reset Now.
Restart Windows.
4. Repair the game files
To fix ESO: Necrom not loading issue, repair the game files by following these steps.
Open Steam.
Go to the game library.
Right-click on Elder Scrolls Online and then go to Properties.
Give it some time to finish the process.
5. Repair common disk issues
Press Win + E on the keyboard to launch File Explorer.
Click on This PC.
Right-click on the disk drive where you have installed the ESO and click on Properties.
Go to the Tools tab.
Wait for a while.
6. Re-install the game on an SSD
Go to the Steam library like before
Right-click on Elder Scrolls Online, hover the cursor on Manage, and click on Uninstall.
After that, click on Install.
Select the preferred game installation location and then click on Next.
Wait for some time until it finishes downloading and installing the game.
Now, relaunch ESO: Necrom and see what happens. If it doesn't help, try running the game in a clean boot state. Also, update Windows to the latest version.
These are the most effective ways to fix Elder Scrolls Online: Necrom stuck on the loading screen. If you have any questions, write them down in the comment box.