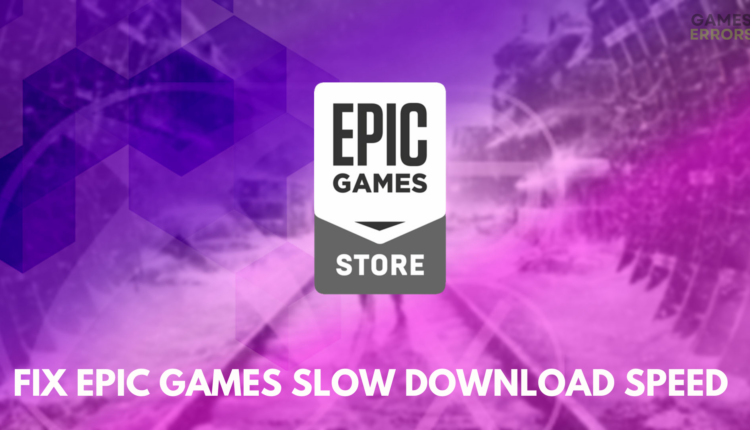 How to Fix Epic Games Slow Download Speed [Fast Guide]
Many users download and install big games with the Epic Games Launcher software. Big games eclipsing the 50-gigabyte size mark will usually take a few hours to download.
How long it takes for your games to download primarily depends on your internet connection speed. However, sometimes downloading with Epic Games can be somewhat slower than it really should be. For example, one user said this on Reddit:
I've had issues with downloads on Epic Games for over a year. Speeds would be around 100-400 kb/s at max. Often drop to 0 and just stop.

Reddit
Are your Epic Game titles downloading much slower than they should be? If yes, then try applying the potential fixes below for Epic Games slow download times to speed up the downloading.
How can I check my Epic Games download speeds?
You can get a clearer picture of your Epic Games download speeds by looking at the Downloads tab in that software. Click the Downloads tab at the bottom of the left sidebar in Epic Games when something is downloading. That will bring up a Download graphic with variable speed shown.
Then you should test your overall internet connection speed to ascertain what kind of game download speed you can expect. To do so, open this Internet Speed Test page. That will tell you if you have a fast, average, or slow connection.
How can I speed up my slow Epic Games downloads?
Table of Contents
1. Disable network-intensive background processes
Hold down the Windows logo key and press S at the same time.
Enter Resource Monitor to find that app.
Select the Network tab.
Right-click network-intensive processes there and select the End Process option.
Try downloading a game with Epic Games again.
2. Disable the Throttle Downloads setting
Time needed: 1 minute
Open the Epic Games Launcher window.

Click the user account menu button at the top right of the Epic Games Launcher software.

Select Settings to view further options for Epic Games.

Then uncheck the Throttle Downloads checkbox if selected.

Restart Epic Games Launcher before initializing further downloads.
3. Run Epic Games with a higher priority
Start the Epic Games software.
Click Task Manager's Details tab to view processes there.
Right-click EpicGamesLauncher.exe to select a Set priority option.
Exit Task Manager, open Epic Games Launcher, and try downloading a game.
4. Edit the Engine file
Press the Windows logo keyboard key + R to access a Run dialog box for opening folders and software.
Input this folder path inside Run's Open box and click OK: C:\Users\<user folder>\AppData\Local\EpicGamesLauncher\Saved\Config\Windows
Right-click the Engine.ini file and select Open with.
Click Notepad to bring up an empty Engine.ini file.
Notepad options" src="https://gameserrors.com/wp-content/uploads/2023/08/7-3.png" alt="The Open with option epic games slow download" width="900″ height="500″>
Copy the following text by selecting it and simultaneously pressing the Ctrl + C keys on your keyboard:
[HTTP] HttpTimeout=10 HttpConnectionTimeout=10HttpReceiveTimeout=10 HttpSendTimeout=10
[Portal.BuildPatch]
ChunkDownloads=5
ChunkRetries=20
RetryTime=0.5
Click on the File menu option.
5. Set a faster DNS server
Open Run and input the following command: control.exe /name Microsoft.NetworkAndSharingCenter
Then click OK to view the Network and Sharing Control Panel window.
Right-click your PC's internet network adapter and select a Properties context menu option for it.
Select Use the following DNS server address to activate the text input boxes.
Enter 8.8.8.8 in the text box labeled Preferred DNS server.
Select OK to set your new Google DNS settings.
6. Uninstall cFosSpeed
Bring up the utility for locating files by clicking the Search taskbar box or magnifying glass icon.
Type in an Apps & features search phrase to find the Settings tool for uninstalling software.
Select Apps & features to access that uninstaller tool.
Next, click the three-dot button for a cFosSpeed app and select Uninstall. Or you can click on cFosSpeed and select Uninstall within the Windows 10 Apps & features tool.

CFosSpeed is software that applies the traffic-shaping bandwidth. Users have confirmed uninstalling that software greatly improves Epic Games download speeds.
7. Disable VPN connection
Open Settings (press Windows logo + I key) to select Network & internet.
Then select the Disconnect option for your VPN in Settings.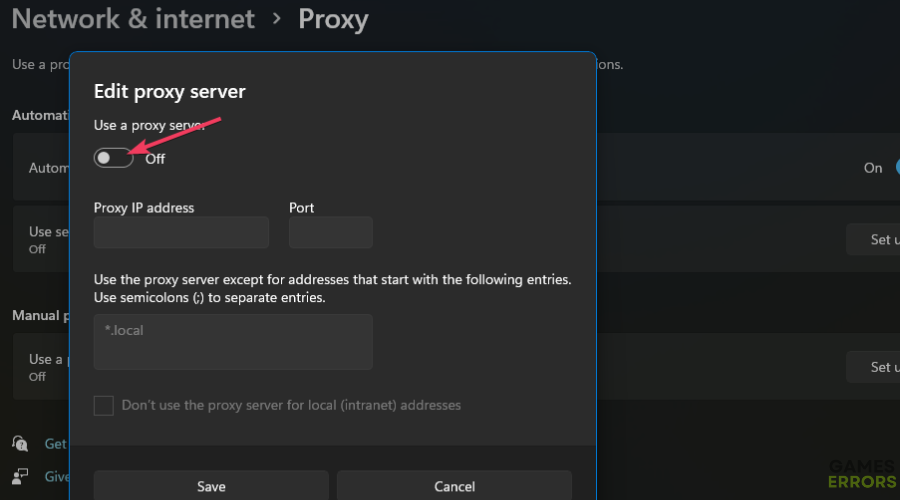 It's also recommended to disable a proxy server. To do so, click Proxy within the Network & internet tab in Settings; click Set up to view an Edit proxy server box. Then turn off the Use a proxy server option and select Save.
8. Update your PC's network driver
An outdated or faulty network adapter driver can also affect your game download speeds. So, try updating your PC's network driver with a third-party driver updater tool like Outbyte Driver Updater. Running a scan with that tool will you if your network adapter's driver needs updating and enable you to update it.
⇒ Get Outbyte Driver Updater
Applying those potential fixes will probably speed up your Epic Games downloads at least a little. Then you can spend less time waiting for games to download and more time playing them.