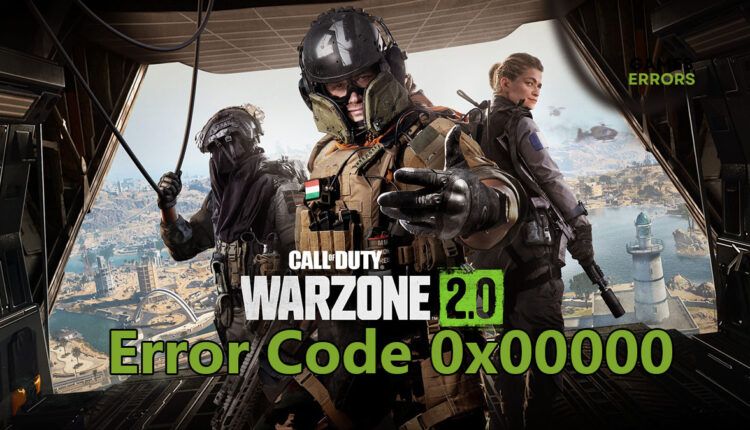 Error Code 0x00000 In Warzone 2: Easy Steps For Permanent Fixes
COD Warzone 2 error code 0x00000 is a fatal error. But don't let it kill your game. Treat it with these fixes and bring your Warzone back to life.
Error codes are ugly and unwelcome no matter what they're called. Error code 0x00000 in Warzone 2 is as ominous as it sounds. It brings the game to a full stop and either the screen freezes for eternity or the game exits ungracefully. Either way, there's no continuing that mission and you won't be able to continue to mow down the enemy until you've found a fix for this fatal error.
What is Error Code 0x00000 in Warzone 2?
It doesn't matter what you're doing on COD Warzone 2, error code 0x00000 in Warzone 2 can strike anytime and anywhere. Ever since the game was released for Microsoft Windows, gamers have been complaining about this particular error that freezes the screen and puts an end to the game right then and there. For many, the only option is to restart the game but that doesn't keep the fatal error from coming back. Here are the most common causes for it.
Battle.net client cache is corrupt.
Graphic driver is outdated.
Game installation files are damaged.
Apps with overlay features are running in the background.
How to Fix Error Code 0x00000 in Warzone 2?
1. Update Graphics Driver
It's surprising how many game errors are caused by an outdated graphics driver. The first thing experienced gamers often do after installing a new game is to check for updates for their GPU before they even start the new game. So if your Warzone 2 freezes a lot, close it and follow these steps to uninstall and update your graphics driver.
Download the latest driver for your graphics card from NVIDIA, AMD, or Intel. Save the file to your hard disk.
Right-click the Start icon and select Device Manager.
Expand the Display Adapters and right-click your graphics driver, then select Uninstall. Follow the instructions on the screen.
Restart your PC then double-click the file you saved in step 1 to install the new graphics driver.
Launch COD Warzone 2 and check that the screen doesn't freeze.
Expert gamers don't like to worry about outdated graphics drivers all the time. This is why they install Outbyte Driver Updater and let this valuable app take care of keeping the drivers on their system up to date. It works seamlessly in the background and saves you from fatal game errors.
⇒ Get Outbyte Driver Updater
2. Delete Battle.net Client Cache
Time needed: 2 minutes
If you use the Battle.net client to launch your COD Warzone 2 game, chances are the client's cache is corrupted or damaged due to improper shutdown or some other technical issue. In these cases, the only option is to delete the cache and restart the client afresh. Here's how to do it.
Right-click the taskbar and select Task Manager.
Close the client

Under the Processes tab search for all Blizzard apps such as Blizzard Update Agent and agent.exe. Right-click each one and select End Task.

Press Win + R to launch the Run app.
Type %ProgramData% and click OK to open the hidden ProgramData folder
Scroll down to the Blizzard Entertainment folder, right-click it, and select Delete.

Launch the Battle.net client and start the Warzone 2 game.
3. Scan and Repair Installation Files
Much like the cache, the installation files can also get corrupted. This could be due to an unsuccessful update. The damaged files lead to crashes in the game and the infamous fatal error code 0x00000. You can scan and repair the game installation files from either the Steam or Battle.net game launcher you're using.
Close COD Warzone 2 and launch Steam.
Click Library and scroll down to COD Warzone 2.
Right-click the game icon and select Properties.
Select Local Files on the left panel and click Verify integrity of game files.
Wait for the process to finish, then restart Warzone 2.
4. Disable Apps with Overlay Features
Apps and services running in the background take up system resources and keep your games from running smoothly. Moreover, some gamers noticed that apps with overlay features often cause error code 0x00000 in Warzone 2. These apps include Discord, Spotify, MSI Afterburner, and others. Here's how to close background apps and apps with overlay features.
Right-click the taskbar and select Task Manager.
Under Processes, look for all unnecessary apps such as Cortana, browsers, and apps with overlay features.
Right-click each app and select End task.
Launch COD Warzone 2.
Related Articles:
These solutions will fix the fatal error for good. Let us know in the comments section if you have other fixes that worked for you.