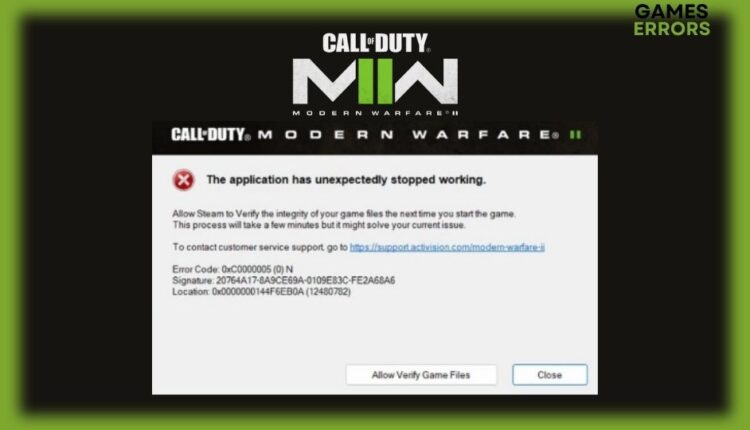 Error Code 0xc0000005 Modern Warfare 2: Quick Fixes
Don't let error code 0xc0000005 ruin your mode to fight in Modern Warfare 2. Fix the error here in no time flat.
X
INSTALL BY CLICKING THE DOWNLOAD FILE
Errors are the last thing you'd want to see pop up on the screen during game time. And when it comes to an immersive game such as CoD, error code 0xc0000005 Modern Warfare 2 usually means trouble is brewing not just on the battlefield but in the game itself. Before you lose your patience and switch to another game, try these quick fixes and keep fighting the bad guys.
What is Error Code 0xc0000005 Modern Warfare 2?
Error code 0xc0000005 MW 2 is bad news any way you look at it. This is the equivalent of a stroke in the medical field. The error is unexpected and comes without warning. You could be in the middle of a mission or simply scrolling down the main menu. But the game simply stops and you get kicked out for no fault of your own whatsoever. Here's why it happens.
Outdated graphic drivers
NVIDIA reflex and on-demand texture streaming turned on.
Shader quality set too high
You're playing in windowed borderless or borderless screens.
How to Fix Error Code 0xc0000005 Modern Warfare 2?
1. Update Graphics Driver
As a graphics-intensive game, Modern Warfare 2 requires your GPU to give all it has and then some. If the graphic driver is out of date, some of the features of the game cannot be rendered and the game will stop right then and there. Here's how to update your graphics driver.
Open your browser and go to NVIDIA, AMD, or Intel to download the latest driver for your specific GPU. Save the file on your system.
Right-click the Start menu and select Device Manager.
Click Display Adapters to expand it and right-click your graphic driver then choose Uninstall.
Restart your PC then double-click the file from step 1 to install it. Follow the instructions on the screen.
Launch Modern Warfare 2 and enjoy an error-free game.
To save you the hassle of fixing game errors that result from outdated graphic drivers, install DriverFix. It checks for new updates to your graphic driver and all the other drivers on your system and installs them in the background.
2. Run the Game with DirectX 11
Time needed: 2 minutes.
By default, Modern Warfare 2 will select DirectX 12 to help with the graphic rendering. While DirectX 12 is superior to DirectX 11, it has its own issues and has been known to cause fatal errors in many games, including CoD. Here's how to switch back to the more stable and reliable DirectX 11.
Open Battle.net client and make sure CoD is not running.
Select All Games > My Games.
Scroll down to Modern Warefare 2 icon and right-click it.
Select Options and click Game Settings.
Check the Additional command line arguments box.
Type the following in the box: -d3d11
Click Done and restart the Modern Warfare 2 game to run it with DirectX 11.
3. Scan and Repair the Game
The game files could have been damaged due to an unexpected shutdown of the game or the system. These corrupt files could trigger error code 0xc0000005. You can fix them through the game launcher itself. Be patient while the process is running. It could take anything from a few minutes to a couple of hours.
Close Modern Warfare 2 and launch Battle.net client.
Click All Games and select My Games.
Scroll down to Modern Warfare 2 icon and click it.
Click the gear icon next to the Play button to bring up the Settings menu.
Click Scan and Repair option and confirm with Begin Scan button.
After the scan and repair process finishes, restart the game.
4. Reset the Game
If you're like me, then fiddling with the game settings is your favorite pastime. You like to adjust the graphic settings, play on a borderless screen, or give the texture more detail and make them pop on the screen. The downside to this is that you put too much strain on the GPU and other system resources. You'll need to reset the game to its default settings. Here's how to do it.
Press Win + E to bring up Windows Explorer.
Open Documents and scroll down to the Call of Duty Modern Warfare 2 folder.
Right-click the folder and select Rename.
Type Call of Duty Modern Warfare 2 Backup and click Enter.
Now launch the game and let it create a new folder with default settings.
Related Articles:
After trying out those fixes and getting your game back on, let us know in the comments section below if you have other fixes that work.
If you encounter any issues or errors while playing your favorite games and require support, feel free to contact us here. Our team is always ready to assist you and ensure your gaming experience is seamless and enjoyable.