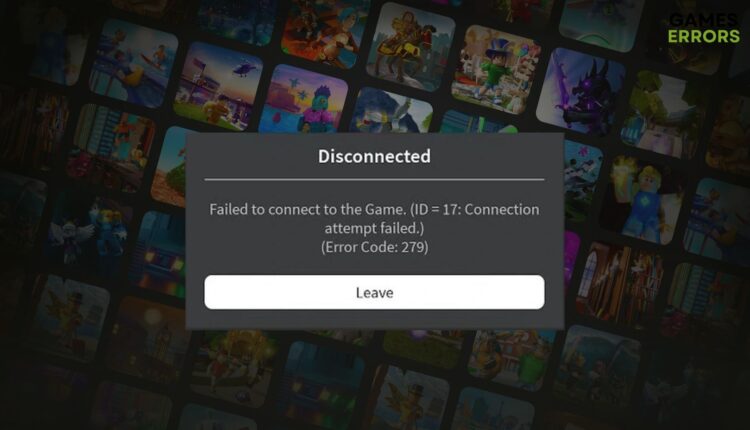 Roblox Error Code 279: What is & How to Fix It – Explained
To solve Roblox error code 279, disable your Antivirus and Firewall, and reset the network ✔️
To solve the error code 279 in Roblox, we have the most effective solutions you can try. For your convenience, this article has featured these methods in detail.
Many problems, like error codes 529, 268, etc., may appear on Roblox to interrupt your gameplay experience. But, the error code 279 is one of the most annoying ones. You may get it on a Windows-based PC, Mac, smartphone, and other devices.
What is error code 279 in Roblox?
The error code 279 is a connection-related problem that a lot of Roblox users may encounter. When this problem appears, you may see the following message:
Failed to connect to the Game. (Connection attempt failed)

(Error Code: 279)
If you frequently face this issue, it means something is preventing you from connecting to the game. It can be a poor internet connection, improper configuration, third-party services, game server problems, etc.
How can I fix error code 279 in Roblox?
First, restart your internet router. Then, you should do the following things before going through our main methods:
Disable your Antivirus and Firewall.
Make sure you are not using a VPN Proxy or mobile data.
Ensure that there is no problem with your time and region settings.
Visit the Roblox status page and ensure that everything is OK.
If you still experience the same problem, try these methods to fix Roblox error code 279:
1. Use a better DNS
Press Win + I on the keyboard to open Windows Settings.
Click on Edit next to the DNS server assignment.
Select Manual.
Enable IPv4 or IPv6.
Restart your computer.
You also can use any other DNS addresses you want.
2. Reset the network
Time needed: 5 minutes
Improper network settings may prevent you from connecting to the Roblox server. So, resetting it may fix the problem.
Open Windows Settings.
Restart Windows.
Doing the above things will reset all of the network configurations on your PC. You may need to reconfigure your ethernet connection after that. There is a very good chance that it will fix the error code 279 in Roblox.
3. Disable third-party browser extensions
Open the web browser you are using for Roblox.
Go to the following address: chrome://extensions/
Disable the extension you want by toggling the switch next to it.
Relaunch the browser.
The above steps are applicable to Google Chrome. If you use Microsoft Edge, the address will be edge://extensions. For other browsers, you will need to reach the extension page in different ways. Disabling problematic extensions like Adblocker, anti-tracker, etc., may fix error 279 on Roblox.
4. Reset the app data
You may use Roblox by using its official app or from a browser. To solve the problem, you will need to delete the app data from both platforms.
4.1 For the Roblox app
In the Start Menu, search for Roblox.
Right-click on the Roblox app and click on App Settings.
Click on Reset.
Relaunch Roblox and see if it has solved the problem.
4.2 For browser
Open your browser.
Press CTRL + Shift + Del.
Set All time for the Time Range.
Click on Clear data.
Restart your browser.
5. Try a different browser
Download a browser like Opera.
Install it on your computer.
Access Roblox from this browser.
We suggest Opera because it is one of the best-performing web browsers for Roblox. Also, it has many features that can enhance your online browser-based gaming experience. In Opera, you are less likely to face problems like error 279 on Roblox, as you will need fewer third-party extensions in this browser.
If you still experience the problem, we suggest you try Roblox from other devices and see if the problem appears there or not. If yes, try it from a different network or contact Roblox support. You also can consider updating Windows to the latest version.
Learn how to fix Roblox error code 429 if necessary.
This article has explained how to solve error code 279 on Roblox. If you have any questions, let us know in the comment box.