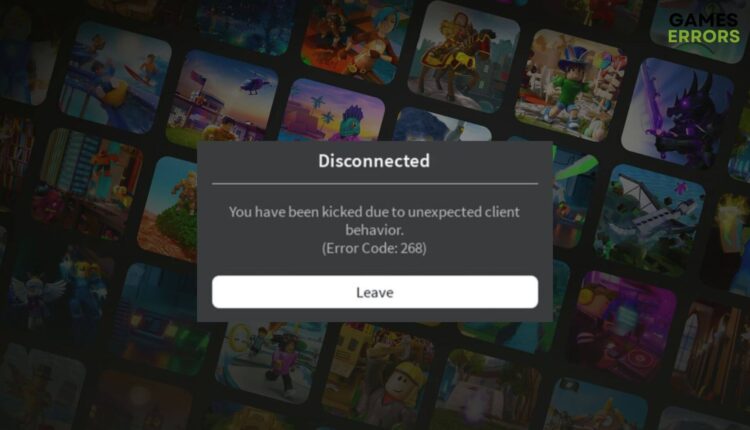 Roblox Error Code 268: Easiest Methods to Fix It – Explained
To fix Roblox error code 268, uninstall any cheat tools and reinstall Roblox app ✅
X
INSTALL BY CLICKING THE DOWNLOAD FILE
Are you getting the error code 268 on Roblox? If yes, it must be a very frustrating experience for any gamers.
Unlike other issues like Roblox error code 429 or 529, the 268 is a bit tough to get rid of. If this problem keeps appearing when you try to play on Roblox, it may end up being a more complex matter. So, when you first or second time get this problem, you must be alert and follow our suggestions.
What does 268 mean in Roblox?
When you encounter this error code, you may see the following message:
Disconnected

You have been kicked due to unexpected client behavior.

(Error Code: 268)
It clearly states that the server disconnected you from the game due to some unusual activities on your end. Usually, it happens when a gamer makes any cheating attempts. Sometimes, it can be false positive detection too.
What may cause error code 268 on Roblox?
Usually, this problem occurs due to the following reasons:
Blacklisted IP: If Roblox detects any unusual activities from your IP, it may block it and kick you from the game.
Third-party apps and extensions: Some third-party apps, including various cheat tools, may also be the reason. There are some problematic browser extensions, as well.
Corrupted app: If the Roblox app gets corrupted or altered somehow, it also may be the root of error 268.
Server issues: If the game server is going through some internal problems, you also can get this type of error code temporarily.
How to fix error code 268 on Roblox?
Before attempting to troubleshoot this error, we suggest you do the following things:
Now, you can try these methods to solve Roblox error code 268:
1. Uninstall cheat tools and other problematic apps
Press Win + I on the keyboard to open Windows Settings.
Locate the problematic app from the list.
Restart Windows.
In this way, uninstall Cheat Engine and other exploit software. Also, consider removing the security apps which have overprotective behavior.
2. Re-install the Roblox app completely
Time needed: 8 minutes.
In most cases, the problematic Roblox app can be the root of error 268. So, re-installing it is the best idea.
Uninstall the game by following the same steps shown in method 1.
Press Win + R on the keyboard to open Run.
Try to find Roblox or related folders and delete them.
Restart your PC.
Download and install the Roblox app again.
Log in and verify if it has solved the Roblox error 268.
3. Disable browser extensions
Open your web browser, for example, Google Chrome.
Type the following address in the address bar and press Enter: chrome://extensions/
Locate the suspicious extension and toggle the switch to off next to it.
Disable all other problematic extensions.
Relaunch the browser.
4. Clear browser cache and cookies
Open the browser you are using, for example, Google Chrome.
Press CTRL + Shift + Del.
Choose All time for the Time Range.
Click on Clear data.
Relaunch the browser.
Now, you can log in to Roblox and see if you still get the error code 268 or not.
5. Disable Proxy and VPN
Turn off Automatically detect settings.
Delete any other proxy profiles you find.
Restart your computer.
If you use a browser, we recommend you disable any proxy extensions. You should also uninstall any VPN app by following the steps shown in method 1.
6. Reset the Network
Go to Network Reset.
Click on Reset, as shown in the screenshot.
Wait for a while to finish the process.
Restart your PC.
Other related articles:
7. Scan for malware
The problem also can be a result of malicious activities on your device. So, it's better to scan the whole PC with better antivirus software like ESET Internet Security.
Hopefully, the above methods will help to fix error code 268 on Roblox. If you have any questions or suggestions, you can write them in the comment box below.
If you encounter any issues or errors while playing your favorite games and require support, feel free to contact us here. Our team is always ready to assist you and ensure your gaming experience is seamless and enjoyable.