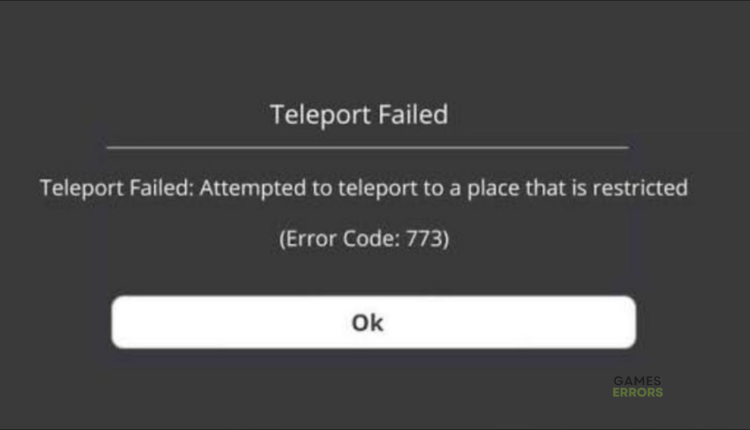 Error Code 773 in Roblox: Check These Useful Solutions
If you're getting the error code 773 in Roblox, you're in the right place! We have the best fixes! 🎯
X
INSTALL BY CLICKING THE DOWNLOAD FILE
Roblox is a great online gaming platform where users can create, share, and play games with each other.
It provides a variety of tools and resources for users to create their own games, ranging from simple obstacle courses to more complex simulations and role-playing games.
Unfortunately, it seems like players are frequently reporting the error code 773 in Roblox as being one of the most annoying issues.
In case you're also facing this problem, today is your lucky day! We've compiled a list with some of the best solutions you should try to fix it.
What does the error code 773 mean in Roblox?
When the error occurs, it comes with the following message:
Teleport Failed: Attempted to teleport to a place that is restricted

(Error Code: 773)
As its related message shows, the error code 773 in Roblox means that there are issues with the teleporting feature.
Teleportation is a crucial feature in Roblox games that serves a significant purpose for both players and creators.
It is essential for game creators who plan to include tutorial zones and need to transport players to specific locations using the teleport function.
However, players will experience difficulty playing the game if they repeatedly encounter the 773 error when attempting to teleport.
This error is just one of many frustrating issues that players may face, and resolving it should be a top priority.
How do you fix error 773 on Roblox?
Table of contents:
1. Log out of all Roblox sessions
The teleport error code 773 in Roblox can occur due to a problem with a double-login session. To avoid this issue, it is recommended to ensure that you are only logged in from one location at a time.
To achieve this, visit the Roblox Account Settings page, and navigate to the Devices section where you will see a list of all devices currently logged in to your account.
Log out of all devices except the computer you are currently using, and manually log back into your account on the current device.
After logging back in, launch Roblox and attempt to teleport again to see if the issue has been resolved.
2. Make sure the game is up to date
2.1 For PC
Open the Roblox website on your web browser.
Log into your personal Roblox account.
After this, you will be directed to the home page where you will find several games.
Choose Roblox and click on the Play button shown directly below.
The update will automatically start before the game begins.
If the process doesn't start automatically, click on Download and Install Roblox to install an updated version of Roblox.
Open the downloaded Roblox File to configure and begin your game.
2.2 For Mobile Devices
Just navigate to the App stores supported by your device and update your Roblox App.
Some Roblox players have reported encountering the 773 error when playing on a game version that is not the latest.
This issue could be caused by the server using newer files that are not yet available to the player due to the lack of an update.
3. Use a VPN to set the location
Time needed: 5 minutes.
In some cases, the 773 error in Roblox is linked to the user's geographic location, as confirmed by multiple users in Asia.

If all other methods fail to resolve the issue, it is likely that the error is caused by the user's location. In this case, the best solution is to use a Virtual Private Network (VPN).

Below you can find 6 easy steps to configure your VPN (using ExpressVPN as an example):

First, navigate to the ExpressVPN official website.
Click on the Get ExpressVPN button, then choose a plan.

Follow the on-screen instructions to complete the installation process.
Open it, then select Choose Location.
Select a Recommended country or another one that you prefer.
Check if the error is gone.
You should also find out what online gamers have to say about the benefits of a VPN and convince yourself of the power of this solution.
4. Teleport as an Individual
According to some users, the 773 Roblox teleportation error occurs when attempting to teleport multiple players at once.
The solution to this problem is to teleport them one by one, modifying your command accordingly. This is not an actual fix but a workaround that requires a lot of effort to teleport many players individually. However, it is still better than not being able to teleport at all.
Why can't I teleport in Roblox?
If you're still unable to teleport in Roblox, make sure you also try these steps:
Open Game Settings.
Go to Security Third Party Teleports and ensure that they are enabled.
Your referenced player variable or place ID isn't nil.
Make sure the place has been published.
It's important to remember that you cannot teleport in Roblox Studio. Therefore, if you receive an error message stating that you are not permitted to teleport in Roblox Studio, it confirms that the feature is not available.
Related articles:
In case you're facing the error code 773 in Roblox, these are the best solutions you can try to get rid of it. Do not forget to leave a comment in the section below and describe which one suited you the most.
If you encounter any issues or errors while playing your favorite games and require support, feel free to contact us here. Our team is always ready to assist you and ensure your gaming experience is seamless and enjoyable.