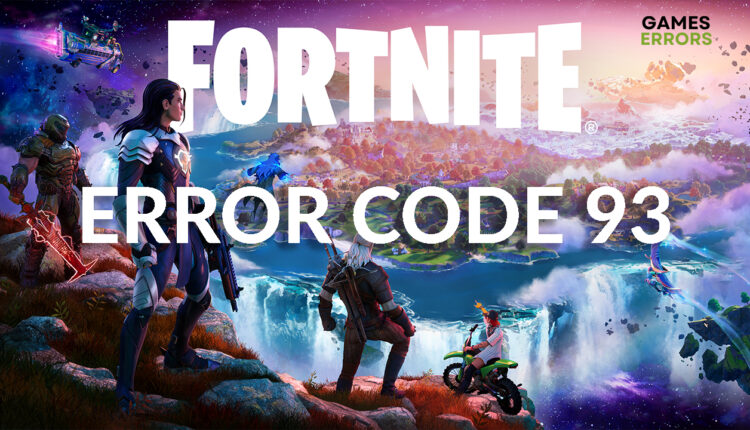 Fortnite Error Code 93: What is it & How to Fix – Expert Guide
Error Code 93 is an error in Fortnite that prevents a player from connecting to the game server. 😯
X
INSTALL BY CLICKING THE DOWNLOAD FILE
Fortnite Error code 93 occurs when a player is trying to join a party. The game kicks the player out of the server with the error message, which can appear multiple times, practically disabling the player from playing Fortnite with friends.
What is error code 93 in Fortnite?
Error code 93 is a connection-related error that prevents Fortnite players from connecting to the game server. There is no universal way to troubleshoot this error since various factors can cause it. The most frequent causes of error code 93 are:
Outdated network drivers
Faulty game files
Incompatible skins
Problems with Fortnite servers
Some players also experience compatibility problems when joining the Fortnite server, so we made a guide on how to fix the 'This Client Is Not Compatible' problem.
How do you fix error code 93 in Fortnite?
Before troubleshooting this issue on your device, check if Fortnite servers are up and running.
Some players report restarting the Epic Games launcher, and their PC resolved the error code 93 Fortnite issue. If this doesn't work out for you, proceed with the more advanced solutions listed below.
1. Update the network drivers
Click on the Start button (Windows icon) and type Device Manager.
Select the Device Manager from the search results.
Find the Network Adapters section on the list and double-click it to expand the list.
Select Search automatically for drivers in the Update Driver Wizard. Windows will now search the database of known drivers and update your network device's drivers if needed.
Repeat this process for all network devices.
Windows driver database is great, but not perfect. Some drivers are unavailable within this database, so we advise going with
DriverFix
. This tool is easy to use and offers a huge database of drivers for various devices.
2. Change the party settings
There are three different privacy configurations for your Fortnite party:
Anyone
Friends Only
Invite Only
Changing the privacy setting to Anyone (Public) is known as a way to resolve error code 93 Fortnite issue.
Launch Fortnite from a desktop shortcut or Epic Games launcher.
Click on the first tab in the left sidebar.
Select Settings (gear icon).
Although this solution can work, it might not be ideal if you want to play Fortnite with your friends. Check the other solutions on the list to resolve the issue for private parties.
3. Verify game files
Corrupted game files in the games that often get updated are known to cause different issues. Verifying these game files can be done in a few easy steps.
Open the Epic Games Launcher.
Find and open the Library.
Click on the three dots next to Fortnite.
4. Change your skin
Launch Fortnite.
Click on the Edit Style button.
Select a different skin.
Click Save and Exit.
5. Update the game
Open Epic Games Launcher and go to the Library.
Click on Settings and Scroll down to the Manage Games panel.
Find the subpanel Fortnite, and click on it to expand it.
Every time you launch Fortnite, the game will automatically update if new updates are available.
6. Reset network adapters
Even if your network drivers are up-to-date, resetting the network adapters might solve the error code 93 Fortnite message.
Click onStart (Windows icon) and type Command Prompt.
Right-click on Command Prompt from the search results and select Run as administrator.
Type netsh winsock reset and press Enter. Once the process is completed, you will get a success message.

Type exit and hit Enter.
Restart the computer.
Related articles:
Conclusion
If the error code 93 Fortnite message continues to pop up when you join a party, the good idea is to reinstall the game. Make sure you delete all game files and caches before installing the fresh version of Fortnite.
Share with us what solution from the list worked out for you. Also, let us know if you found another fix for the issue.
If you encounter any issues or errors while playing your favorite games and require support, feel free to contact us here. Our team is always ready to assist you and ensure your gaming experience is seamless and enjoyable.