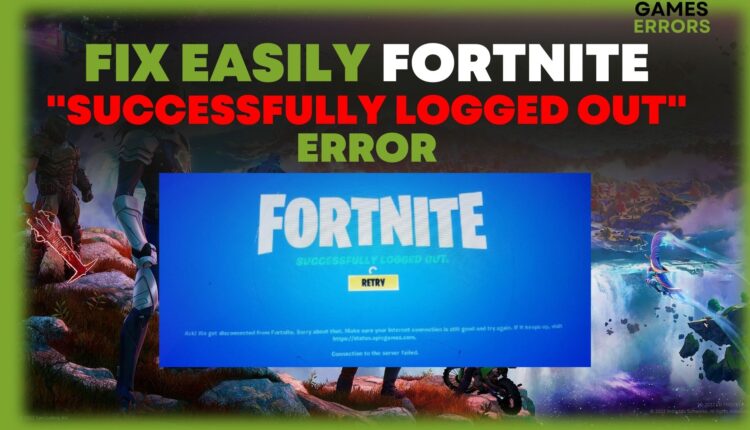 Fortnite Successfully Logged Out: Fix It in 3 Minutes
What to do if Fortnite keeps saying successfully logged out? Restart the game, and make sure your network drivers are up to date, and you're good to play again! 💁‍♂️
X
INSTALL BY CLICKING THE DOWNLOAD FILE
Fortnite 'Successfully Logged Out' error is encountered by many players and prevents them from enjoying the game.
If you're experiencing 'successfully logged out' of Fortnite, don't worry! We have a few quick solutions that will fix this error easily.
Why does Fortnite keep logging me out?
Fortnite keeps logging you out due to corrupted files on your computer or your poor internet connection. But there can be more causes of this error:
Server-Side Issues: Sometimes, the Fortnite servers might be unavailable due to fixes and maintenance, and errors like Fortnite Successfully logged out might occur.
Account-Related Problems: Make sure to change your password every few months to ensure that there are no security problems related to your account.
General Software Errors: While playing, multiple background applications are also running along your games and launchers. Sometimes, their assets might interact, causing software errors.
Third-Party Software Conflicts: There are some background applications that might not be compatible with Fortnite.
Hardware Issues: Out-of-date drivers might negatively impact your gameplay because they might cause bugs and errors. Most of them are easy to fix and require periodic updates.
Epic Games Launcher Errors: Even if the launcher is updated frequently, server and system errors might still occur. Yet, do not worry because one of the easiest solutions to dealing with Epic Games Launcher Errors is to either reset the launcher or reinstall it.
Fortnite Errors: Because Fortnite is a popular game that is frequently updated, players might encounter bugs and errors shortly after updates.
How do I fix Fortnite successfully logged out?
🎯 Pre-checks to try:
Restart your device. The easiest way to deal with Fortnite errors is to restart the game after you make sure that you close it from the task manager.
Ensure you are using the correct login credentials. Reset your password if you suspect an account issue.
Temporarily disable or uninstall third-party software that may interfere with Fortnite (especially your AV software or firewall)
✅ If Fortnite keeps logging you out, in most scenarios, restarting your internet router, updating your network drivers, verifying the integrity of your game files, or updating your game will fix this problem. Here is how you do it:
1. Check your internet connection
First, you must confirm that your internet connection is stable, has a good internet speed, and is uninterrupted.
Avoid using Wi-Fi when playing the game, and try to utilize your internet cable instead to increase your internet speed.
Close internet-dependent programs like Chrome, Messenger, and Skype.
If you're using wifi, you can think about restarting the router.
2. Update your network drivers
One of the most frequent causes of game connection issues is a malfunctioning WiFi adapter, as well as outdated or faulty drivers. All you need to do in this situation is update your network drivers. Here is how you do it:
👉 Via Device Manager:
Search for Device Manager in the Windows Taskbar's search box.
Double-click the Network Adapters tab to expand the category, and right-click on the network card you want to update. Select Update driver.
Click on the Search automatically for drivers and wait for your PC to complete the process.
Restart your PC, and you should get rid of this error.
🤖 Via updater tool:
Launch the app and it will start scanning the outdated drivers on your PC.
Update All Drivers Now to fix all errors.
Using Outbyte Driver Updater, the trusted third-party tool that will automatically install all your necessary PC drivers, you'll save time and effort and eliminate the fear of updating the wrong drivers.
3. Verify corrupted game files
Time needed: 3 minutes
Corrupted or missing game files on your PC could occasionally give you a lot of trouble like crashes, freezes, or connection issues when playing Fortnite. To avoid that, make sure to verify and repair the corrupted game files. Here is how you do it:
Open Epic Games Launcher and navigate to Fortnite in your Library.

Click on the three dots near Fortnite.

On the drop-down navigation, head to Manage and click on it.

The list will open, and then click on Verify.

Once completed, restart the game.
4. Check the Fortnite server
Successfully logged out error in Fortnite may happen if the game is experiencing technical problems or going offline for maintenance. Therefore, checking the server's status before making any further fixes would be wise.
5. Remove unnecessary background tasks
When you are playing Fortnite, your PC may occasionally crash with the message "Successfully logged out" because several programs are utilizing excessive amounts of resources in the background. By terminating pointless programs with Task Manager, you can add more RAM and CPU. Here is how you do it:
Open Task Manager (Shift + Ctrl + Esc)
Select a program that you don't need, then click the End Task button to terminate it.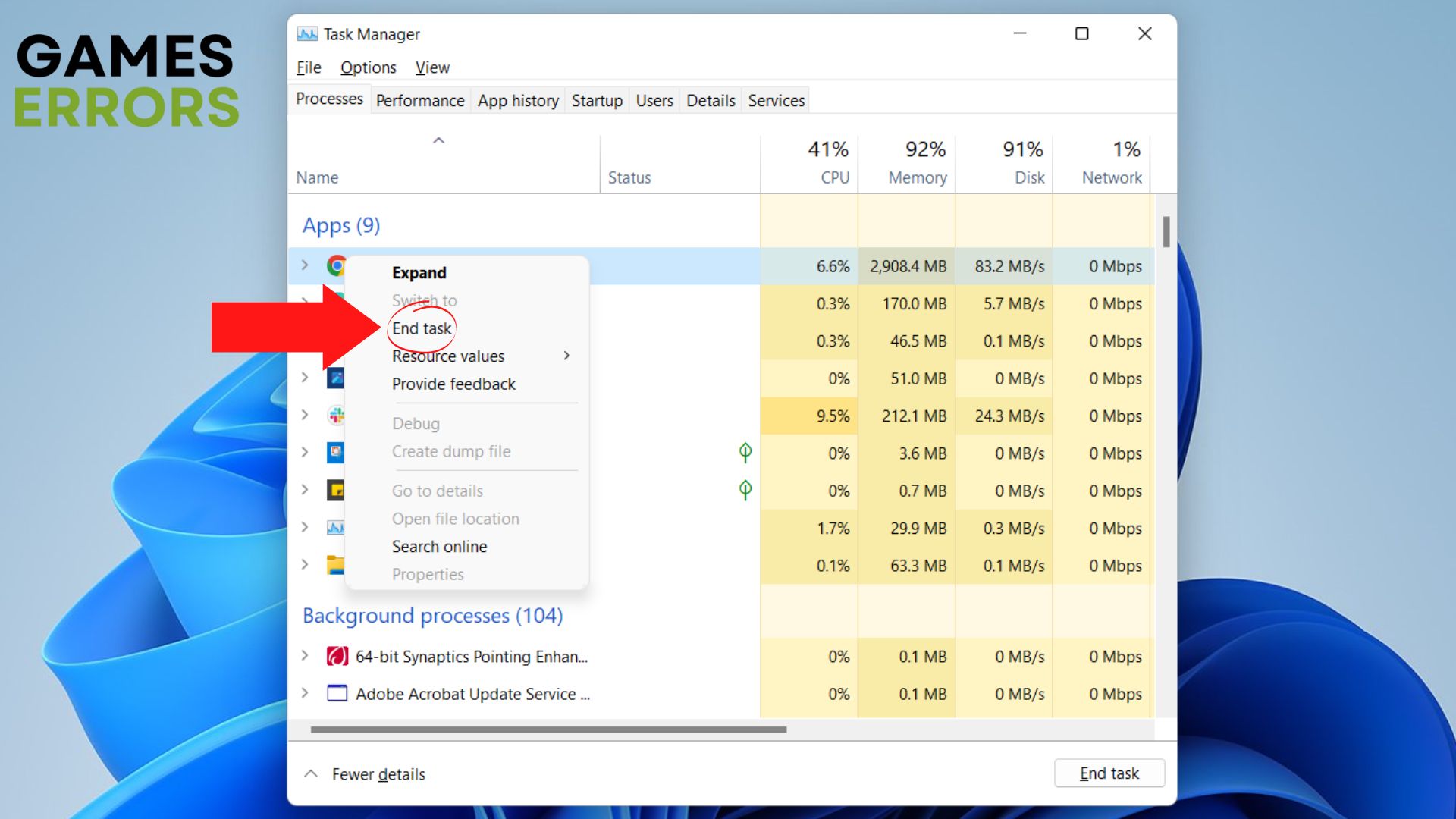 6. Update Fortnite
Always be sure to check for updates in your Fortnite game. If the most recent patch is available, make sure to update it in case you haven't done it in a while.
Open Epic Games Launcher and press on the three dots on the right.
Press on Manage.
And make sure that auto-update is checked.
👀 Or..
Another way is to open Epic Game Settings by clicking on your profile.
Scroll all the way down to Manage Games and to Check Allow Auto Updates.
If you want Fortnite to run better on PC while playing with your friends, make sure to read our article about it.
Related articles:
We sincerely hope that our article was able to assist you in resolving the Fortnite successfully logged out. Please feel free to ask any questions in the comments section below.