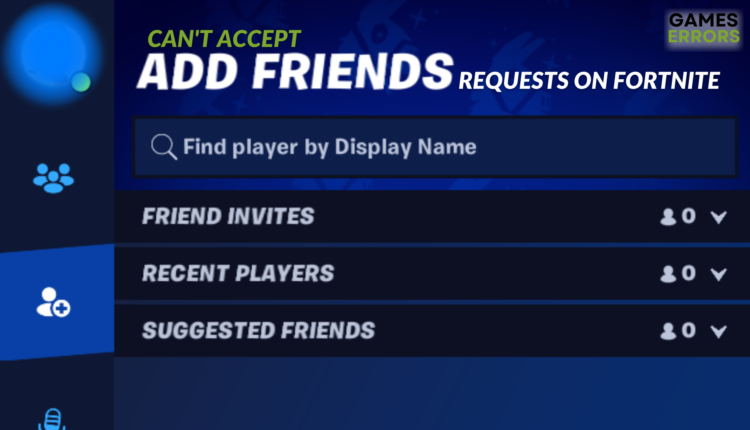 Why Can't I Accept/Add Friend Requests on Fortnite? [FIXED]
Fortnite friend request not working? Maybe the account to which you attempted to send a friend request has received 500 friend requests already 💣
X
INSTALL BY CLICKING THE DOWNLOAD FILE
Fortnite is one of the most well-known battle royale games, and its popularity has only grown since it was first released in 2017. It can be played on PC, Mac, Xbox, PlayStation, Nintendo Switch, and mobile devices, which makes it accessible to a wide audience.
Recently, many players have encountered a problem in Fortnite can't add friends or can't accept friend request on Nintendo Switch, Xbox, PS4, and PS5. The issue with Fortnite is not with the gaming itself, rather, it is with the main menu window.
Why can't I accept friend requests on Fortnite?
You might not be able to accept friend invitations on Fortnite for the following reasons:
It's possible that the requester was under the legal age limit for Fortnite.
The maximum number of friends that can be added to your account may have been reached.
It's possible that the friend invitation wasn't sent correctly.
The game servers or your account may be having an issue.
It's possible that may have blocked the user who sent the request.
Check the aforementioned areas first, and if the issue still exists, go ahead and follow our quick fixes.
Why can't I add friends on Fortnite?
You might not be able to add friends in Fortnite for a few reasons. Here are a few things to look for:
You don't have the latest version of Fortnite installed on your device.
Your console account is not linked to your Epic Games account.
You have entered the wrong friend's Epic Games username.
Outstanding account restrictions or bans.
How do I accept friend request on Fortnite?
Usually, to accept friend requests in Fortnite, these are the steps for Nintendo Switch, Xbox, PS4, and PS5 :
Open Fortnite.
Log in to your account.
Press on the "Add Friends" option.
You can view the list of pending friend requests in this section.
Click the "Accept" button next to the buddy's name to accept a friend request.
You will then see a notification indicating that the friend request has been approved.
You can view a player's status in-game and send them direct messages from the Friends menu after accepting a friend request. Additionally, you have the option of playing with them at your party or inviting them to join yours.
👉 The first steps to make when you are experiencing the Fortnite friend request glitch, according to Epic Games is to make sure:
The account to which you attempted to send a friend request has received 500 friend requests already.
You might have 500 or more pending friend requests from other people.
It's possible that the player you're trying to add has already sent you a friend request.
How do I fix the friend request glitch on Fortnite?
If everything is fine with your limit of friend requests, you don't have any pending friend requests and still, you're having problems adding friends in Fortnite, let's dive into troubleshooting.
1. Restart Fortnite
When you are struggling with Fortnite can't add friends, the game should be restarted before considering making any additional repairs.
Any temporary problems brought on by outdated cookies and cache or other system programs interfering with your game can be resolved by restarting the game.
2. Check and optimize your internet connection
As a first step, make sure your internet connection is reliable, quick, and steady.
Use your internet cable rather than Wi-Fi when playing Fortnite to increase your internet speed.
Restart your Wi-Fi router by unplugging it from the outlet, wait a few seconds, and then replug it.
When using a wireless connection, try moving your device closer to the router to see if the signal strength increases.
Try to connect to a different wireless network to see if the problem is exclusive to your own network.
3. Restart your device
If you are having any issues like, can't log in to Fortnite, can't invite friends in Fortnite, can't add or accept friends in Fortnite, restarting the device can be a helpful troubleshooting step to attempt. Before attempting more complex troubleshooting techniques, it can be useful to try this quick and simple remedy first.
4. Update Fortnite
You may encounter many glitches or bugs if your game is not up to date. Updating your game can help improve your experience with the game and ensure that you are getting the most out of it. It is generally a good idea to keep your game up to date by installing any available updates or patches.
Several players are stuck on the birthday screen in Fornite and are not able to get into the game. If you ever faced this problem, make sure to read our article on how to fix the issue.
Related articles:
How to add friends in Fortnite (PS4, PS5, Nintendo Switch, Xbox, PC)
Usually, the steps to add friends on Fortnite from different consoles are easy:
Open Fortnite.
Click on the main menu in the top left corner of the screen while in the lobby.
Select the Add Friends button.
You'll now need to know the person's display name if you want to add them.
Enter your friend's Epic display name.
To add a friend, click the "Add" button.
Once the friend request has been sent successfully, you will be notified.
If you are still unable to add friends, make sure your account is verified and that you haven't already added all of the permitted friends to it.
We hope that the solutions above have helped you to fix the Fortnite friend request not working. Make sure to drop a comment down below if you have any other suggestions that were not mentioned here.
For the best deals for Fortnite skins, V-Bucks & more, make sure to check on G2A.
If you encounter any issues or errors while playing your favorite games and require support, feel free to contact us here. Our team is always ready to assist you and ensure your gaming experience is seamless and enjoyable.