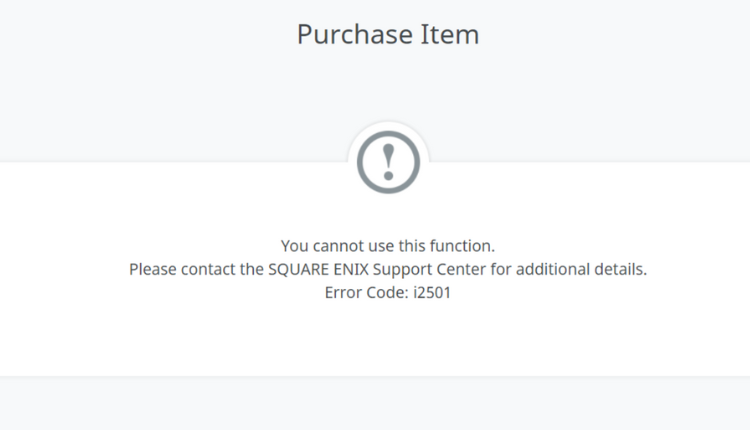 Error Code i2501 on Square Enix, FFXIV: How to Fix
Gamers reported getting the Square Enix i2501 error code when trying to make a payment to the publisher
Square Enix is a game publisher owning various action and adventure games, amongst others, the Final Fantasy series, Tomb Raider, or Life is Strange.
Fans have reported error code i2501 while trying to make a payment in their Square Enix account. It is most common with players in the Middle East and Asia or moving to these territories from their originating countries.
This article lists some solutions on how to get past this error and keep enjoying the gaming experience.
What is error code 2501 on Square Enix?
The FFXIV i2501 error code is an indication of incorrect payment information or, most probably, of the fact that the credit card issuer finds a suspicious transaction from an unknown source.
The full error message states: You cannot use this function. Please contact the SQUARE ENIX Support Center for additional details. Error Code: i2501″
How do I fix error code i2501?
1. Disable your VPN and/or Proxy Server
The first solution is to turn off your VPN or Proxy from the Start menu > Settings > Network &  Internet.
Using a VPN or a Proxy offers additional layers of functionality, security, or privacy. But certain service providers, especially banking institutions reject private connections requesting full access to the Internet for transparency reasons.
2. Turn off ad blockers
Although ad blockers don't usually interfere with payment platforms. Nevertheless, some users mentioned that turning off their ad-blocking extension and waiting for a couple of hours before making one more payment attempt did the trick.
3. Make payment via a mobile device
This is an alternative option to web payment. Given the fact that the Final Fantasy 14 error code i2501 is related to payment issues, using a different payment method could fix it.
4. Contact Square Enix support
Contacting Square Enix's dedicated support team is the final recommended method if the others fail to solve the problem. Simply tell the support team what the issue is, and it will get back to you with an answer.
We put this last because their response time is not as quick as expected. Customers complained about not getting a response for weeks. Some tried contacting the support team via the chat option, which proved a better option.
For a smooth gaming experience, do ensure you also check out our articles on how to fix the FFXIV 90002 error and New World connection errors.
Did any of these solutions work for you? Please tell us how you tried to troubleshoot this problem in the comment section below.