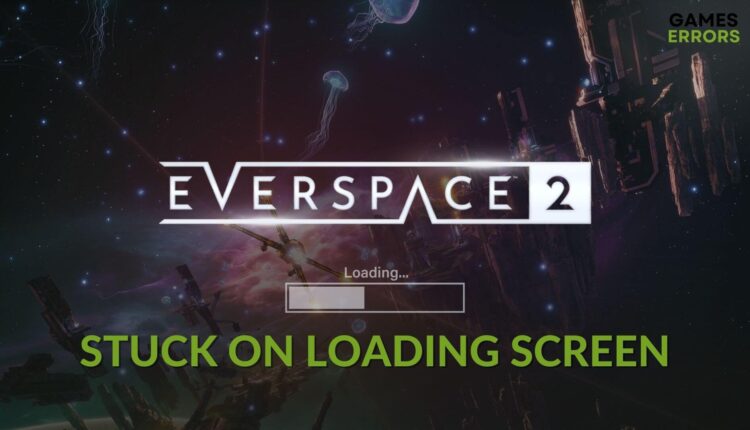 Everspace 2 Stuck on Loading Screen: How to Fix
Clear cache and repair the game files if Everspace 2 takes forever to finish loading 🎯
X
INSTALL BY CLICKING THE DOWNLOAD FILE
Is Everspace 2 stuck on the loading screen on your PC? Don't worry. You can easily get rid of this problem by following the methods featured in this article.
This sci-fi spaceship shooter game is fun to play. But problems like freezing issues while loading or infinite loading screen issues may make things annoying. Luckily, there are solutions. Before knowing about the troubleshooting methods, you should know about his problem a bit more.
Why is Everspace 2 taking forever to load?
If Everspace 2 remains stuck while loading you, you can dig deeper to discover why it happens. In most cases, you will end up finding any of the following reasons:
Corrupted cache: Corrupted cache files can make it difficult for the game to load necessary resources. It can create infinite loading screen problems in Everspace 2.
Corrupted game files: If the game installation files become corrupted, you also may encounter this problem.
Video driver problem: Outdated or problematic graphics card driver can prevent your PC from utilizing the GPU power. As a result, a modern game may take an infinite amount of time to load. It also may create a low FPS problem on Everspace 2.
System requirements: If your PC lacks the required specifications, Everspace 2 may freeze in the loading or launch screen.
Third-party services: If a third-party service or security software creates conflict, you may get a similar problem.
Poor disk performance: Slow I/O speed or other issues with your HDD or SSD may also create this problem.
How do I fix Everspace 2 stuck on the loading screen?
Before going through the main methods, we suggest you ensure the following things:
Now, go through the following methods one by one if Everspace 2 is still stuck on the loading screen:
1. Clear cache
The corrupted cache may prevent this game from launching properly. So, you may see it is stuck on the launch or loading screen. To fix it, follow these steps:
Open Steam.
Go to its Settings.
Relaunch Steam.
2. Update video driver
One of the most common ways to solve Everspace 2 freezing in the launch screen issues is updating the graphics card driver. To do it, you can follow these steps:
Right-click on the Start button and go to Device Manager.
Expand Display adapters by double-clicking on it.
Right-click on the graphics card driver and click on Update driver.
Click on Search automatically for drivers.
Follow any onscreen steps to finish the process.
To update the GPU driver, we suggest you use Outbyte Driver Updater. Unlike Device Manager, this tool is very capable and accurate in finding the latest GPU driver. It also helps if games like Everspace 2 go through loading issues.
3. Repair common disk issues:
Press Win + E on the keyboard to open File Explorer.
Go to This PC.
Right-click on the disk drive where you have installed the Everspace 2 and go to the Properties.
Go to the Tools tab.
Give it some time to finish the scanning and repairing process.
4. Repair the game files
Time needed: 2 minutes
Repairing the game files is the most effective solution to fix the Everspace 2 stuck on the loading screen issue.
Keep patience until it finishes the process.
This method will also work if you notice that Everspace 2 is not launching.
5. Run in clean boot
Press Win + R to open Run.
Run the following command: msconfig
Go to the Services tab.
Tick Hide all Microsoft Services and click on Disable all.

Click on Apply and OK.
Then, restart your PC.
Now, try to play Everspace 2 and see if it still freezes while loading or not. If everything seems OK, it means a third-party service is the root of the problem. So, enable the services one by one from the system config Window until you reencounter the problem. Then, uninstall the related app to fix it.
6. Re-install Everspace 2
Go to the Steam game library.
Then, click on Install for this game.
Select the installation location and click on Next.
Give it a few moments to complete the installation.
The above methods should solve the Everspace 2 stuck on while loading or any other similar problems. If anyhow, the problem still exists, update Windows to the latest version.
In case you use the Xbox game pass version of this game, uninstall Everspace 2. Then, delete any locally saved files. Then, install it again.
Learn how to fix Everspace 2 crashing if necessary.
This article has explained which methods you should try if the Everspace 2 becomes stuck on the loading screen. Let us know in the comment box which method has worked.