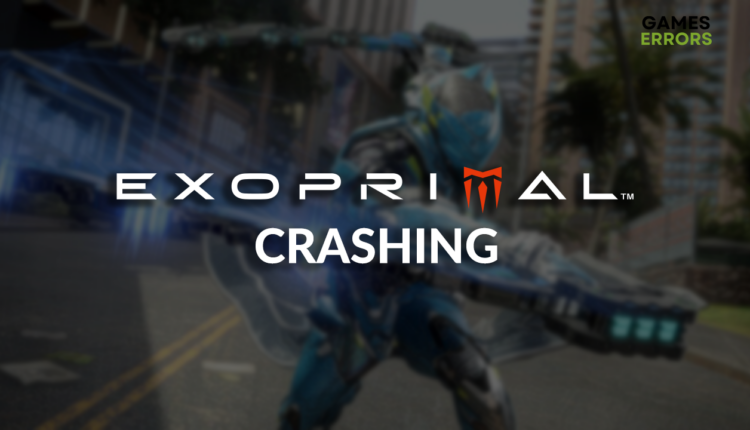 Exoprimal Crashing: How to Fix It Effortlessly
Just when you thought nothing could ruin your experience, Exoprimal crashed and crushed your enjoyment. Learn how to avoid it in the future. 👾
X
INSTALL BY CLICKING THE DOWNLOAD FILE
Struggling with Exoprimal crashing on your PC is a problem that won't go away without some action from your side. You must take steps to resolve it, so we decided to help you by compiling the list of the most suitable solutions to fix crashes in Exoprimal.
Are you having trouble opening the game? Learn what to do when Exoprimal doesn't launch.
Why is Exoprimal crashing?
Exoprimal crashes due to poor system specification, compatibility issues with background apps, corrupted game files, unnecessary startup services, an outdated GPU driver, pilled-up cache files, faulty overclock settings, high temperatures, or problematic screen overlays.
How to fix Exoprimal crashing?
Get started with these quick checks and fixes:
Check Exoprimal system requirements: If your PC doesn't meet at least the minimum, we highly advise you upgrade it to play Exoprimal without stability issues.
Close background apps: Close all apps from the taskbar and use Task Manager to disable background processes.
Verify game files: Every major game distributing platform offers an easy way to find and replace corrupted game files as an alternative for reinstalling the whole game.
Proceed with the step-by-step solutions to fix crashes in Exoprimal.
1. Perform a Clean Boot
Clean Boot is a term for booting your operating system without unnecessary startup services. Every app you install on your PC automatically adds its services to the startup queue, eventually leading to a very long list of resource-consuming services that can cause compatibility issues and Exoprimal crashes.
Use the Windows + R shortcut, type msconfig, and hit Enter.
Navigate to the Services tab.
Check Hide all Microsoft services and then hit the Disable All button.

Click OK and restart your PC.
2. Update the GPU driver
Time needed: 5 minutes
An outdated GPU driver will limit your GPU, and it won't be able to perform at its full potential. Graphics card manufacturers release updates for a reason, so you should always have the latest GPU driver installed on your PC.
Click on the Windows icon, type Device Manager, and click on it.

Double-click on the Display Adapters section.

Right-click on your GPU and select the Update driver option.

Click on the Search automatically for drivers option.
Install the GPU driver update.
Restart your PC.
If you are tired of updating the GPU driver manually every few weeks, we have a solution for you! Start using Outbyte Driver Updater, a reliable tool that will take over the complete driver management process so you have more time to enjoy Exoprimal and other favorite titles!
3. Delete cache files
Cache files are stored on your PC so Exoprimal and the game distribution platform you use can launch and run smoother. Problems begin when these files get corrupted or aren't entirely saved, so the best is to delete all cache files if you experience issues with Exoprimal crashing.
Use the Windows Key + R shortcut to open the Run dialog, type %localappdata%, and hit OK.

Use the CTRL + A shortcut to select all files in the folder.
Press the Delete key on your keyboard to delete all the files in the folder.
➡ If prompted to confirm, click on Yes.
➡ If some files can't be deleted, click on Skip.

Extra steps
If you still can't enjoy the game because Exoprimal is crashing, try to:
❌ Disable overclock settings: Boosting your PC's performance by overclocking can be helpful, but if you experience Exoprimal crashes, better disable them.
💻 Disable overlays: If you keep some apps running in the background, ensure screen overlays are disabled, as they can cause compatibility issues.
🥶 Keep your PC cool: Ensure proper ventilation and regularly change thermal paste to avoid overheating.
🔁 Reinstall Exoprimal: The last resort is to uninstall the game, restart your PC, and perform a clean Exoprimal installation.
Related articles:
Conclusion
Hopefully, you resolved problems with Exoprimal crashing, and you can enjoy this action game interruptions-free. Comment with feedback on how it went and share what solution fixed the issue for you.