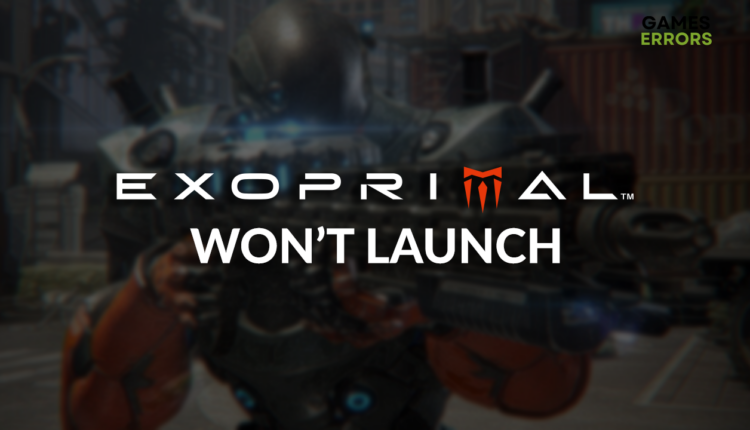 Exoprimal Won't Launch: How to Force It
A game you can't launch is like a book you never read in your virtual library. Let's find a way to launch Exoprimal so you can enjoy this fantastic action game! 🚀
X
INSTALL BY CLICKING THE DOWNLOAD FILE
Is the fact that Exoprimal won't launch ruining your desire to play this action game? You are not alone, as many players struggle with the same issue. This is why we decided to compile the list of the most common causes for this issue and pair it with solutions that will force Exoprimal to launch.
If the game launches but doesn't load, learn what to do when Exoprimal is stuck on the loading screen.
Why won't Exoprimal launch?
Exoprimal won't launch due to poor system requirements, problems with Windows permissions, corrupted game files, Window Firewall blocking the game, an outdated GPU driver, pilled-up cache files, antivirus recognizing Exoprimal as a threat, or other temporary files.
How to fix Exoprimal won't launch?
Fix the launching issues quickly with these checks and fixes:
Check system requirements: The game might be unable to launch if your PC doesn't meet at least the minimum Exoprimal system requirements.
Run Exoprimal as an admin: Right-click on the game executable (.exe) file, select Properties and go to the Compatibility tab. Enable Run this program as an administrator option.
Verify game files: If some Exoprimal files get corrupted, you can use the game files verification system to quickly resolve it without reinstalling the game.
Here is the list of the best solutions to apply when Exoprimal doesn't launch.
1. Allow the game through the Firewall
Time needed: 5 minutes
Windows Firewall is the core security feature of your operating system, and you should never disable it. However, if Exoprimal doesn't launch, you can add it as a Firewall exception so it doesn't recognize it as a threat and block it.
Click on the Windows icon, type Windows Defender Firewall, and open it.

Click on Allow an app or feature through Windows Defender Firewall.

Click on Change Settings and Allow Another App.

Select Browse, and navigate to the Exoprimal installation folder.
Click on the Exoprimal executable file (.exe) and select Open.
Check the checkbox in columns Private and Public in the Exoprimal row and hit OK.
Restart your PC.
2. Update the GPU driver
An outdated GPU driver won't support your graphics card properly, eventually causing issues with launching Exoprimal. To resolve this and boost your gaming performance, install the latest driver update by using the Device Manager or automatized driver updater tool.
Click on the Windows icon, type Device Manager, and open it.

Double-click on the Display Adapters section to expand it.

Right-click on your GPU and select Update driver.

Choose the Search automatically for drivers option.
Install GPU driver update.
Restart your PC.
If you want to automatize the complete driver management process, we advise you to look at Outbyte Driver Updater. This fantastic driver updater tool will scan, monitor, and update your device's GPU driver and other necessary drivers, giving you more time for gaming!
3. Delete cache files
Exoprimal and the game platforms you use and any other app on your PC store cache files locally so they can launch and run smoothly. The problems begin if these files are not saved properly or get corrupted for another reason. In this situation, the best is to delete them.
Use the Windows Key + R shortcut to open the Run dialog, type %localappdata%, and hit OK.

Use the CTRL + A shortcut to select all files in the folder.
Press the Delete key on your keyboard to delete all the files in the folder.
➡ If prompted to confirm, click on Yes.
➡ If some files can't be deleted, click on Skip.

Extra steps
If Exoprimal still doesn't launch, try to:
🛡 Temporarily disable the antivirus: If the game launches afterward, whitelist it in the antivirus settings and re-enable the protection.
🧹 Perform a Disk Cleanup: Click on the Windows icon, type Disk Cleanup, and launch this app from the search results. Delete temporary files and restart your PC.
🔁 Reinstall Exoprimal: If you did everything we advised and still can't launch Exoprimal, the only option is to reinstall the game.
Related articles:
Conclusion
These were the most effective ways to resolve the Exoprimal won't launch problem on your PC. Inform us how it went, and comment if you find another solution that made the game run. If you stumble upon any other issues with Exoprimal, let us know, and we will do our best to assist you in resolving them.