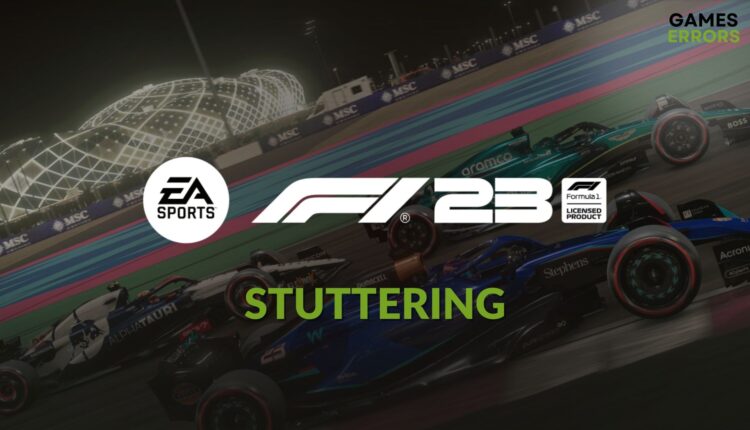 F1 23 Stuttering: Effective Tricks to Resolve This Issue
If, in the middle of the gameplay, F1 23 starts stuttering, you may lose control and fall behind in the race. To fix it, follow these suggestions 👇
Are you going through F1 23 stuttering problem while playing this racing game? Like you, significant other gamers are experiencing the same issue. Luckily, you can solve this trouble very easily.
The new sports racing title, F1 23, has got many improvements, including the visuals, compared to its predecessors. However, some PCs with certain specifications have laggy and stuttering issues with this game. It can completely ruin your gameplay experience.
Learn how to solve low FPS problems on F1 23 if needed.
Why is F1 23 stuttering on my PC?
If you notice sudden F1 23 lag spikes on Windows 11 or 10 PC during the gameplay, it is because of the following reasons:
Internal bugs: Any relatively new game like F1 23 may go through sudden stuttering issues due to internal bugs in the game.
Problematic background services: If there are some background services interfering with the game or taking a lot of system resources, you may experience this issue as well.
Problematic components: Problematic, corrupted, or outdated GPU drivers, game files, and components also can cause lagging issues on F1 23.
Incorrect settings: Else, settings unsuitable for your PC's specifications can also trigger this problem.
Else, network problems and some other things also can cause this issue.
How do I fix F1 23 stuttering on my computer?
We have prepared effective methods that can help to fix lagging or stuttering issues on F1 23. However, before trying these solutions, you should do the following things:
Check F1 23's system requirements and ensure that your PC is capable.
Disable your antivirus and firewall.
Also, update/re-install the latest DirectX runtime and Visual C++.
Make sure that game and high-performance mode is enabled on your PC.
Also, ensure that your internet connection is stable enough.
If everything is OK, try the following methods to solve your problem:
1. Update the GPU driver
Time needed: 5 minutes
To get rid of stuttering and lagging problems on F1 23, you should always keep your GPU driver up to date.
Click on Search automatically for drivers and complete the updating process.
Restart Windows.
You should use Outbyte Driver Updater to update the graphics card driver to fix stuttering issues on F1 23. This small app can find and install the best game-ready driver for your GPU.
⇒ Get Outbyte Driver Updater
2. Kill problematic background services
Right-click on the Taskbar and then go to Task Manager.
Navigate to the Processes tab.
Select the process you want to turn off and then click on End Task.
Similarly, disable all other non-essential resource-hungry processes.
While disabling, only choose the ones you know well. Ending any essential services may trigger additional troubles.
3. Play in fullscreen mode
Playing in fullscreen mode is another effective method you should try when F1 23 lag spikes on your PC. Here are the steps to follow:
Open the F1 23.
Navigate to the Options.
Go to Settings.
Go to the Graphics Settings.
Click on Video mode.
Save it and relaunch the game.
4. Turn off Vsync
Open the NVIDIA Control Panel or the official GPU control panel you are using.
Navigate to the Manage 3D settings.
Locate the Vertical sync and turn it off.
Save the settings.
You also can disable it from the in-game settings if you want.
5. Lower the settings
Playing F1 23 in lower settings can also help eliminate stuttering issues.
Launch the F1 23 and go to its graphics settings again.
Lower the motion blur strength.
Lower the Detail Preset.
Disable Ray tracing features.
Save the settings and relaunch the game.
Now, launch and play F1 23 and see whether it still goes through the same issues or not.
More methods to follow:
If the stuttering issues still persist on this sports racing title, consider doing these things:
Run the game in clean boot to identify the problematic service and uninstall that item from your PC.
Roll back the GPU driver.
Re-install the GPU driver.
Update Windows and the network driver.
Troubleshoot any connection-related problems.
If you are interested, learn how to fix F1 23 crashing.
This article has explained why F1 23 is stuttering or lagging and how to fix it. If you have any better suggestions, feel free to write in the comment box.