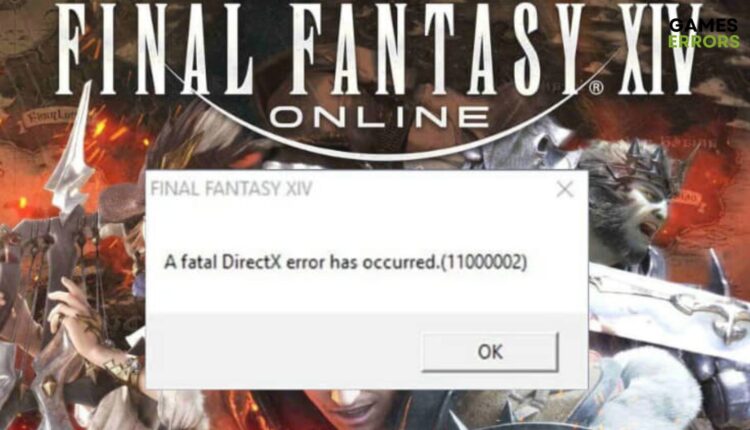 Fatal DirectX Error in FFXIV: How to Fix It Quickly
Our effective solutions will get you back Final Fantasy XIV in no time 🕛
X
INSTALL BY CLICKING THE DOWNLOAD FILE
Final Fantasy XIV is among the more widely played MMORPGs (Massively Multiplayer Online Role-Playing Games) for Windows. It is an MMORPG based on the award-winning Final Fantasy franchise.
FFXIV DirectX-related errors are common. One of the more prevalent errors that arise is a fatal DirectX error has occurred FFXIV on Windows that states as it follows:
A fatal DirectX error has occurred.
This fatal DirectX error FFXIV is displayed for some users when they try to launch the game. Read on to find out how to fix this and get back to gaming.
How do I fix a fatal DirectX error in FFXIV?
1. Check for outdated drivers
Many system and program errors occur due to antiquated graphics card drivers, so updating them may resolve the FFXIV fatal DirectX error.
To check if your graphics card driver needs updating, we recommend using a third-party tool such as DriverFix, since this is the quickest way to get this task done.
Click to download DriverFix to your PC.
Launch the

software

. (It will automatically start scanning your system.)
Inspect the list of outdated drivers it will display (if any).
Update the graphics card driver, if necessary.

Additionally, you can update all the other drivers that might cause disruptions, as this will only improve your OS performance.
2. Open the game in windowed mode
Open File Explorer.
Click Documents on the left side of File Explorer's window.
Open My Games.
Then, open the FINAL FANTASY XIV subfolder within My Games.
Right-click the FFXIV.cfg file and select Open with… Notepad.
With the FFXIV.cfg file open, press the Ctrl + F hotkey.
Type ScreenMode in Notepad's search utility.
Then, click the Find Next button.
type ScreenMode
Change the ScreenMode's setting value in the FFXIV.cfg file from 0 to 2.
Click File > Save to save FFXIV.cfg. Thereafter, FFXIV should launch in windowed mode.
Running FFXIV in windowed mode instead of fullscreen is one of the confirmed resolutions for fixing the FFXIV fatal DirectX error.
3. Add DirectX9 to the game's desktop shortcut target
To do so, right-click the shortcut for Final Fantasy XIV and select Properties.
Next, select the Shortcut tab on the window that opens.
Add -dx9 to the end of the path in the Target text box.
Then the target path for the game will look something like this: C:/Program Files/FFXIV/FFXIV.exe
Select the Apply option.
Click OK to close the window.
4. Add DirectX9 to Steam's launch options
First, open the Steam client software.
Right-click Final Fantasy XIV in Steam to select Properties.
Then press the Set Launch Options.
Enter -dx9 in the Launch Options text box.
Click the OK button.
5. Turn off SLI for NVIDIA GPUs
Right-click your Windows desktop and select NVIDIA Control Panel.
Click 3D Settings on the left of the Control Panel to expand it.
Then click Configure SLI to open the SLI settings.
Click the Disable SLI radio button.
Select the Apply option to save the new setting.
6. Turn off CrossFire for AMD GPUs
Right-click the desktop and select the AMD Radeon Settings option.
Select the Gaming tab on the AMD Control Panel that opens.
Then select Global Settings to open further options.
Toggle the AMD CrossFire option off if it's on.
Those are some of the best resolutions for fixing the fatal DirectX error in FFXIV. They have been successfully tested by users.
Other common errors in FFXIV are error code i2501 and FFXIV error 90002. If you encounter them, we have dedicated articles on how to fix them.
At the same time, there is a frequent green screen issue on FFX Remaster that can help you discover and fix this annoying error.
Let us know in the comments section below which solution worked for you and whether you encountered other errors that you want us to cover.
If you encounter any issues or errors while playing your favorite games and require support, feel free to contact us here. Our team is always ready to assist you and ensure your gaming experience is seamless and enjoyable.