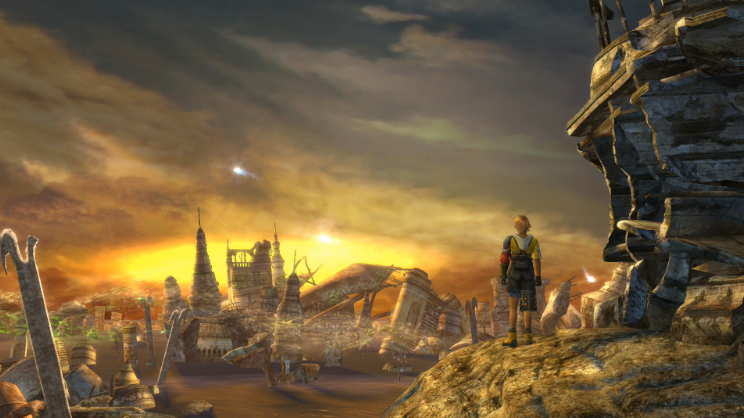 How To Fix FINAL FANTASY X/X-2 HD Remaster Errors, Crashes, FPS
FINAL FANTASY X/X-2 HD Remaster was released this week on Steam, and the game celebrates two of the most cherished and beloved entries to the world-renowned franchise, completely remastered in gorgeous High Definition.
FINAL FANTASY X tells the story of a star blitzball player, Tidus, who journeys with a young and beautiful summoner named Yuna on her quest to save the world of Spira from an endless cycle of destruction wrought by the colossal menace Sin.

FINAL FANTASY X-2 returns to the world of Spira two years after the beginning of the Eternal Calm. Having been shown a mysterious but familiar image in a sphere, Yuna becomes a Sphere Hunter and along with her companions Rikku and Paine, embarks on a quest around the world to find the answers to the mystery within.
The game also has some errors and bugs, the most common FINAL FANTASY X/X-2 HD Remaster errors, that players reported on the game forum, are: Crashes and Issues with the FPS of the game. Some players get random crashes or startup crashes and other players have constant low fps or fps drops.
First, make sure that your PC meets the minimum system requirements below. If it does so, you can skip to your issue in the list below and read the solution on how to fix it.
MINIMUM:
OS: Windows Vista or later
Processor: 2GHz Dual Core CPU
Memory: 1 GB RAM
Graphics: NVIDIA Geforce 9600GT VRAM 512MB or later / ATI Radeon HD 2600XT VRAM 512MB or later
Storage: 37 GB available space
Sound Card: DirectX Compatible Sound Card
RECOMMENDED:
OS: Windows Vista or later
Processor: 2.4GHz quad-core CPU
Memory: 2 GB RAM
Graphics: NVIDIA Geforce GTX 450 / AMD Radeon HD 5750 with 512MB
Storage: 40 GB available space
Sound Card: DirectX Compatible Sound Card
FINAL FANTASY X/X-2 HD Remaster Errors:
#1 FINAL FANTASY X/X-2 HD Remaster Crashes
Some players are encountering random crashes throughout the game and others are encountering crashes at the startup of the game or during cutscenes.
"My game keeps crashing randomly, so far only during cutscenes.nIt crashed during the opening cutscene and crashed again in the cutscene after making your name after I ran the .exe as administrator. I was using the medium video quality settings."
"I've had it crash now on three different occasions one in a cutscene and the other two during fights. Is this a known problem or is playing on a laptop the problem.And before people say anything about my laptop its an i7 6700k with a 970m GPU with 16gb of ram."
Solution for crashes: To fix the game crashes you need to follow our tutorial at the end of the post. After you apply it to your game your crashes, either random or at startup, will be fixed.
#2 DOOM White Screen at Startup
Use the following workaround to fix this issue.
Go to Nvidia Control panel.
Open manage 3D settings tab.
Now set "Preferred Graphics processor" to the high-performance Nvidia processor.
#3 DOOM FPS Issues and FPS Lock
FPS Issues are the most encountered issues in the game. Players reported Low FPS or FPS Drops constantly through the game. Also, it seems that the game has a 30 FPS Lock.
"I mean I did not know that it was frame locked at 30 till i opened it and it was feeling like Sh.it ! Unless there will be a way to unlock the fps I will try to refund this !"
"So, Every time I talk to a save sphere, my game crashes, so i'm relying on the autosave feature. Anyone know the reason why? It's super frustrating. As performance goes, I have a fairly good laptop, 12 gb of ram, GTX 960m (2GB), Intel I7, etc. The game runs like a potato on 1920×1080, like 10 fps. Anyone know a fix? Because I have to run at 1366×768 in the meantime."
Solution: To fix the FPS issues and to remove the 30 FPS cap of the game follow our tutorial below and your FPS should be stable after that.
How To Fix FINAL FANTASY X/X-2 HD Remaster Errors:
Our team of developers managed to release a patch that helps you fix the errors described above. You can see how our patch looks like below, where you can also find a tutorial on how to use it and a download link. Please follow the tutorial step by step before asking any questions regarding your issues. Our patch won't interfere with your Steam account, it will just change some files and .dll in the game folder in order for the errors to be fixed.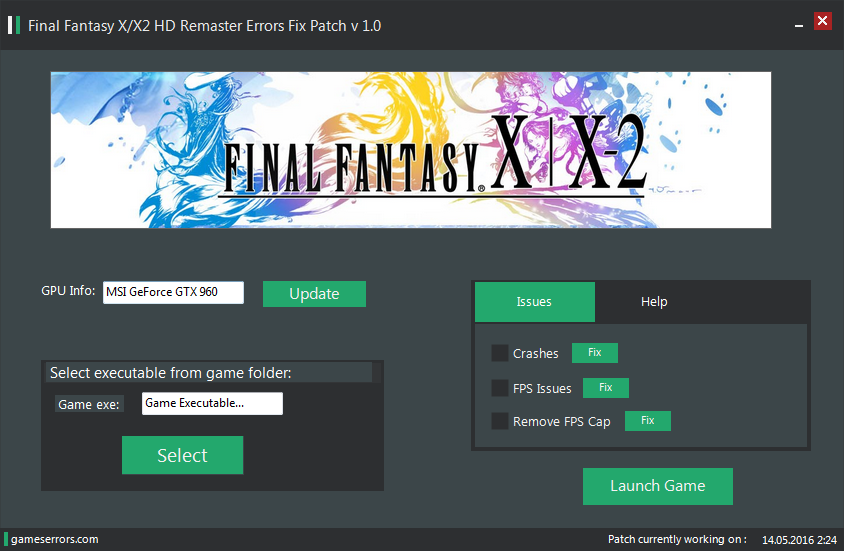 Follow the tutorial below to apply the patch correctly to your game.
How to apply our patch:
Download the archive of the patch from here: download
 Extract the downloaded archive on your PC, and open the patch from the folder.
Your GPU will be selected automatically, make sure that you use your dedicated GPU if you have a laptop!
Select the game executable from the game folder, if you used the default install folder it should be: "C:\Program Files (x86)\Steam\Steamapps\common\FINAL FANTASY X/X-2 HD Remaster"
 Select your issue or issues from the box to the right and click the corresponding "Fix" button.
After your errors are successfully fixed you can click the "Launch Game" button and play the game.
How to download: Well, you might think that our download service is pretty annoying but is very effective. To download you just need to complete a simple offer, it usually takes a few minutes, and after that, you will be able to download the patch. We use this service because is the only way to support our developers and to keep releasing and updating patches for games. Thank you! We hope you understand us and have fun playing FINAL FANTASY X/X-2 HD Remaster!
We hope that your tutorial helped you fix your FINAL FANTASY X/X-2 HD Remaster errors and bugs, if you encounter any other issues in the game or if you don't know how to apply the patch to your game, comment below or use our contact page and we will help you fix your game. – GamesErrors Team