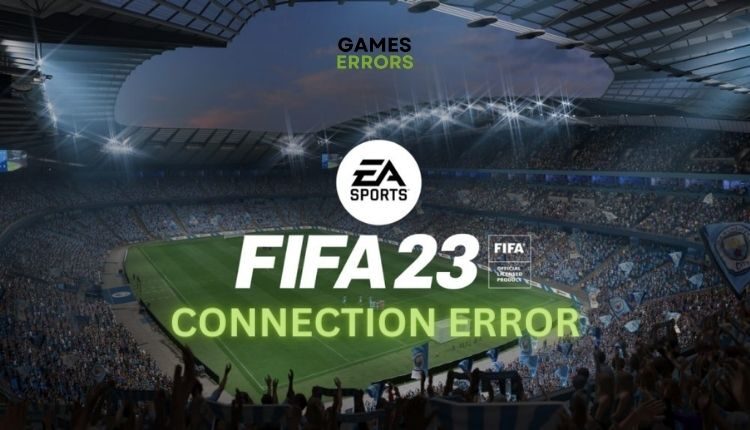 FIFA 23 Connection Issues: Fix & Get a Better Connection to EA
Are you suffering from FIFA 23 connection issues? We have several solutions to fix this issue ⚽
FIFA 23 is second to none among the best football simulations ever, but nothing can spoil the gaming mood like when the game cannot start. You try to launch a game but get an error message "Unable to connect to EA server." There are several reasons for this connection error, and we have prepared a troubleshooting guide for you.
Why is my FIFA 23 not connecting to EA servers?
One of the main reasons why you get FIFA 23 connection issues is that the game servers might be down due to issues or scheduled maintenance. Of course, there can be other reasons for a connection error, such as problems in your network and a misconfigured firewall.
How do I fix FIFA 23 connection issues?
First, make sure that there are no problems with FIFA 23 servers. Check server status, and if the servers are down, wait for them to come up before restarting the game. If the servers are up and running and you're still having trouble connecting, follow these steps:
1. Change Firewall settings
Maybe you have a connection error because the Windows Firewall blocks FIFA 23. To allow the game on your Firewall, do the following.
1. Right-Click on On the Start Menu, and click on the Settings option from the Quick Menu.
2. Choose Update & Security.
2. Select Windows Security from the left menu and then choose Firewall and Network Protection.
3. Click on the option Allow an app through Firewall.
4. Select the Change Settings button and Allow Another App.
5. Use Browse to add the FIFA 23 exception to the Firewall.
6. Click the respective checkboxes by allowing FIFA 23 through Public and Private networks and confirm on OK.
2. Restart your network device
This is a simple way to fix FIFA 23 connection error, and it involves briefly unplugging your network device (modem or router). Sometimes a connection error with FIFA 23 can happen if your network device briefly loses connection with the gaming servers. So, disconnect the power from your network device and wait for about 60 seconds. Turn on the power again, wait for the network device to boot, and successfully connect. Launch FIFA 23 to make sure the problem is gone.
3.
Change the DNS server
If the solution of resetting the network device did not help, the next step would be to try changing the DNS server. The game may have problems connecting to the FIFA 23 game server due to a wrong DNS server. At home, most of us use a DNS (Domain Name Server) provided by an Internet Service Provider (ISP).
Sometimes it can happen that these DNS servers are not working correctly, and for this reason, you will have an error when connecting. We advise you to use one of the free and secure DNS servers, such as Google DNS.
Do the following:
1. Press Win+R on the keyboard to show the Run dialog.
2. Type: ncpa.cpl in the box and press Enter.
3. Select the network adapter you are connecting to your local network, right-click, and select properties.
4. Click on the Internet protocol version 4 and click on the Properties button.
5. Under the General tab, confirm the radio button: Use the following DNS server addresses.
6. Input Preferred DNS server: 8.8.8.8 and Alternate DNS server: 8.8.4.4.
7. Confirm on the OK, close the dialog window, and tray launch FIFA 23.
4. Improve your wireless signal
If a wired connection to your computer or console is not possible, you have several solutions in case the WiFi signal is too weak:
move your gaming devices closer to the router
change the position of the router to be closer to you
try adjusting the orientation of the antennas on the router
get a range extender
get better antennas on your router or network card
5.
Use a wired connection
Poor WiFi signal reception where your PC or console is located can cause connection issues on your device, leading to FIFA 23 connection issues. For this reason, we strongly recommend that you connect wired with an ethernet cable, which will provide a much more reliable and faster connection than wireless.
6. Close the background apps
If you have too many heavy background applications like Adobe Photoshop, Autocad, and similar, your network can noticeably slow down, as well as the whole system. Close all non-essential background applications and then try to launch FIFA 23. Do it like this:
1. Press Ctrl+Shift+Esc on the keyboard to show Task Manager.
2. Choose the Processes tab, Right-click on the unnecessary app you want to close, and select End task.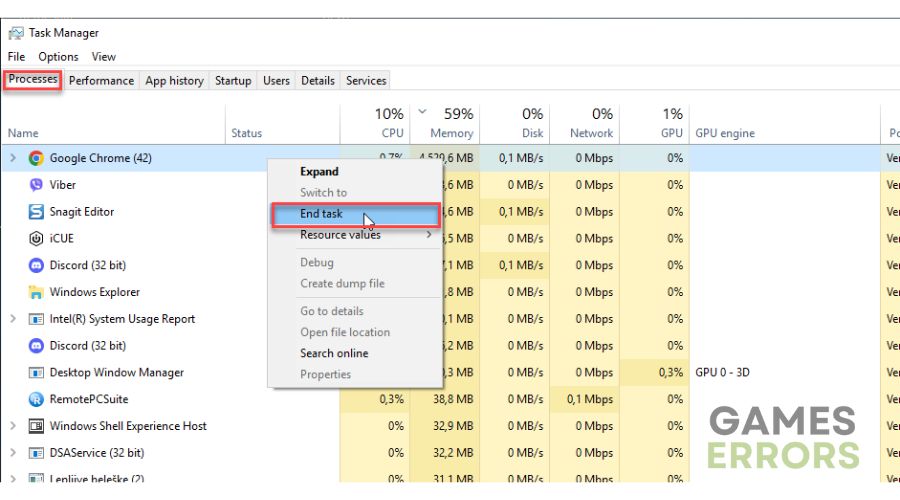 3. Now try to run FIFA 23 to see if a connection error issue is still present.
Related articles:
Conclusion
Try our best tips to fix FIFA 23 connection error. We're sure some will be helpful. Anyway, if you have other tips for solving this problem that we haven't covered here, don't hesitate to comment below.