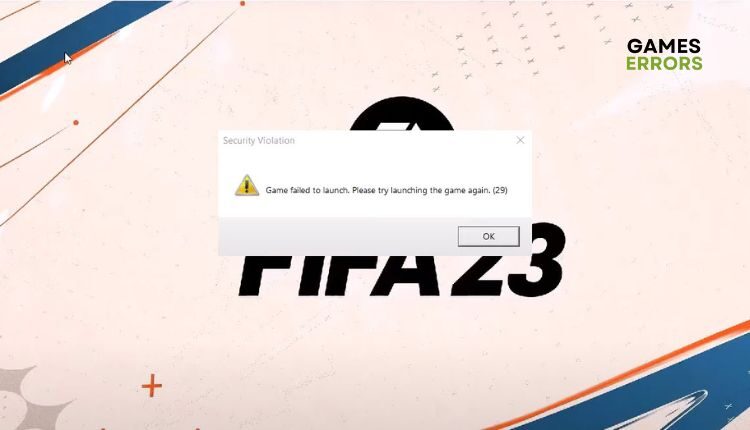 FIFA 23 Not Launching on PC: How to Fix & Open It Smoothly
We have prepared a helpful guide that can help you if you are having trouble launching FIFA 23.
The new FIFA 23 brings the most realistic football simulation experience to your PC, Xbox, and PS5. However, the game often does not work as it should, or it does not start at all.
You might be one of those gamers with a problem running FIFA 23 on a Windows 10/11 PC or console. The reasons can be different, and we have collected solutions for you that can help you launch and play FIFA 23 without any problems.
Why is my FIFA 23 not launching?
Problems when starting the game can be multiple, but we have collected the most common ones that can occur:
Outdated graphics driver
A bug in FIFA 23 itself
The firewall is not set properly
Corrupted game files
Problem with EA or Origin platform
EA anti-cheat software
How do I fix FIFA 23 not launching?
Before any solutions to the problem, it would be a good idea to check the minimum and recommended specifications for normal game operation. If your PC meets the minimum specs and FIFA23 doesn't start, apply the following solutions that can help you.
1. Run FIFA as Administrator
It may seem straightforward, but it can help you with the many reported cases of FIFA 23 not launching successfully. Here's what you need to do:
1. Right-click the game shortcut and select Run as Administrator.
2. If there is still a problem when starting FIFA 23, go to step 2.
Also, your problem may be temporary, and the solution is simple, requiring you to restart your computer and try rerunning the game. If the game still doesn't start, go to the next step.
2. Update the GPU driver
If you are worried about whether your drivers are always fresh or, for some reason, Windows Update is turned off, one useful and comprehensive way to keep your drivers always up to date is to use a safe driver updater tool, such as DriverFix. In addition to being safe, it will also save you a lot of time.
3. A
llow FIFA 23 on the Firewall
FIFA 23 may not start because of your firewall or antivirus program. You need to set an exception for the game and allow it to function normally. Here's how to do it:
1. Right-Click on On the Start Menu, click on Settings, then Update & Security.
2. Select Windows Security from the left-hand menu and click Firewall and Network Protection.
3. Click on the Allow an app through firewall option.
4. Select the Change Settings button and Allow Another App.
5. Use the Browse option to add the FIFA 23 game to the firewall.
4. Repair the game files
It may happen that you have corrupted some FIFA 23 files and try to solve the problem as follows:
1. On the game launcher screen, select the Settings option.
2. Choose Repair and wait until the process is finished. Then try launching the game.
5. Reinstall FIFA 23
You have tried all the previous steps, but FIFA 23 does not start. Some game files may be damaged, but the repair does not give results. The last option is to reinstall the game and try it if you have exhausted all possibilities of starting it usually.
FIFA 23 not launching on Xbox One [Fix]
All games on Xbox with a Game Pass subscription have been tested and optimized to work correctly. However, there are times when problems can occur in launching the game, so we have put together some tips for you to overcome them and play FIFA 23 normally.
1. Reboot the console
1.1 Press and hold the Xbox button, select Restart console, then Restart).
2. Check the gaming server
2.1 In your browser, log on to support.xbox.com, then choose Xbox status.
3. Delete FIFA 23 cache
3.1 Press the Xbox button, select My games & apps, and choose FIFA 23.
3.2 Select Manage game and add-ons, select Saved data, and then Delete All.
FIFA 23 not launching PS5 [Fix]
Even on the latest Sony PS5 console, FIFA 23 may have problems when starting. The solutions to the issues are similar to the Xbox console with minor differences:
Restart PS5
Update system software
Update FIFA 23
Delete saved FIFA 23 game data
Rebuild database
FIFA 23 not launching after anti-cheat
When launching FIFA 23, problems can happen to you with unfinished EA anti-cheat software. Try uninstalling and reinstalling this software as follows:
1. Find the AntiCheat installer in the path C:\Program Files\EA\AC.
2. Righ-click to run EAAntiCheat.Installer.exe as Administrator
3. Click on the drop-down menu to choose FIFA 23 and click on the button Uninstall All.
4. After uninstalling, click the Install button to reinstall EA anti-cheat software.
5. Launch FIFA 23 from the install folder without opening the EA app.
Additionally, if you ever encountered EA Fifa 23 AntiCheat error, make sure to read our guide on how to bypass this error.
How do I fix FIFA 23 not launching on steam or the EA app?
We suggest you set Origin and Steam on your desktop computer to run as an administrator:
1. Click on the Start menu and locate the EA app (or Steam).
2. Right-click on the EA app or Steam, select More, then Open file location.
3. Right-click the EA shortcut, choose Properties and select the Compatibility tab.
4. Check Run this program as administrator and Apply button.
5. Launch FIFA 23.
Related articles:
Conclusion
We have collected possible solutions for the FIFA 23 launch problem and paid attention to both PC and the popular Xbox and PS5 consoles, which are also not immune to problems. We hope these tips will help you solve the problem of FIFA 23 not launching, and if you have any other solutions, we will be happy if you share them with us.