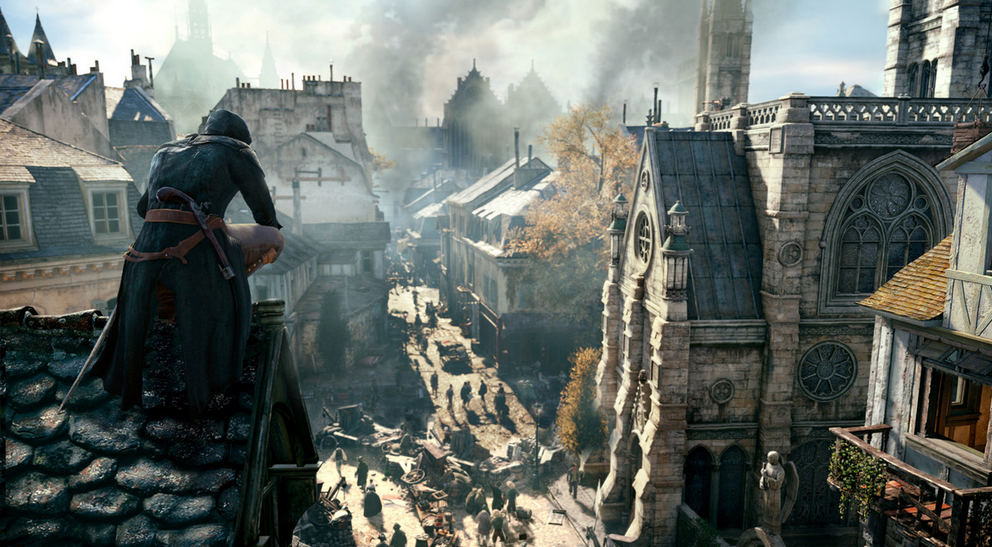 How To Fix Assassin's Creed Unity Errors, Crashes ,FPS Drops, Stuttering, ACU.exe Has Stopped Working
Ubisoft released Assassin's Creed Unity on November 11, and still, many players are encountering a lot of errors and bugs when trying to play the game or launch it. The Assassin's Creed Unity errors that they reported are: Stuttering, Random Crashes, FPS Drops and ACU.exe Has Stopped Working, all of these errors are making the game unplayable. Here are the exact issues and what people reported. You will also find workarounds and solutions, to fix each issue, below.
First, you need to make sure that you meet the minimum system requirements before applying any of our solutions or workarounds to your game.
Minimum System Requirements:
OS: Windows 7 SP1, Windows 8/8.1 (64-bit versions only)
Processor: Intel Core i5-2500K @ 3.3 GHz or AMD FX-8350 @ 4.0 GHz or AMD Phenom II x4 940 @ 3.0 GHz
Memory: 6GB
Graphics: NVIDIA GeForce GTX 680 with 2GB VRAM
DirectX: 11
Hard Drive Space: 50GB
Recommended System Requirements:
Processor: Intel Core i7-3770 @ 3.4 GHz or AMD FX-8350 @ 4.0 GHz or better
Memory: 8GB or more
Graphics: NVIDIA GeForce GTX 780 with 3GB VRAM
Assassin's Creed Unity Errors:
#1 Assassin's Creed Unity Stuttering
Some players reported that they are encountering stuttering during the game or the cut scenes. These users meet the system requirements of the game, and they updated their GPU to the latest driver. If you are one of these players, check the workarounds below and you might solve your issue.
"The game stutters like hell, anyone else having this problem? I keep all times above 30 FPS but what's bothering me is this stupid stuttering."
"Anyone else having problems with random stuttering? I'm trying on high/medium settings and no matter what it stutters. I'm running all the req hardware AMD – FX 8350 16 GB ram and GTX 770. Any help?"
Workarounds: To fix the stuttering in the game, go to the tutorial at the end of the post and there you will find our patch. Apply it to your game and select the "Performance Issues" box to fix the stuttering.
If you are using a laptop make sure that you run the game on your dedicated GPU and that you plugged it in
Go to Nvidia Control Panel and increase the Max frame value to 2
If you recently updated your drivers make sure that you restarted your PC
Disable SLI
#2 Assassin's Creed Unity FPS Drops
You might encounter constantly low fps or fps drops from time to time. A lot of players complained about this issue, read below what they said about that.
"Am I the only one who is getting very low fps even though I have a good PC. Or can anyone help fix this."
"Everything in my PC is above minimum except my GPU, which is an AMD Radeon HD 7750, and even with the newest drivers and everything on lowest the fps is so low it's unplayable. 10-20 fps max. If I look up at the sky I can get 45-60 fps but, alas, you can't beat the game while looking at the sky."
Solutions: To get rid of the drops and improve your overall framerates, go to the end of the post and you will find a tutorial. You need to apply our patch to your game and select the "Performance Issues" box to optimize the framerates. Go there for more details!
Disabling TXAA improves FPS.
Disabling PCSS Shadows/Soft Shadows' improves FPS.
Disabling Vsync will double your FPS, though the game will look blurry.
You can also check the guide on how to optimize your game for maximum performance here on Nvidia's website.
#3 Assassin's Creed Unity Random Crashes
For some players, the game randomly crashes while they are on a mission or when they try to start it with the Uplay Launcher. For an Assassin's Creed Unity crash fix, read the solution below.
"My PC monitor loses signal then my computer rig ends up crashing and restarting. I have no idea what's causing this; I have no other problems like this in any game. Anyone having a similar problem?"
Solution:  To get rid of the random crashes and also, the startup crashes you need to optimize your game with some tweaks. Check our tutorial at the end of the post on how to do that!
#4 Assassin's Creed Unity ACU.exe Has Stopped Working
You might get this crash whenever you try to start the game and you can't do anything to fix it, even if you updated your drivers and verified the game files. You can use a quick workaround to fix this issue, check it below.
"My computer meets the system requirements for running on Assassins Creed Unity but won't launch, whenever I double, click the game.When I double click the game, it opens Ubisoft and opens the little window with the ACU title and then says the game has stopped working."
Workaround: You can fix the ACU.exe issue with our patch, that you can find below, or you can follow this workaround:
Start Uplay
Go to Settings
Uncheck "Enable in-game overlay for supported games."
Launch the game
#5 Uplay Not Working
If Uplay is not working for you and you are unable to launch it, try to re-install the launcher. If you are unable to connect to the Uplay, it might be an issue with the Ubisoft servers, wait until they fix it and until the servers are back online.
#6 Assassin's Creed Unity Can't Connect Error 0X70000093
To fix the 0X70000093 errors, you need to make sure that your internet is working properly. Also, try to restart your router/modem, this should fix the issue. It could also be a problem from Ubisoft servers, in this case, you can't do anything and you need to wait until they fix it.
We hope that our Assassin's Creed Unity Errors solutions helped you fix your errors and that you can now play the game. If you have any questions or problems, please contact us with a comment below or by using our Contact Page also if you have other errors tell us and we will help you fix your game.
Below you will find our tutorial on how to fix the major issues in Assassin's Creed Unity. Please read it carefully and apply every step to fix your issues properly.
Assassin's Creed Unity Tutorial To Fix Major Issues:
Our team of developers managed to release a patch that helps you fix the errors described above. You can see how our patch looks like below, where you can also find a tutorial on how to use it and a download link. Please follow the tutorial step by step before asking any questions regarding your issues. Our patch won't interfere with your Steam account, it will just change some files and .dll's in the game folder for the errors to be fixed.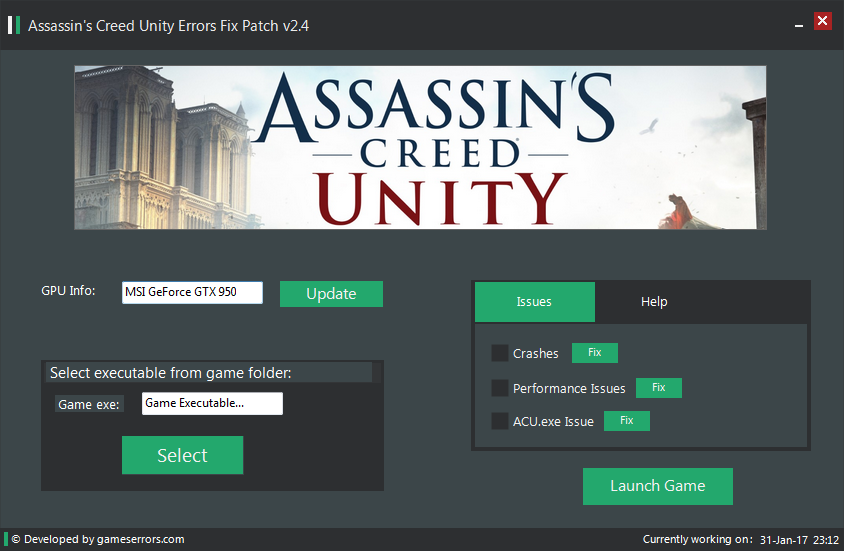 Follow the tutorial below to apply the patch correctly to your game.
How to apply our patch:
You can find the download link here: download
 Extract the downloaded archive on your PC, and open the patch from the folder.
Your GPU will be selected automatically, make sure that you use your dedicated GPU if you have a laptop!
Select the game executable from the game folder, if you used the default install folder it should be: "C:\Program Files (x86)\Steam\Steamapps\common\Assassin's Creed Unity."
 Select your issue or issues from the box to the right and click the corresponding "Fix" button.
After your errors are successfully fixed, you can click the "Launch Game" button and play the game.
How to download: Well, you might think that our download service is pretty annoying but is very effective. To download you just need to complete a simple offer, it usually takes a few minutes, and after that, you will be able to download the patch. We use this service because is the only way to support our developers and to keep releasing and updating patches for games. Thank you! We hope you understand us and have fun playing Assassin's Creed Unity!