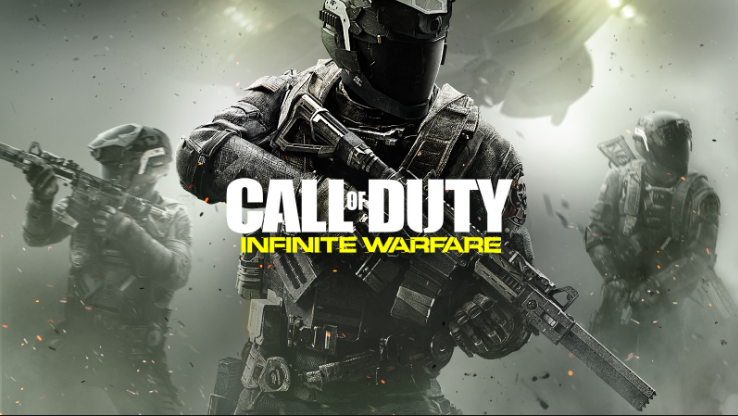 How To Fix Call of Duty: Infinite Warfare Errors, Performance Issues, Low FPS, Random&Startup Crashes
Call of Duty: Infinite Warfare is now available on Steam, and it seems that the game is not such a big hit, like the other CoD's. Maybe because of the issues that the previous games had, people are not trusting Infinity Ward anymore. Since the release of the game, a lot of players are complaining about different issues, and the game has only a couple hundred mixed reviews.
There is a lot of arguing on the Steam Dashboard of the game, and most of it is because players are complaining about game stopping issues and bugs. The most common Call of Duty: Infinite Warfare errors are Performance Issues, a lot of users are encountering horrible FPS drops and constant Low FPS, mostly in the multiplayer but also in the game campaign. Some other issues are crashes, they are either at startup or random throughout the game.
Let's read a review from a Call of Duty player and see what he has to say about this game:
If you want that runs bellow 60 fps and studders throughout the course of the game this is the game for you. The game that won't even let you run the game in fullscreen mode for no apparent reason and because of that it locks about 30% of the options. So if this sounds like the best game of the year to you right now well go buy this thing. Just so you know I'm trying to run this thing on an intel core i7 6700k with 16GB of DDR4 Ram and a gtx 1080 so all I have to is: Why the hell is this series so bad. Also I want to point out that I bought this game for the remaster only and I can't even get that to run properly either so avoid at all cost.
Before starting to fix your issues and enjoy the game, you need to check and see if your PC meets the minimum system requirements of the game. If everything looks fine, you can go ahead and check the errors list below, where you will find a solution for your error. If your PC is lower that these requirements, you need to upgrade it because this is why you are encountering your problems.
System Requirements
MINIMUM:
OS: Windows 7 64-Bit or later
Processor: Intel Core i3-3225 @ 3.30GHz or equivalent
Memory: 8 GB RAM
Graphics: NVIDIA GeForce GTX 660 2GB / AMD Radeon HD 7850 2GB
DirectX: Version 11
Network: Broadband Internet connection
Storage: 70 GB available space
Sound Card: DirectX 11 Compatible
Additional Notes: Disk space requirement may change over time.
Call of Duty: Infinite Warfare Errors:
Let's go ahead and fix your issues. Below you will find a list with the common Call of Duty: Infinite Warfare issues, that players complained about, on the internet. For each issue, you will have a workaround or a solution on how to fix it. Please follow each instruction properly in order to fix your game. If you have any questions or if you don't know how to apply a workaround please contact our Support Team here.
#1 Call of Duty: Infinite Warfare Performance Issues –  FPS Problems

A lot of players are complaining about Call of Duty Infinite Warfare FPS Issues like Low FPS and FPS Drops. It seems that the performance issues are the most common errors that users are currently encountering. Some of them, have very high-end PC's with i7 processors and a GTX 1080 GPU but they still encounter these issues. That means that the game is poorly optimized and to fix it, you need to do some tweaks and optimize it. Below you will find some workarounds that will help you get a stable FPS and you will also find a solution for all the performance issues.
Workarounds:
If you have Nvidia GPU, go to Nvidia Control Panel> Manage 3D Settings, and here set the "power management mode" to "prefer maximum performance"
Set High priority to the game in Task Manager.
Lower the render resolution from game settings
Delete the config file
Lower the game textures
Best solution: The best way to fix the performance issues of the game and get constant FPS is to apply our patch to your game. It will optimize it and you won't encounter any issue anymore. For more details, check the tutorial at the end of the post!
#2 Call of Duty: Infinite Warfare Unable to Start a MP Match
Few players have complained that they are getting a stuck loading screen while trying to start a Multiplayer Match. You encounter this issue because your Antivirus or an application is interfering with the game. To fix it disable your Antivirus firewall and close all your background applications like Skype, Fraps, etc.
#3 Call of Duty: Infinite Warfare Crashes – Random&Startup

It seems that are a lot of crashes that players are encountering when trying to start or to play the game. There are 3 types of crashes: Startup Crashes, Random Crashes and Low Memory Crashes. To fix this crashes and play the game, please follow the corresponding solutions below for each crash.
Random Crashes:
You encounter these crashes while playing the game Campaign or while playing in Multiplayer. To fix them you need to apply our patch to your game. For more details on how to do that, check the tutorial below.
Low Memory Crashes:
A user posted on the game forum about this issue. You can read below and see if you have the same issue.
Crashes in the opening introductory video… typically the same spot approximately, i.e. where he starts to explain the different suits (at least I think that is what he is about to do). Got blue screen of death once – other times freezes video – other times low memory error. Any thoughts?
Solution: You need to adjust the Virtual Memory (VM is what your system uses in conjunction with RAM). Type "Settings" into the search and open it. In the search in the top right, type "adjust" and click "Adjust the appearance and performance of windows". Click the "Advanced" tab, then click "Change" on the Virtual Memory option at the bottom
Startup Crashes:

When you try to start the game you encounter a crash like "COD.exe has stopped working!" or when you click the Play button in the Steam Library, nothing happens and you can't run the game. To fix this issue follow the tutorial below!
Fix Call of Duty: Infinite Warfare Errors Tutorial:
*Only for Random&Startup Crashes and Optimization for Performance Issues
So the new entry in the Call of Duty franchise is now available and you are unable to play it because of annoying issues and bugs? Don't worry, our team will help you fix your game and you will play it and start experiencing the new CoD world.
You are here because you probably encounter one of these errors Random or Startup Crashes or maybe Performance Issues. If you have one of this issues, don't worry anymore because now you can fix them by applying our patch and following the steps below. So just sit back, relax, follow the tutorial and in maximum 10 minutes, you will be playing the new Infinite Warfare!
You are probably wondering what is this patch and how does it work, right? Well, our patch is developed by our team, we are a few gaming enthusiasts with a passion for coding and by doing this we are trying to help the gamers community. We know that you paid quite a lot of money for your game and not being able to play it it's just annoying.
Our patch will change some files and registry .dll's in the game folder and it will also optimize your Windows for best performance. It will help you get the latest graphic card driver, that works with Call of Duty: Infinite Warfare. (Please Note: our patch won't interfere by any means with your Steam account, you will be safe the whole time!)
Below you can find an image on how the patch looks like and also a tutorial on how to properly use it. Please follow the tutorial step by step to make sure that you apply the patch correctly to your game. If you are not sure about some things please contact our support team. You will find the download link in the first step of the tutorial!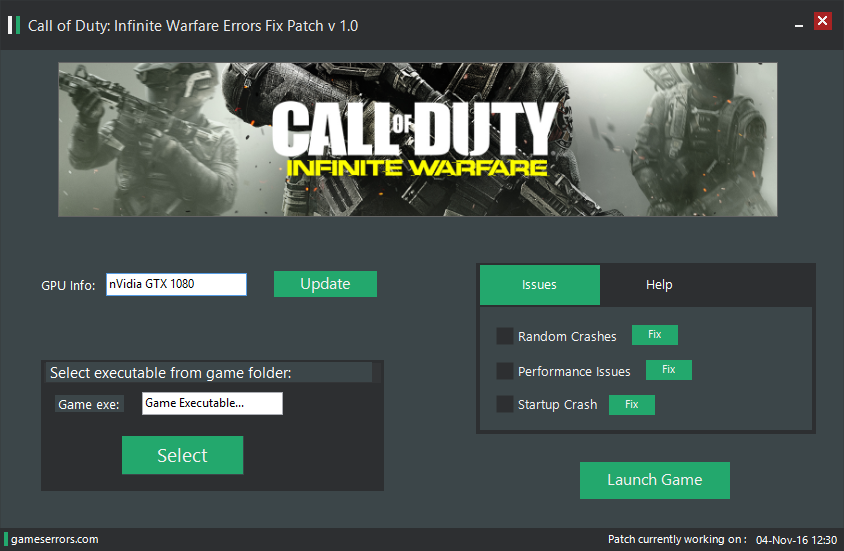 To make sure that you apply the patch correctly to your game please follow the tutorial below step by step. If you are not sure about something just ask us, our Support Team answers in a matter of minutes.
How to apply our patch:
Download the archive of the patch from here: download
Extract the downloaded archive on your PC, and open the patch from the folder.
Your GPU will be selected automatically, make sure that you use your dedicated GPU if you have a laptop!
Select the game executable from the game folder, if you used the default Origin install folder it should be: "C:\Program Files (x86)\Steam\SteamApps\common\Call of Duty: Infinite Warfare″.
Select your issue or issues from the box to the right and click the corresponding "Fix" button.
After your errors are successfully fixed, you can click the "Launch Game" button and play the game.
How to download: Well, you might think that our download service is pretty annoying but is very effective. To download you just need to complete a simple offer, it usually takes a few minutes, and after that, you will be able to download the patch. We use this service because it's the only way to support our developers and to keep releasing and updating patches for games. Thank you! We hope you understand us and have fun playing CoD!
Let's hope that by now you managed to fix all your Call of Duty: Infinite Warfare errors and issues and that you are enjoying the game. If you still encounter some issues, and you are unable to fix them, or you don't know how to apply our patch, please comment below or open a Support ticket on our support page. After that, a member of our team will help you as soon as possible to fix your error so you can enjoy your game.–GamesErrors Team