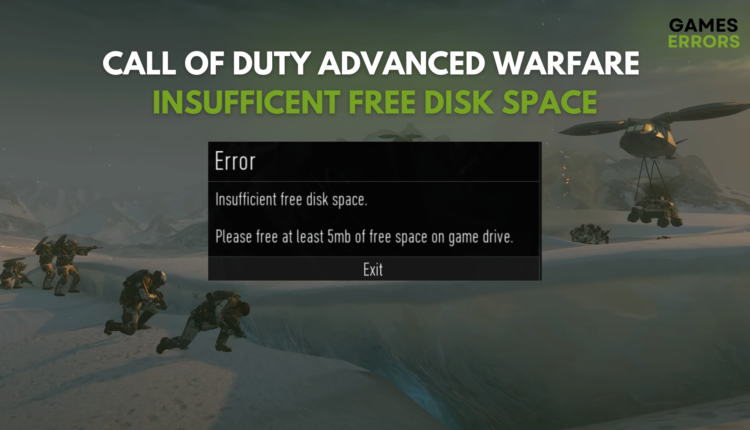 Call of Duty Advanced Warfare Insufficient Free Disk Space FIX
Check for low disk space and free up space to fix the 'Insufficient Free Disk Space' error 🚀
X
INSTALL BY CLICKING THE DOWNLOAD FILE
Call of Duty: Advanced Warfare is a complex first-person shooter video game that is popular among gamers. As with any well-known game, many players encountered issues when launching it or during gameplay.
If you're on this article, you probably encountered Call of Duty Advanced Warfare Random "insufficient free disk space" error when you are playing the campaign. You keep getting sent to the main menu and you receive this error "Error: Insufficient free disk space. Please free at least 5mb of free space on game drive.".
This issue seems to happen at a random time and you lose all progress of the campaign until that moment.
Call of Duty: Advanced Warfare's "Insufficient Free Disk Space" issue can appear when the game is unable to build the essential temporary files on the player's hard disk because there is not enough free space.
We found the fixes that will solve the 'Insufficient Free Disk Space' in your game. Just follow each solution step by step until solving the problem.
How to fix Call of Duty Advanced Warfare Insufficient Free Disk Space?
Table of Contents:
1. Run the game as an administrator
Running it as an administrator might potentially fix Call of Duty Advanced Warfare's insufficient memory problem because it will give the game permission to access the disk memory and run the game properly. See the steps below to do it:
Find the Call of Duty Advanced Warfare.exe file in the folder where it has been installed and right-click on it.
Go to Properties.
Press on Apply and then OK.
When a game is run as the administrator, its rights are raised and it can get around some system restrictions that might otherwise be slowing it down.
2. Check for low disk space and free up space
To check for low disk space:
Select the Start button, then select Settings > System > Storage.
Your drives will be listed in the Storage section. Observe the amount of free space and total size for each drive.
*If you have enough space on your PC, try the next suggestion.
🗑️ You may free up space on your device by deleting unused or temporary files with Storage Sense. When your disk space is running low or at intervals you set, Windows will automatically clear up space by deleting unwanted files, including those in your recycle bin.
You can turn on and set up Storage Sense by enabling the On button: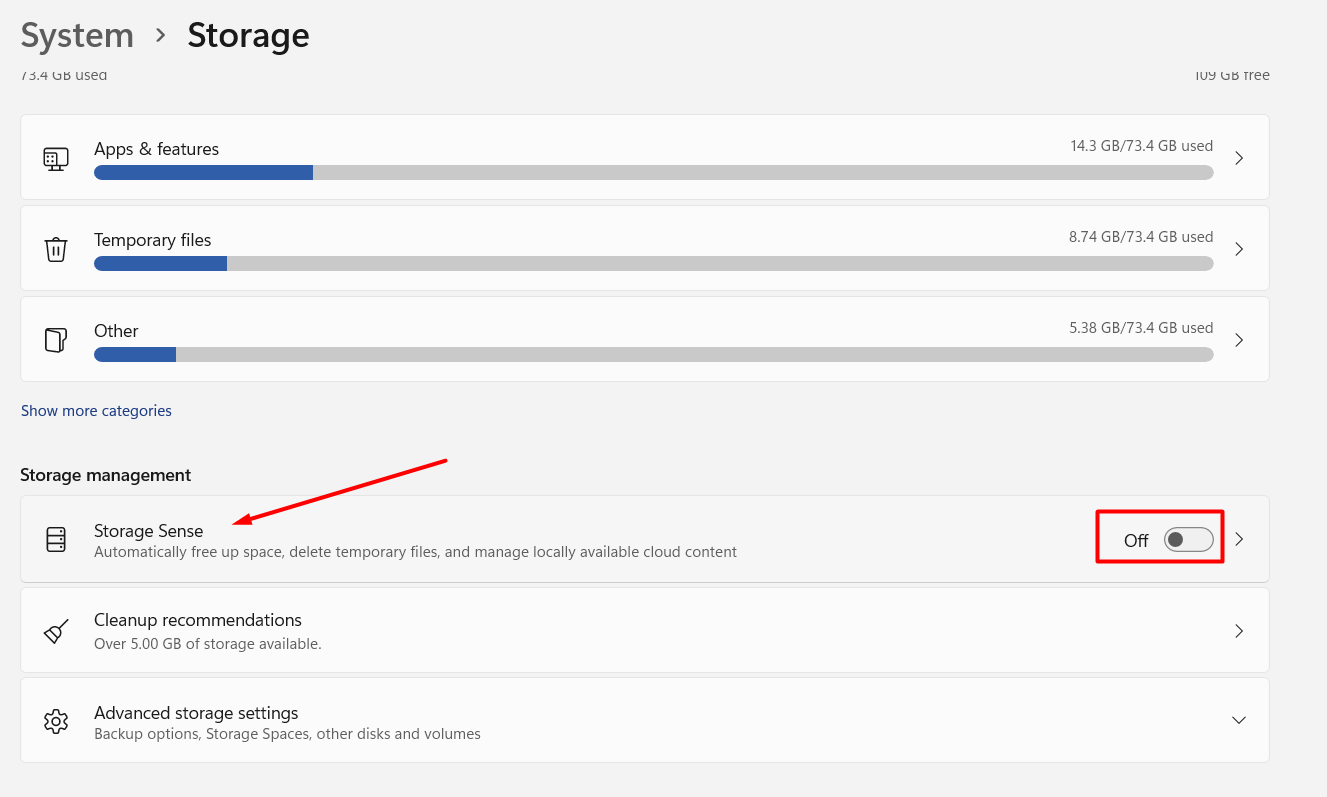 🗑️ Delete temporary files with Storage Sense
Open Settings > select System > Storage.
Open Storage settings.
Select Temporary files in the storage breakdown (If you don't see Temporary files listed, select Show more categories).
Windows will take a while to figure out which programs and folders are using the most space on your PC.
Select the files you want to delete, then select Remove files.
3. Uninstall apps you don't use anymore
To uninstall apps on a Windows PC, follow these steps:
Open the Start Menu by clicking on the Windows icon.
Find the app you wish to delete by scrolling through the list of applications.
You will be prompted in a pop-up window to confirm your decision to delete the app. To confirm, press Yes.
The app will be uninstalled and removed from your PC.
An alternative to reinstalling apps is to use Control Panel:
Open the Start Menu and search for Control Panel.
Find the software you wish to uninstall by scrolling through the list of programs.

Click on the program and then click "Uninstall"
Follow the pop-ups to complete the uninstallation process.
4. Defragment the hard drive
Your Windows PC can function more smoothly and boot up more quickly with the aid of optimized drives. Follow these actions to optimize them:
Select Defragment and Optimize Drives.
Select the disk drive you want to optimize.
Select the Optimize button.
After the optimizing process restart your PC.
**This defragmentation and optimizing action is the same for any OS you are using.
5. Close unnecessary background apps
Too many apps running in the background will prevent you from fully enjoying the game. The apps can be immediately turned off to prevent them from using all of your system RAM and get 'Insufficient Free Disk Space'. Here are the quick steps of how to do it:
Use the short key Ctrl+Shift+Esc on your keyboard to open Task Manager.
Right-click on any app/program that is consuming your CPU and memory, and select End task to close it.
Restart your PC.
6. Move CoD Advanced Warfare to an external hard drive with more free space
Depending on the platform you're using, there may be a difference in the methods to transfer "Call of Duty: Advanced Warfare" to an external hard drive. For a PC, follow these steps:
Connect the external HD to your PC.
Find the installation folder of CoD on your PC.
Right-click on the folder and select Cut (or select the .exe file and press Ctrl + X).
Open the external hard drive & create a new folder for the game to be placed.
Enter the new folder and right-click to Paste the game.
Hold off until the files are transferred to the external hard drive.
Once the transferred, open the game from the external hard drive.
For other platforms like PlayStation or Xbox, you might need to format the external hard drive to be compatible with the system and follow the precise instructions supplied by the platform's support manual.
Related post:
We hope that our guide helped you fix this error and that you will be able to play and enjoy this amazing game. If you encounter any other issues, please contact us by using the comment section below.
If you encounter any issues or errors while playing your favorite games and require support, feel free to contact us here. Our team is always ready to assist you and ensure your gaming experience is seamless and enjoyable.