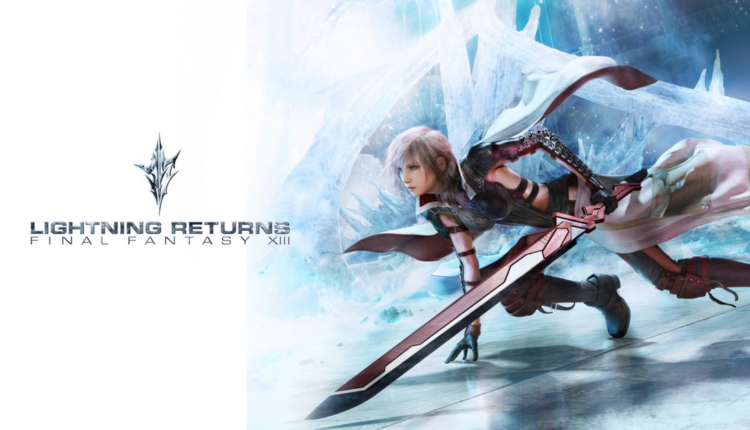 How to Fix Lightning Returns Final Fantasy XIII Errors, Crashes, Game Not Loading
Lightning Returns Final Fantasy XIII was released a couple of days ago on Windows through Steam platform. The game is a direct sequel to Final Fantasy XIII-2 and concludes the story in Final Fantasy XIII.
Some players complained on Steam Dashboard that the game has some issues and bugs that are making it unplayable. The most common Lightning Returns Final Fantasy XIII errors that players reported are Crashes, Game Not Loading and being stuck at Square Enix logo, Performance Issues like problems with fps and stuttering. Before you can see a quote detailing the game's story and below that you can find the issues of the game described and also solutions on how to fix them.
"The game's story takes place five hundred years after the previous game's ending. Lightning, the main protagonist of the first game and a key character in the second, awakes from a self-imposed hibernation 13 days before the world's end, and is chosen by the deity Bhunivelze to save the people of the dying world, including former friends and allies who have developed heavy emotional burdens. As she travels, she learns the full truth behind both the world's fate and Bhunivelze's true agenda."
How to fix Lightning Returns Final Fantasy XIII Errors:
1) Lightning Returns Final Fantasy XIII Crashes, some players are encountering crashes on startup or random crashes during the game. To fix this issue disable Afterburner/RTSS tools if you have them installed, or you can update the tools. If that doesn't work for you or if you don't have these tools installed, and you are encountering crashes follow the tutorial the end of the post.
"I downloaded the game yesterday and went to play and go to launch it and just says it has stopped working. Anyone else seen this?"
"I'm getting a hard crash as soon as I open the game. I've already tried verifying local content, closing everything else I have running, updating VC++ redistributables, etc. but it's still blowing up on me. This is on an i7-4790k and GTX 980 with Windows 10."
Solution: There have been reports that Afterburner/RTSS (Riva Tuner) can cause Lightning Returns to crash on startup. To fix this issue just close that program or update them. If you still encounter crashes after that, use our tutorial for major issues of the game that you can find at the end of the post.
2) Lightning Returns Final Fantasy XIII Not Loading, players are saying that sometimes the game stuck at the loading screen or the Square Enix logo screen. To fix this issue make sure that your internet connection is working properly and that your av is not blocking the game if these tips don't work follow the tutorial at the end of the post to fix this issue.
"I cant play this game because it only plays the opening cutscene and then it gets stuck in "Now Loading". Anyone experienced this and knew how to fix it?" 
"Just booted the game and I'm stuck on the Square Enix Logo screen. The very first image you'll see when you start the game. I don't know why or how to get past this. Any suggestions?"
Solution: This issue has also been attributed to antivirus tools especially Avast blocking or removing game's files. If disabling it doesn't help, you might have to re-install the game with antivirus disabled. Also, check our tutorial below if you can't fix this issue.
3) Lightning Returns Final Fantasy XIII Performance Issues, players are also complaining about performance issues like FPS Drops and Low FPS, some also encountered Stuttering in the game. To fix that use our tutorial below.
"Anyone make it to snows palace again yet? Everywhere I go the game runs 60fps constant but here it tanks below 15. I think its due to the chaos infusions. Anyone else run into this?"
"Hey, what's up guys. Not sure if I'm the only one with this issue, but I keep getting these weird fps drops to happen now and then; this doesn't bother me, but when it causes the audio to have that static sound now and then it becomes annoying. I tried looking into this issue but no results."
Solution: To fix the performance issues follow our tutorial below and apply the patch to your game. You should make sure that the game is being run using the dedicated GPU (Nvidia/AMD), and your machine is plugged in while playing.
Lightning Returns Final Fantasy XIII Tutorial to Fix Major Issues:
Our team of developers managed to release a patch that helps you fix the errors described above. You can see how our patch looks like below, where you can also find a tutorial on how to use it and a download link. Please follow the tutorial step by step before asking any questions regarding your issues. Our patch won't interfere with your Steam account, it will just change some files and .dll in the game folder in order for the errors to be fixed.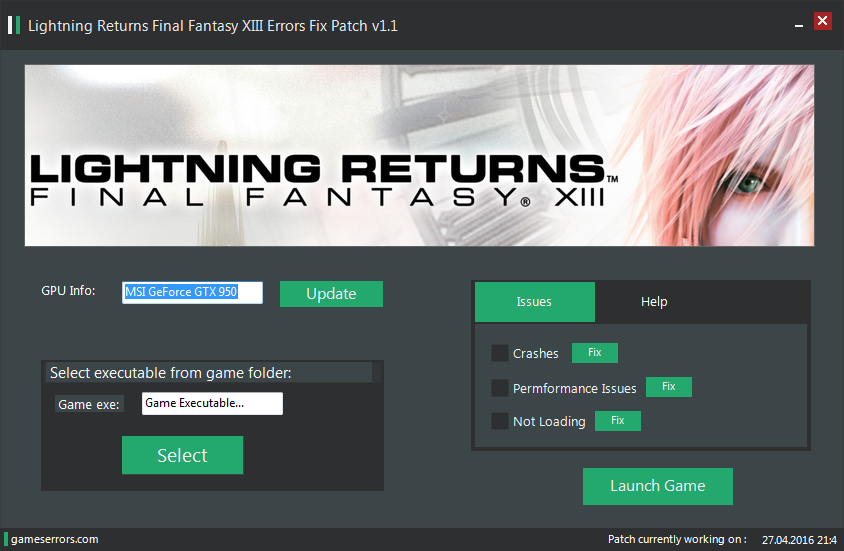 Follow the tutorial below to apply the patch correctly to your game.
How to apply our patch:
Download the archive of the patch from here: download
 Extract the downloaded archive on your PC, and open the patch from the folder.
Your GPU will be selected automatically, make sure that you use your dedicated GPU if you have a laptop!
Select the game executable from the game folder, if you used the default install folder it should be: "C:\Program Files (x86)\Steam\Steamapps\common\Lightning Returns Final Fantasy XIII"
 Select your issue or issues from the box to the right and click the corresponding "Fix" button.
After your errors are successfully fixed you can click the "Launch Game" button and play the game.
How to download: Well, you might think that our download service is pretty annoying but is very effective. To download you just need to complete a simple offer, it usually takes a few minutes, and after that, you will be able to download the patch. We use this service because is the only way to support our developers and to keep releasing and updating patches for games. Thank you! We hope you understand us and have fun playing Lightning Returns Final Fantasy XIII!
We hope that our tutorial helped you fix your Lightning Returns Final Fantasy XIII errors and that now you are playing the game. If you have any questions or if you encounter difficulties in applying the solutions to your game, please comment below and we will help you! – GamesErrors Team