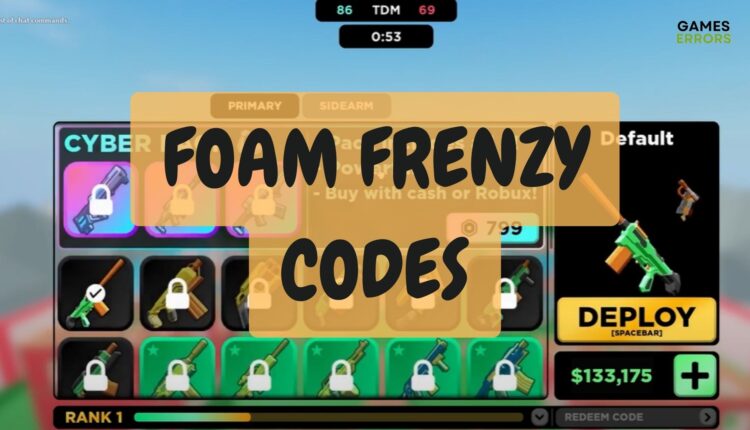 Foam Frenzy Codes: Get Free Cash & Master Your Gameplay
Foam Frenzy is more enjoyable when you have exclusive codes, and this guide is your key to get them in no time!🤖
Are you looking to elevate your gaming experience in Foam Frenzy? Then, you'll definitely need to use today's list of codes.
These codes are like the keys to a treasure trove of exciting in-game benefits. They grant you access to free cash and other benefits.
Don't miss out on this opportunity to supercharge your gaming journey, so ensure reading this guide completely.
What are some codes in Foam Frenzy?🚀
1. Active codes
| | |
| --- | --- |
| Code | Reward |
| 👍10KLIKES  | Redeem the code for 50k Cash |
| 👌15KLIKES  | Redeem the code for 50k Cash |
| 😊20KLIKES  | Redeem the code for 25k Cash |
2. Expired codes
| | |
| --- | --- |
| Code | Reward |
| 🤑3000LIKES | 30k Cash |
| 🎁3500LIKES | 35k Cash |
| 💰5000LIKES  | Free Cash |
| 🔒8000LIKES  | Free Cash |
| 🎯FOLLOWUS  | 2.5k Cash |
How do I get the code for Foam Frenzy?💡
Launch the game, then go to the Main Menu.
Look at the weapon-choosing area and find the Redeem Code text box.
There, copy and paste one of the codes listed above, just as it is.
Click on the Redeem arrow button.
Enjoy your reward alongside your gaming experience.
How can I use cash in Foam Frenzy?
Cash serves a singular role: acquiring weapons🔫. While the functionality of each weapon type remains relatively unchanged, you have the option to buy exclusive skins for your weapons to showcase your unique style.
To procure weapons, simply navigate to the main menu, choose your desired weapon, and click on the Purchase option located on the right side.
Notably, the background color of each weapon represents its rarity, making it convenient for you to assess which firearm you can afford by merely glancing at the color.
What is the best way to get more free codes for Foam Frenzy?🤔
📈🔍Check Our Dedicated Guide: Wondering how to get more free codes for Foam Frenzy? Don't forget to check our dedicated guide on this topic. We ensure to update codes, expert insights, and strategies for maximizing your collection, so you never miss out on valuable rewards.
🤝🌐Join the Community: Engage with the Foam Frenzy community through forums and social media groups (such as the TEAM INT_L Twitter, Roblox, or Reddit forums). Fellow players often share tips, tricks, and even exclusive codes that can supercharge your gaming experience.
🎉🏆Participate in Events: Foam Frenzy may host special events and competitions. These events can be a goldmine for exclusive codes and other fantastic prizes. Be an active participant and reap the rewards.
👾Related articles:
To sum it up, Foam Frenzy codes serve as the key to elevate your gaming experience and gain access to unique in-game rewards.
Remember to regularly check for new codes, as the gaming community is constantly evolving, and new opportunities to enhance your experience may arise.