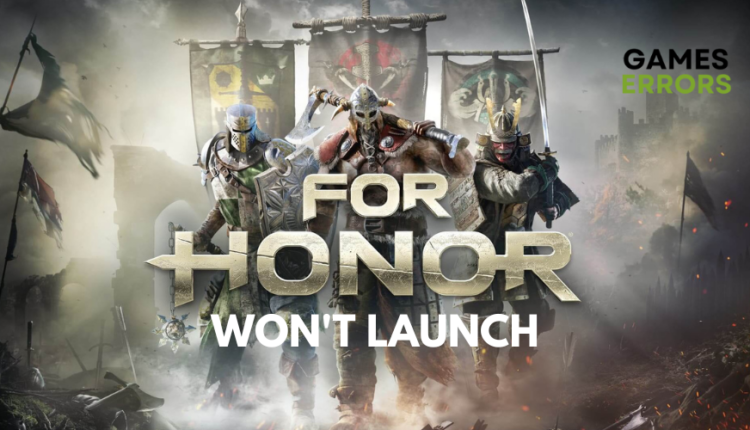 For Honor Won't Launch: How To Quickly Fix It
Here's everything you need to know about For Honor won't launch and how to fix it🎯
Set in a brutal fantasy world that romanticizes history's greatest warriors, For honor has been receiving regular content updates, features smart gameplay changes, and has a packed calendar of live events.
For Honor succeeds in immersing players in a world of constant warfare thus drawing in a loyal fan base. However, players have reported experiencing launching issues with the game.
If you are currently experiencing this, read on to find out why you might be experiencing this issue and how to fix it.
Why is For Honor not launching on Steam?
Reasons for this problem could be various and include:
Windows permission problems
Security restriction of Windows Firewall
Outdated GPU driver
Microsoft Visual C++
Corrupted game files
Cache files
How to Fix For Honor Won't Launch?
The first thing you should do is to make sure your PC meets the minimum system requirements to run For Honor. If your PC does not, you may get issues such as For Honor won't launch. Also consider to verify the integrity of the game files on Steam.
Table of contents:
1. Run the Game as an Administrator
if you are unable to launch the game For Honor, you can try to fix this issue by running the Ubisoft game launcher as an administrator. Once the launcher is running with administrative privileges, you can then try launching the game directly. To do this:
Right-click the Ubisoft Connect client shortcut on the desktop and select Properties.
Go to the Compatibility tab and check Run this program as an administrator.
Click Apply and then OK to save the changes.
Run Ubisoft Connect and launch your game, For Honor.
2. Clear Temporary Files
Temporary files are created when you Uninstall software. However, these temporary files can be preserved. With time, they hold large storage space. Clearing them frees up space and may fix For Honor Won't Launch. To do this:
Press Win + R to quickly invoke the Run window.
Type %TEMP% in the box and click OK.
Delete all the files and folders in the Temp folder. You can select all items by pressing Ctrl + A.
Launch For Honor and check if it works properly. If the problem of "For Honor not opening" still persists, proceed to the next solution.
3. Update GPU Drivers
Time needed: 3 minutes
Using an outdated GPU driver can lead to various difficulties. These challenges range from performance-related issues, such as reduced frame rates or graphical glitches, to difficulties launching games altogether. To avoid these problems and ensure optimal performance, WE recommend regularly updating the GPU driver to its latest version.
Click on the Windows icon and type "Device Manager" in the search bar, then open it from the search results.

Double-click on the "Display Adapters" section.

Right-click on the GPU and select the "Update driver" option.

Select the "Search automatically for drivers" option.

Install the driver update.
Restart your PC to complete the process.
Are you tired of manually looking for updates when your PC needs it? Don't worry. We recommend using Drivefix, a third-party tool that finds and downloads the best driver for your PC automatically.
4. Perform a Clean Boot
Performing a clean boot temporarily disables non-essential services and startup programs. This allows you to narrow down the source of the conflict and potentially resolve For Honor not launching. To perform a clean boot:
Type "msconfig" in the search box and press Enter.
Switch to the Services section.
Check the "Hide all Microsoft services" option.
Press the "Disable all" button.
Switch to the Startup section.
Press "Open Task Manager."
Click on the startup program that may interfere with Windows 10 and press "Disable." Repeat this step to disable all suspected programs.
Close Task Manager and the System Configuration window.
Restart your computer.
5. Clear Cache
Use the Windows Key + R shortcut to open the Run dialog.
Type "%localappdata%" in the Run dialog and hit OK.
Press CTRL + A to select all files in the folder.
Hit the Delete key to delete all the files in the folder.
If prompted to confirm, click on Yes.
If some files can't be deleted, click on Skip.
Related articles:
Conclusion
We hope one of the solutions above has helped you fix For Honor won't launch. Leave us a comment letting us know what worked for you. Happy gaming!
If you encounter any issues or errors while playing your favorite games and require support, feel free to contact us here. Our team is always ready to assist you and ensure your gaming experience is seamless and enjoyable.