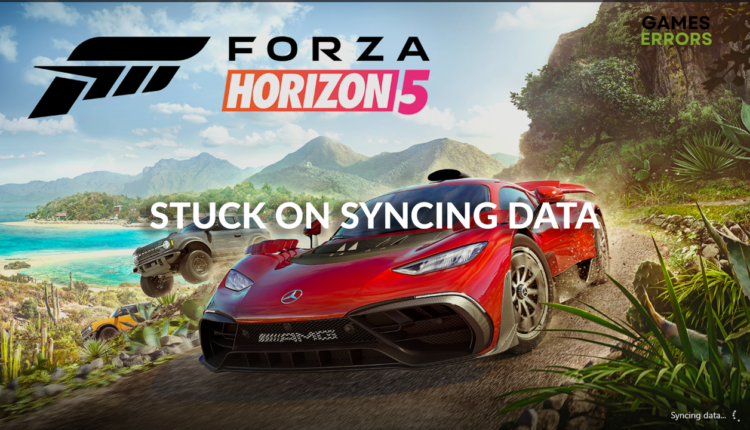 Forza Horizon 5 Stuck on Syncing Data: How to Fix It
You simply want to enjoy some races, but syncing data screen is an obstacle? Stop struggling and solve this issue! 🚀
Many players complain about the known Forza Horizon 5 stuck on syncing data issue. It doesn't matter if you play the game from your GamePass PC or Steam, the problem will not disappear on its own, so it's time to take action.
If you experience crashes after launching the game, check what to do when Forza Horizon 5 crashes on launch.
Why is Forza stuck on syncing data?
Forza is stuck on syncing data because your network devices are misconfigured, VPN services are blocking you from connecting to the game server, you use Wi-Fi, network settings are misconfigured on your PC, the network driver is outdated, and Windows Firewall is blocking the game. The problem can also be related to your Microsoft account or the internet provider.
How to fix Forza Horizon 5 stuck on syncing data?
Start with the following fixes to solve the issue quickly:
Reset your network devices: Press the restart button on your router and/or modem. Try to launch the game after the restart finishes. You can also try to unplug the network devices from the wall outlet, wait for a few minutes, and plug them back in.
Disable VPN: VPNs are great for privacy and accessing content you otherwise couldn't see. However, you should disable it if you have trouble launching Forza Horizon 5, as it can cause issues when connecting to the game server.
Use a wired internet connection: Wireless connection is handy if you are using a laptop, but it comes with the price of an unreliable connection. This is why you use an ethernet connection on your PC.
If the previously listed fixes don't result in you get past stuck on syncing data, proceed with the following solutions.
1. Reset network settings
Faulty network settings on your device can be caused for various reasons. Typing a few commands in Command Prompt can solve this.
Click on the Windows icon, type Command Prompt, and open this tool.
Paste these commands one by one, and hit Enter after each command:
ipconfig /flushdns
ipconfig /registerdns
ipconfig /release
ipconfig /renew
netsh winsock reset

Restart your PC.
2. Update the network driver
Time needed: 5 minutes
If your network configuration and devices are properly configured, the problem might be with your network driver. Update the network driver regularly to prevent issues like getting stuck on syncing data screen.
Click on the Windows icon, type Device Manager, and open it.

Double-click on the Network Adapters.

Right-click on your internet adapter and select Update driver.

Select the Search automatically for drivers option in the Update Driver Wizard.
Install the driver update
Restart your PC.
If you don't find driver updates with Device Manager, you should try to do so with Outbyte Driver Updater. This way, you will know that your network driver is always up-to-date!
⇒ Get Outbyte Driver Updater
3. Add the game as a firewall exception
Windows Firewall is a built-in security feature on your operating system that keeps you safe from malware and unwanted programs. However, it can also block Forza Horizon 5 from connecting to the network.
Click on the Windows icon, type Windows Defender Firewall, and open it.

Click on the Allow an app or feature through Windows Defender Firewall.
Click on the Change Settings and Allow Another App button.

Select the Browse option, and navigate to the installation folder of Forza Horizon 5.
Select the executable file (.exe) and hit the Open button.
Check the checkbox in columns Private and Public in the Forza Horizon 5 row and hit the OK button.
Restart your PC.
Extra steps
Sometimes the problem occurs due to less frequent causes. In this case, try to:
🧹 Use the Disk Cleanup: Windows comes with the Disk Cleanup app, which you can use to perform Cleanup System Files on the disk partitions on which Forza Horizon 5 and your operating system are installed.
🔁 Log out and log in to the Microsoft account: Ensure you know your login credentials before proceeding. Head to the Microsoft store, click on your profile photo, then sign out. Restart your PC, log back in, and try to play the game.
📞 Contact the support: Notify your ISP that you have issues with the network and ask them to check if everything is okay with your network. You can also reach out to Forza Support for additional assistance.
Related articles:
Conclusion
We hope you got past the Forza Horizon 5 stuck on syncing data screen and are already enjoying the races. Let us know if we can assist you any further.