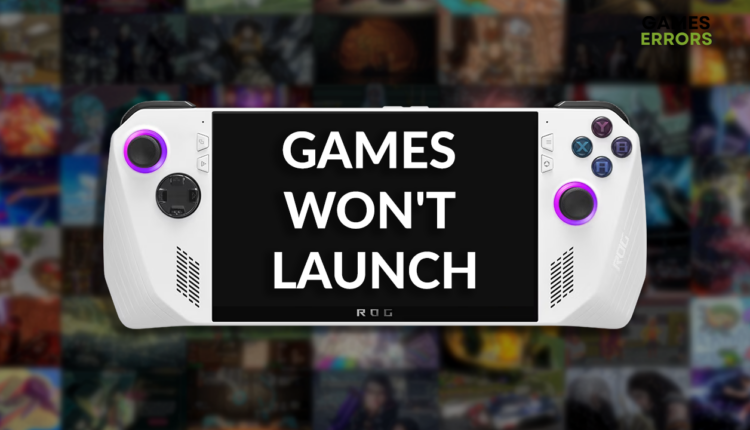 Games Won't Launch ROG Ally: Fix It Quickly
Without games, this console is just a fancy tablet. Make it useful by forcing games to launch! 🚀
Many players complained that games won't launch ROG Ally, making their console useless, as it was built primarily for gaming. We are here to save the day with our ultimate list of solutions to apply for forcing the launch of games on ROG Ally.
If you can launch games but stability issues prevent you from enjoying them, learn how to fix game crashes on ROG Ally.
Why won't any of my games launch on ROG Ally?
Your games won't launch on ROG Ally due to temporary issues with the console, faulty date/time settings, temporary problems with the micro SD card, corrupted game files, an outdated BIOS or GPU driver, pilled-up shader cache, problematic game modifications, or obsolete Windows.
How to fix games won't launch ROG Ally?
Start by applying these fast fixes and easy checks:
Restart your ROG Ally: If you didn't try it already, press and hold the power button for 10 seconds. After the console turns off, turn it back on.
Check the date/time settings: Your time and date must match the current time in your time zone. It can be edited from the system settings or BIOS, where you press the pencil icon to change it.
Reinsert the SD card: If you use a micro SD card to expand the storage of your handheld console, eject it and reinsert it to fix potential issues causing problems for games to launch.
Verify game files: Some games can be corrupted, which can be why Steam games won't launch on the ROG Ally issue. The same goes for other game distribution platforms.
Proceed with the step-by-step solutions to force games on your ROG Ally to launch.
1. Update BIOS
Time needed: 3 minutes
BIOS is like the brain of ROG Ally that helps it start up and manage communication with all console components. Asus regularly updates BIOS to patch existing issues and to optimize the console for better performance, so we advise you periodically check for updates and update the BIOS.
Head to the Asus Driver & Tools page and select Bios & Firmware.

Select your ROG Ally model.

Click on the Download button for BIOS Update for Windows.

Run the executable (.exe) file once downloaded.
2. Update the GPU driver
Many gamers claim Steam games won't launch on ROG Ally due to an outdated GPU driver. Head to the official Asus website to resolve this issue and download the latest driver installation.
Head to the Asus Driver & Tools page and select your ROG Ally model.

Select Windows 11 for your OS.

Click the Download button under the Graphics section.

Run the installation on your ROG Ally and follow the steps.
3. Clear shader cache
The shader cache files are stored on your device so games can start quickly with greater responsivity and better performance. Problems begin when these files are too many or aren't saved correctly, so you must clear the shader cache manually on your ROG Ally.
Open the Settings (gear icon) and navigate to Graphics.

Scroll down and tap on Advanced.
Click on the Perform Reset button next to the Reset Shader Cache option.
Tap on Yes to confirm the action.

Extra steps
If games won't launch ROG Ally, even though you did everything we advised so far, try to:
🎮 Perform a Clean Boot: You should disable all unnecessary startup apps so they don't consume computing power and create compatibility issues, which can prevent games from launching.
❌ Disable game mods: If the problem occurs with a game for which you have several mods installed and enabled, we advise you to disable them and try launching the game.
⬆ Update Windows: Type Check for updates in the Windows search, and open these System Settings. If any updates are pending, download and install them, then restart your console.
🔁 Reset your ROG Ally: You can start by resetting only the Windows installation, but if games still don't launch, you can return the console to the factory settings.
Related articles:
Conclusion
These were our methods that should stop games won't launch ROG Ally issues. Updating BIOS and the GPU driver and clearing shader cache files should resolve the issue. Don't forget to verify game files, check date/time settings, reinsert the SD card, and disable mods if you have any. Let us know how it went, and enjoy playing your favorite games on ROG Ally!
If you encounter any issues or errors while playing your favorite games and require support, feel free to contact us here. Our team is always ready to assist you and ensure your gaming experience is seamless and enjoyable.