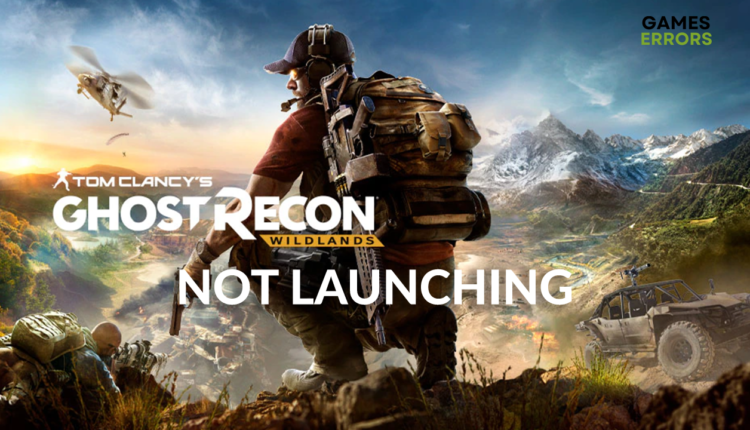 Ghost Recon Wildlands Not Launching: Fix It Quickly
You were ready to enjoy this tactical shooter, but it just won't launch? No worries, with our help you will be able to play it in a matter of minutes! 😎
X
INSTALL BY CLICKING THE DOWNLOAD FILE
You download more than 40GB only to discover that Ghost Recon Wildlands not launching problem prevents you from playing the game… Although this can be frustrating, we invite you to follow our lists of fixes and solutions for this problem.
If the game launches successfully but crashes after that, our guide for troubleshooting Ghost Recon Wildlands crashing is for you!
Why is my Ghost Recon Wildlands not launching?
Ghost Recon Wildlands isn't launching because your PC doesn't meet minimum system requirements, C++ dependencies are missing, your GPU driver is outdated, background apps are blocking the game, or cache files got corrupted.
How to fix Ghost Recon Wildlands not opening?
Start with more straightforward solutions and ensure that:
To troubleshoot the problem with Ghost Recon Wildlands not launching, follow our step-by-step solutions:
1. Download Visual C++ packages
Visual C++ Redist Packages are necessary to run most games nowadays. These dependencies are usually installed with the game, but if, for some reason, that didn't happen, you can download and install them manually.
Head to the official page for the Visual C++ Redist Packages download.
Click on the Link to download vc_redist suitable for your operating system architecture.
➡ X86 is for 32-bit systems.
➡ X64 is for 64-bit systems.


Double-click on the installation package and install it.
Restart your PC.
Try to launch Ghost Recon Wildlands.
2. Update the GPU driver
Time needed: 5 minutes.
Even if your GPU can run Ghost Recon Wildlands, the outdated driver can cause trouble when launching the game. We advise you always have the latest GPU driver to avoid such issues.
Click on the Windows icon, type Device Manager, and open this tool from the search results.

Double-click on the Display adapters section to expand it.

Right-click on your GPU and select Update driver.

Choose the Search automatically for drivers option.
Follow the steps prompted by the Update Driver Wizard to install the update.

If no update is found, you can use another method to double-check for driver updates.

Restart your PC to apply changes.
Another method for updating the GPU driver is using a driver updater tool. We recommend DriverFix because it is reliable and offers a vast database of drivers for your GPU and other devices on your PC.
3. Disable background apps
Background apps use resources that would otherwise be dedicated to Ghost Recon Wildlands. Additionally, apps with overlays can stop the game from launching, so the good idea is to close them before trying to launch the game.
Use CTRL + Shift + ESC shortcut to open Task Manager.
Find the apps that you are not using in the default Processes tab.
Right-click on the app and choose End task.

Do the same for all unnecessary apps or the apps that create an overlay.
⚠ Never close apps and terminate processes that you are unfamiliar with. This can lead to security problems and operating system failure.
4. Delete cache files
Most apps and games on your PC create cache files to run faster and provide a better overall experience. However, faulty cache files might stop the game from launching.
Click on the Windows icon, type Run, and open it from the search results.
Type %localappdata% and press OK.

Use the CTRL + A shortcut to select all files and folders.
Press the Delete key on your keyboard and wait until all files are deleted.

▶ Some files will be used by programs running on your PC, and you can press the Skip button when prompted on how to proceed with these files.
Extra steps
If nothing up until now proved to be helpful, try to:
Reinstall Ubisoft Connect.
Update your Windows.
If you use an Xbox controller, try disabling and launching the game without it.
Uninstall the game, and install it on your system drive.
👉 Now that the game is launching, read our guide for increasing FPS in Ghost Recon Wildlands.
Conclusion
We hope Ghost Recon Wildlands not launching is left in the past and you are already enjoying this tactical shooter. Let us know if you have any other problems or errors with this game, and we will do our best to assist you.
If you encounter any issues or errors while playing your favorite games and require support, feel free to contact us here. Our team is always ready to assist you and ensure your gaming experience is seamless and enjoyable.