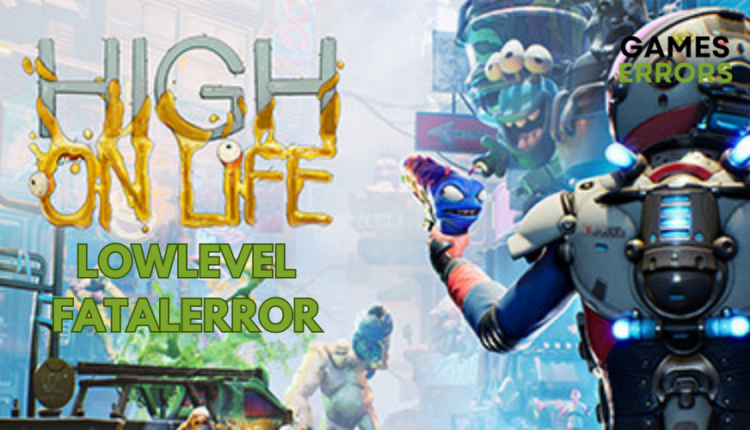 High On Life Lowlevelfatalerror: How To Fix Quickly
Update the GPU driver and verify game files among other solutions if the High on Life LowLevelFatalError keeps bugging you✅
he anticipation surrounding High On Life was high, but many people's enthusiasm was dampened when they encountered a number of bugs and glitches such as High On Life lowlevelfatalerror.
In today's gaming world, the occurrence of the LowLevelFatalError has become a recurring problem affecting numerous games, including High on Life. Nonetheless, we have been able to identify the reasons why you are experiencing this problem, as well as effective methods for eliminating this disruptive problem.
Read on to learn about our tailored remedies and workarounds.
What is the High on Life lowlevelfatalerror?
The lowlevelfatalerror appears while playing a game or during the startup of a high-end game. Affected players have no idea why the Lowlevelfatalerror error message appears without any proper reason or warning message.
However, chances are high that the reason why you are experiencing this problem could be:
Corrupted or missing game files
Internal bugs related to the game or a specific version of the game.
Outdated graphics driver.
Problematic game components
Outdated game version
Not running the game as admin access
Overclocked CPU/GPU
Unnecessary background tasks running all the time
How to Fix High on Life Lowlevefatalerror?
Firstly, ensure your PC meets the minimum system requirements to run High on Life.
1. Limit Max FPS
Open the Nvidia Control Panel.
Navigate to Manage 3D Settings.
Click on Program Settings.
Choose High On Life from the list.
Scroll down and locate the Max FPS Limit option.
Enable the Max FPS Limit and set a specific value.
📌 Make sure you do not type in just any number here. The number you enter should be either half, a third or a quarter of the number of times your screen refreshes per second. For example, if your screen refreshes 120 times per second, you could use 60, 40 or 30. This will make things look really smooth.
2. Update Graphics Driver
Time needed: 4 minutes
Press Win + X on the keyboard and choose Device Manager.

Double-click the Display Adapters section.

Right-click your graphics card, then select Update driver.

Click on Search automatically for drivers.

Follow through to finish updating.
Restart your PC.
Alternatively, you can automate this process to prevent problems such as High on Life Lowlevelfatalerror. We recommend using Outbyte Driver Updater to scan the internet, find, and install the best driver for your PC.
⇒ Get Outbyte Driver Updater
3. Adjust Graphics Settings
Search for Control Panel in your search box and select it.
Change the View by: option to Small icons.
Scroll down and pick Advanced system settings, then click on Settings.
In the Visual Effects tab, choose Adjust for best performance
Save the changes by clicking Apply and OK.
Navigate to Display in System > Settings, and set the desktop scaling (DPI) in Windows to 100%.
4. Increase virtual memory
Press Win + R on the keyboard to open the Run dialog.
Type the following command and click OK: SystemPropertiesPerformance
Go to the Advanced tab.
Click on Change under the virtual memory section in Performance Options.
Uncheck the box next to Automatically manage paging file size for all drives, then check Custom size.
Choose the system drive and enter the Virtual memory size.
Save the settings.
Restart High on Life.
5. Reinstall the Game
Click the Start menu and search for Control Panel.
Open Control Panel and click on Uninstall a Program.
Find and right-click on High on Life, then choose Uninstall.
If asked, click Uninstall again to confirm.
Wait for the uninstallation process to finish. Follow any on-screen instructions if needed.
Once done, restart your PC to apply the changes.
Lastly, open Steam or Epic Games Launcher, and reinstall the High on Life game.
Other quick fixes:
Conclusion
To help you fix the High on Life LowLevelFatalError and enjoy the game to the fullest, we've provided a comprehensive guide with workarounds and solutions. By following the instructions in this article, you can address the underlying causes of the error and implement effective solutions. Whether it's tweaking your graphics settings, updating your drivers, adjusting your virtual memory, or reinstalling the game, each step will contribute to a smoother and more enjoyable gaming experience.