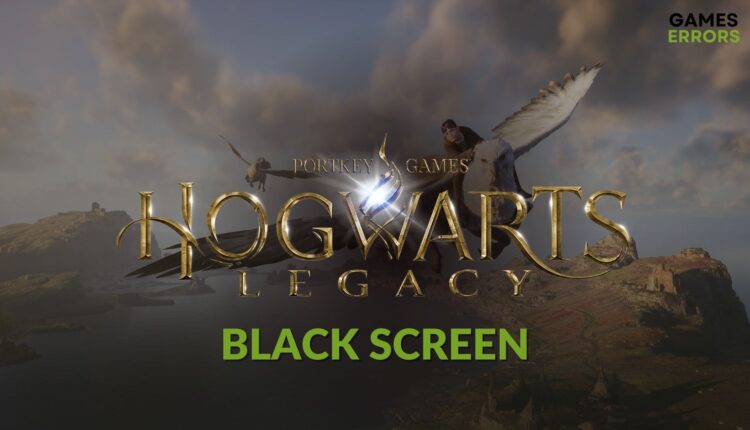 Hogwarts Legacy Black Screen: How to Fix It – 2 Minutes
Is Hogwarts Legacy stuck on black screen on launch or during the gameplay? Try these quick fixes 🎯
X
INSTALL BY CLICKING THE DOWNLOAD FILE
Hogwarts Legacy's black screen crash issues have become a prevalent problem in the past few days. So, these are the most frequent cases met by the players while playing Hogwarts Legacy:
➡️ Stuck on the black screen
➡️ Hogwarts Legacy black screen after warning
➡️ Hogwarts Legacy black screen on startup
➡️ Black screen crash
➡️ Hogwarts Legacy black screen after epilepsy warning
Users may have faced some other issues with this game. It includes Hogwarts Legacy's crashing problem, stuck on the loading screen issue, or even low FPS problems. But, the Hogwarts Legacy black screen on launch is the new addition.
Luckily, we have featured the most successful methods to fix this problem in a few steps.
Why is Hogwarts Legacy showing a black screen?
If the black screen is preventing you from playing Hogwarts Legacy on your PC, it is because of the black screen on the startup problems or any of the following aspects:
System requirement problem:

If your PC doesn't meet the recommended system requirements for Hogwarts Legacy, it may show a black screen problem.

Outdated graphics card:

Outdated driver of graphics cards is one of the most common reasons behind this issue.

Low memory problem:

If there is not enough available memory capacity, games like Hogwarts Legacy getting stuck on black screen after showing a warning.

Excessive background tasks:

Even if your PC has the specifications to run this open-world fantasy game, an excessive amount of background tasks may reduce the capacity.

Internal bug:

Sometimes, the root of the problem can be a known bug affecting Hogwarts Legacy on specific PCs.
How to fix Hogwarts Legacy's black screen on launch or during gameplay?
To get rid of this problem, we suggest you check the following things before trying out the actual solutions:
Now, you can go through these methods to fix the black screen problem with Hogwarts Legacy:
1. Update the graphics driver
Time needed: 4 minutes.
Updating graphic drivers may fix a black screen issue by determining compatibility problems and improving the overall performance of the graphics card.
Press Win + R to open Run.

Type

devmgmt.msc,

 and press 

Enter

.

Expand the

Display adapters

.

Right-click on your graphics card, and click on 

Update driver

.

Click on 

Search automatically for drivers

.

Install the new driver by following any on-screen steps.

In this way, update other drivers as well.
You may see that the best driver is already installed. In most cases, it is because the device manager has failed to determine the latest driver. So, we suggest you use DriverFix. This tool can find and install the most recent GPU driver very easily.
2. Kill memory-hungry processes
Right-click on the

Taskbar

and go to Task Manager.

Make sure you are in the

Processes

tab.

Click on Memory to sort the processes according to memory usage.

Do it for all other resource-hungry tasks.

Relaunch Hogwarts Legacy.
3. Disable fullscreen optimization
Navigate to the Hogwarts Legacy installation directory.

Right-click on hogwarts.exe file and go to its Properties.
Click on Apply and OK.
It may fix Hogwarts Legacy's black screen problem. If not, follow the more advanced methods described next to finally get rid of the black screen after warning issues.
4. Modify GameUserSettings.ini
Open Run like before.
Go to the following location: Local/Hogwarts Legacy/Saved/Config/WindowsNoEditor
Open GameUserSettings.ini with notepad or any preferred editor.
Find the section containing this line: ShaderPipelineCache.CacheFile
Add r.ShaderPipelineCache.Enabled = 0 at the end of that section.
After adding the above line, it will look like the following:
\[ShaderPipelineCache.CacheFile\]

LastOpened=Phoenix

r.ShaderPipelineCache.Enabled = 0
Now, you can try to launch the game. It should fix Hogwarts Legacy's black screen on launch or other problems related to the BSoD problem.
5. Uninstall overclocking and game booster apps
Press Win + I on the keyboard to open Windows Settings.

Find the overclocking app or game booster app.

Follow on-screen instructions to complete the process.
6. Clear shader cache
Go to Windows Settings.
Click on Temporary files.
Next, click on Remove files.
This is another way to solve the Hogwarts Legacy black screen error and enjoy this wizard world without any trouble.
Additional tips for the Hogwarts Legacy black screen issue:
Let's hope the above methods will work. If not, we suggest you do the following things:
When a black screen appears, don't do anything. Just wait. At a time, Hogwarts Legacy will run properly. For some users, it may take more than 20 minutes.
If you have access to the game, disable ray tracing and lower the graphics settings.
If nothing works, reinstall the game.
If you are interested, learn how to solve Hogwarts Legacy's out-of-video memory error. At the same time, we have effective technical support to help you optimize Hogwarts Legacy on your PC and get the best game performance.
This article has explained how you can troubleshoot Hogwarts Legacy's black screen problem that appears on launch. If you have any opinions, feel free to let us know in the comment box.
If you encounter any issues or errors while playing your favorite games and require support, feel free to contact us here. Our team is always ready to assist you and ensure your gaming experience is seamless and enjoyable.