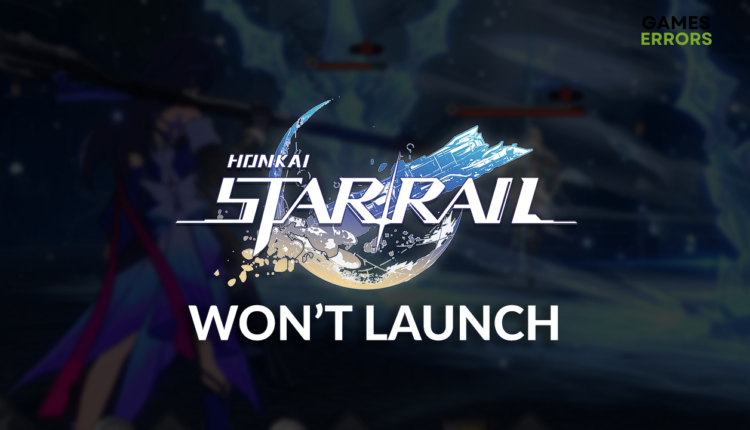 Honkai Star Rail Won't Launch [Quick Fix]
No game is good if you can't launch it. When it comes to Honkai Star Rail, you can immediately do a couple of things to force it to launch! 🚀
Honkai Star Rail won't launch for many gamers, so we investigated the most frequent causes of this annoying problem. We are happy to say it was successful, so we compiled a list of the most suitable solutions to apply when Honkai Star Rail doesn't launch.
If you experience problems with game stability, learn how to fix crashes in Honkai Star Rail.
Why can't I launch Honkai Star Rail?
You can't launch Honkai Star Rail due to poor system specifications, unnecessary background apps, problems with Windows permissions, corrupted game files, an outdated GPU driver, issues with Windows Firewall, enabled test mode, and pilled-up cache files.
How to fix Honkai Star Rail won't launch?
Get started with some simple checks and fixes:
Check system requirements: Your PC must meet at least the minimum requirement for Honkai Star Rail, but if it doesn't upgrade components that lack computing power.
Close background apps: Before launching the game, close all apps and games that you see in the taskbar. Use Task Manager to close invisible background apps.
Run the game as admin: Right-click on the Honkai Star Rail executable (.exe) file and select Properties. Navigate to the Compatibility tab and enable the Run this program as an administrator.
Verify game files: This way, the game distribution platform will find and repair potentially corrupted game files so you possibly avoid reinstalling the game.
If Honkai Star Rail doesn't launch on your PC, follow the step-by-step solutions below.
1. Update the GPU driver
Time needed: 5 minutes
Always keep your GPU driver updated and avoid Honkai Star Rail launching and performance problems.
Click on the Windows icon, type Device Manager, and open it.

Double-click on the Display Adapters section.

Right-click on your GPU and select the Update driver option.

Choose the Search automatically for drivers option.
Install the driver update.
Restart your PC.
Are you tired of constantly having issues due to outdated drivers? We are also! That is why we use Outbyte Driver Updater, a swift and reliable tool that can handle and automate the complete driver management process.
⇒ Get Outbyte Driver Updater
2. Allow Honkai Star Rail through the Firewall
Windows Firewall protects your PC from various threats, but it can also falsley recognize Honkai Star Rail as threat. Resolve this by adding the game as a Firewall exception.
Click on the Windows icon, type Windows Defender Firewall, and open it.

Click on Allow an app or feature through Windows Defender Firewall.

Click on Change Settings and Allow Another App.

Select Browse, and navigate to the Honkai Star Rail installation folder.
Click on the Honkai Star Rail executable file (.exe) and select Open.
Check the checkbox in columns Private and Public in the Honkai Star Rail row and hit OK.
Restart your PC.
3. Disable test mode
This feature is usually not needed by most of the gamers. Since it's known to cause Honkai Star Rail launching issues, we advise to you disable it.
Click on the Windows icon, type Command Prompt, and select this tool from the search results.
Type bcdedit -set TESTSIGNING OFF and hit Enter.

Type Exit and hit Enter to close Command Prompt.
Restart your PC.
4. Delete cache files
Honkai Star Rail and other games on your PC store cache files. These files are renewed every time game launches, but if some of them are corrupted, you will have to manually delete them.
Use the Windows Key + R shortcut to open the Run dialog, type %localappdata%, and hit OK.

Use the CTRL + A shortcut to select all files in the folder.
Press the Delete key on your keyboard to delete all the files in the folder.
➡ If prompted to confirm, click on Yes.
➡ If some files can't be deleted, click on Skip.

Extra steps
After applying all of the solutions we listed up until now, Honkai Star Rail might still be unable to launch. You can try to:
🛡 Temporarily disable antivirus: If Honkai Star Rail launches, whitelist it in the antivirus settings and re-enable the protection.
⬆ Update Windows: Click the Windows icon, type Check for updates, and open these System Settings. Install any pending updates and restart your PC
🔁 Reinstall the game: Although this is the least popular option, we leave it as a last resort if, after applying everything we recommended, Honkai Star Rail won't launch.
Related articles:
Conclusion
Hopefully, your search for why Honkai Star Rail won't launch ended, and you can explore this fantastic science-fantasy universe. Comment with the feedback and mention what was the most effective solution for your PC.